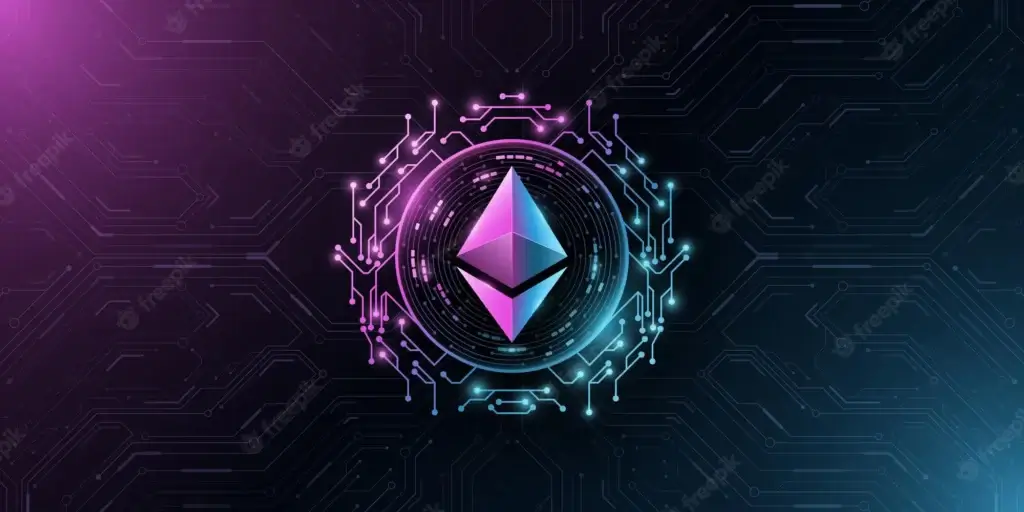 Crash games are the latest trend in the world of online gambling. They work through an RNG algorithm that increases a multiplier. The longer you hold it, the higher your reward can be. This type of crash betting game has become extremely popular in recent years, especially in crypto casinos. Stick with us to learn why.
What is Crash Game Gambling?
One of the reasons crash games are so popular is their simplicity. Unlike slots, which have multiple features, a crash casino game is straight to the point, with only a single goal – to hold the multiplier for the longest time.
A few years ago, you could only find a bitcoin crash game at a crash casino. Crash casinos are gambling operators that only accept cryptocurrencies, allowing players to enjoy a crash crypto game using Bitcoin, Ethereum, Ripple, and other digital currencies. You can now play a crash-betting game on several traditional online casino sites.
All you have to do in a crash game is cash out before the multiplier drops to zero. Like cryptocurrencies, crash games are highly volatile and can make you win a lot or lose it all. They're a prime example of the high-risk, high-reward nature of crypto.
How do Crash Gambling Games Work?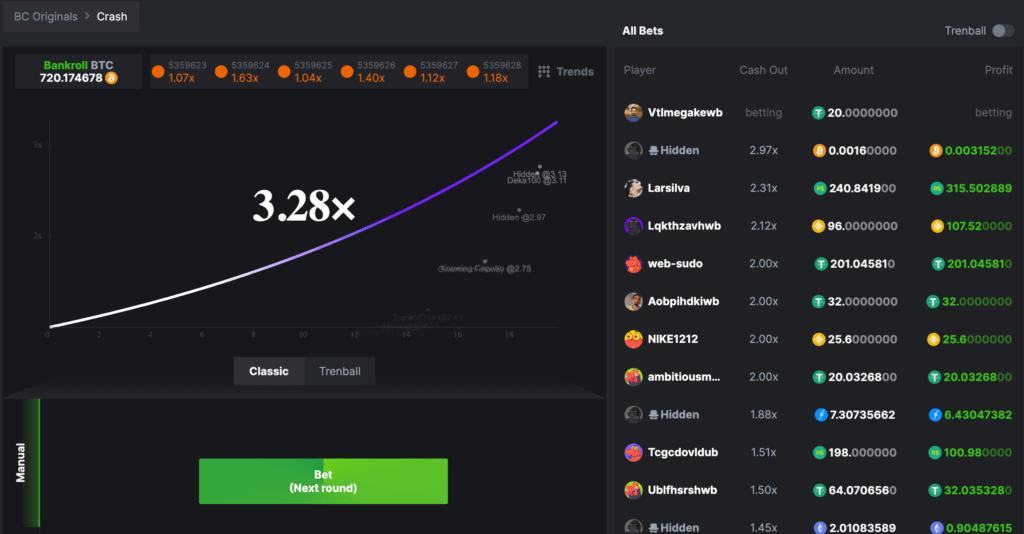 Every round in a crash money game is played the same way. A spaceship (or another character) with a corresponding multiplier will start from zero. The longer it goes, the higher its multiplier gets. It's not uncommon to see multipliers reach hundreds or even thousands.
But there's a big downside to this. The spaceship can crash at any given time, losing its multiplier. If a player hasn't cashed out by then, he'll lose his stake. This makes a crash game very risky, as there's always the chance to lose everything suddenly.
To counter this downside, developers have introduced helpful tools in crash games, allowing players to cash out and bet automatically. Some providers offer betting systems that automatically adjust the stake based on wins and losses.
How to play crash gambling
Before a crash betting game round starts, players must place their bets. After the timer ends, all bets are collected, and the spaceship starts its journey, increasing the multiplier attached to it. The round ends when the spaceship crashes.
Players who haven't cashed out before the crash will lose their wagers. But if they managed to cash out before this, they would receive their stake times the multiplier value when the bet was cashed out. For instance, if you bet $100 and cash out at 3x, you will receive $300, even if the multiplier then goes all the way to 100x.
Why Should You Play Crash Games?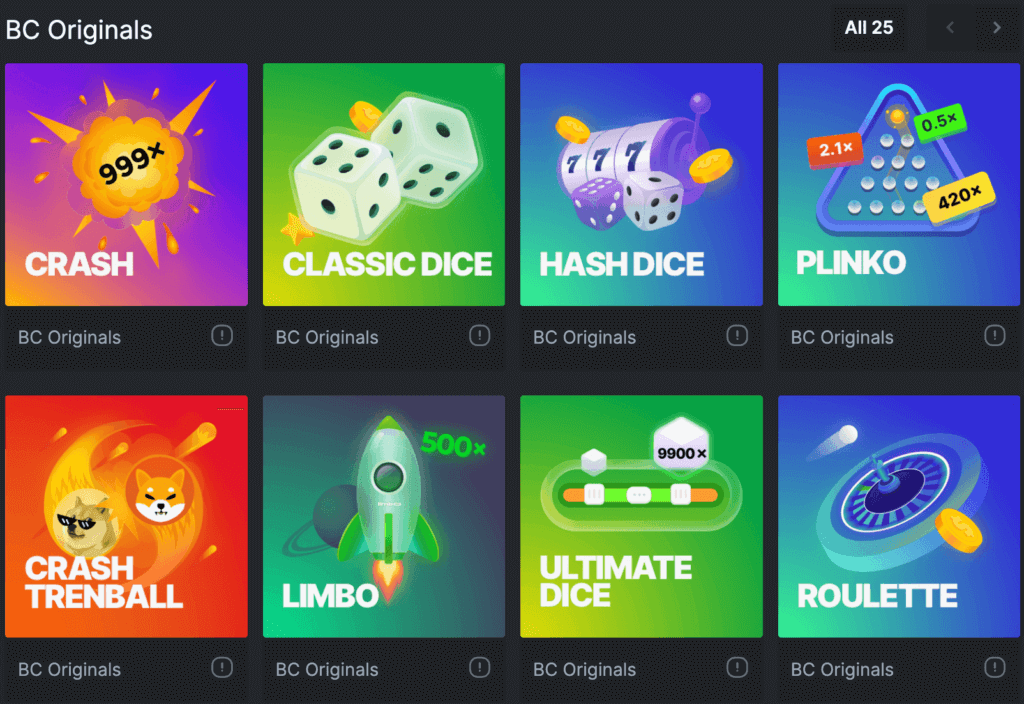 Another reason crash games are popular is their differences from other casino games. Instead of being complex and slow-paced, these games are incredibly fast and easy to play.
Unlike other casino games, a crash game can have multiple rounds per minute. Once the multipliers crash, a new round will start immediately. This makes it one of the fastest games you can enjoy at a casino.
Anyone can get started with a crash money game, whether a casino beginner or seasoned enthusiast. The HUD is intuitive, allowing players to bet, cash out, or activate other resources in a breeze. The volatility of crash games can also be seen as an advantage. As we know, cryptocurrencies are highly volatile, but that doesn't stop millions of investors from buying and selling them. The same thing happens with a crash game. Like crypto, being able to potentially multiply your wager in a few seconds makes crash casino games highly attractive.
Strategies for Crash Game Gambling
Contrary to what some players might argue, there is no way to increase your odds or make you win more in a crash-betting game. The round's outcome relies on an RNG algorithm, meaning that every result is random.
Nonetheless, there are a few strategies that can be helpful. While they won't help you achieve more wins, they'll allow you to control your bankroll and potentially increase the duration of your betting sessions. What's good about these strategies is that some of them can be applied to other casino games, not only crash games. Learn more about how they work by reading the sections below:
Auto cash-out
As the name implies, this strategy relies on using the auto cash-out feature found in a crash money game to your favor. Most of these games have a tool that allows players to set an automatic cash-out multiplier. Whenever the spaceship reaches it, the bet is cashed out, allowing players to collect their winnings.
The goal of this strategy is to keep the same cash-out value throughout the rounds. We recommend opting for a smaller multiplier, such as 2x or 3x. You shouldn't change your cash-out value, so the risk remains the same throughout the game.
Bonuses
This strategy isn't available in all crash games, but it's still worth mentioning. Some of these games have a feature where the last player to cash out in the current round receives an additional cash reward. Therefore, the strategy's goal is to be the last one standing. You can check how many players remain in the game on the sidebar.
To maximize its potential, you should only try this strategy in a crash casino game with a small number of players. Remember that the reward may vary according to the total number of players in the game.
Martingale System
Martingale is one of the most recognizable casino betting strategies. It's used in several games, from roulette to baccarat. Thanks to its versatility, it can also be used in crash games. The strategy requires players to double their stake after every loss and return to the base value following a win.
For better visualization, let's take the following example into account. You start a crash game with a $100 wager. After losing, you double your bet to $200. You lose again, so you increase it to $400. If you win, you'll have a profit of $100.
The strategy has one main drawback, though. Successive losses can profoundly affect your bankroll. Therefore, we recommend starting with a large bankroll and small bets.
Mobile Crash Games
Crash online gambling coincided with the proliferation of mobile casinos. Therefore, they were always designed with mobile compatibility in mind. Nearly every major crash game can be played on multiple devices, including iOS and Android. Additionally, the simple graphics seen in these games mean they're compatible with lower-end devices.

Is Crash Games Gambling Legal in the US?
No law forbids a bitcoin crash game from operating in the US. However, crash games aren't available at US-licensed casinos. Therefore, getting access to these games can be tricky.
Luckily, a few providers licensed in the US, such as Pragmatic Play, offer crash money games. This means that in the future, players may be able to play these exciting casino games with licensed operators.
We only review licensed casinos. For now, there's no way to play crash-betting games in the US legally.
Are crash games rigged?
The inner workings of a crash betting game are similar to other casino games, such as slots and virtual roulette. Essentially, they work through a random number generator (RNG) algorithm that uses a mathematical model to decide the game's results. This ensures every round is different and completely random.
To ensure the RNG algorithm is random, casinos and providers rely on third-party organizations specializing in iGaming certification, such as eCOGRA, BMM Testlabs, and Gaming Laboratories International (GLI).
These auditors thoroughly review the game's code to ensure it matches the details announced by the provider. A fair game will have random results that can't be manipulated.
Our Crash Game Reviews
Looking to know more about the best crash game? Check out our reviews and see what they have to offer:
Ready to Join the Excitement of Crash Game Gambling?
Crash games are highly volatile casino games typically associated with crypto gambling. They became popular due to their fast gameplay and potentially high payouts.
Traditional crash gambling sites have recently started featuring these games in their portfolios. Despite this, crash games are still not available at US-licensed casinos. We expect this to change soon, as more providers are making their way into the market.