by Steve Bourie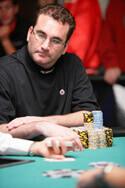 Mike "The Mouth" Matusow, is one of the world's top professional poker players and a favorite among the millions of television viewers who have come to count on his outrageously candid comments, emotional outbursts, and constant taunts.
Mike has won more than $7 million in tournaments, made an amazing 13 final tables at the World Series of Poker (WSOP), and won three coveted WSOP gold bracelets.
Mike has a new book out, Check-Raising The Devil, which chronicles his true-life roller coaster ride from his humble beginnings in a trailer park to a rock and roll lifestyle full of hot women, sex, wild drug-filled parties and million-dollar wins and losses.
It turns out that behind the glamour and glory of his high-stakes poker career there lurked a flip side: a person torn between two debilitating mental illnesses—bipolar disorder and ADHD. To dig himself out of depression and suicidal despair, Matusow turned to dangerous street drugs to self-medicate a problem he didn't understand, but he only spiraled deeper into the darker world of addiction, police narcotic stings, and ultimately: jail time.
The Interview
American Casino Guide author Steve Bourie recently had the chance to ask Matusow five questions and here's what Mike had to say:
Steve: How did you get the nickname "Mike the Mouth?"
Mike: I talk a lot at the table, and I was loud. They used to call me Loud Mouth, but I didn't like that name so I changed it to "The Mouth" when we started getting TV coverage.
Steve: What is your favorite pastime if you are not playing poker?

Mike: Sports betting, but I don't recommend that as a pastime.
Steve: What abilities do you have as a player that sets you apart from the rest of the professional players?
Mike: I have the strongest ability to read opponents of anyone I know. I can read strength and weakness like nobody else.
Steve: Which professional poker player do you admire the most?

Mike: Phil Ivey, because he's just the best there is.
Steve: What is the one best piece of advice you can give to amateur poker players to improve their game?
Mike: Patience is key. These days the young kids all try to make moves all the time, and that's not what tournament poker is all about.