DraftKings has announced that it plans to acquire Golden Nugget Online Gaming from Fertitta Entertainment, Inc for $1.56 billion.
DraftKings has agreed to buy Golden Nugget Online Gaming in a deal valued at $1.56 billion in stock, further expanding one of the leaders in fantasy sports' presence in the online gaming market.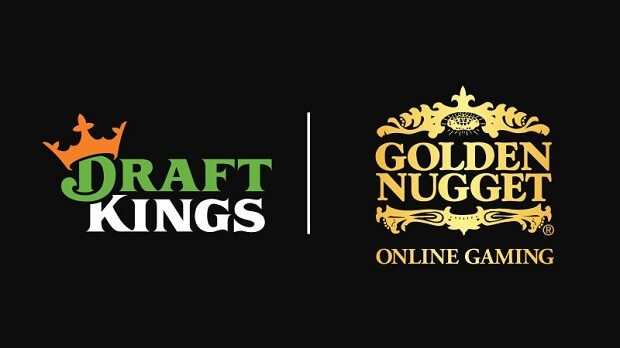 DraftKings already has a large, popular online casino. Still, by adding Golden Nugget under their umbrella, they will become one of the biggest leading brands in the New Jersey and Michigan markets.
Jason Robins, DraftKings' CEO and Chairman of the Board released a statement saying, "Our acquisition of Golden Nugget Online Gaming, a brand synonymous with igaming and entertainment, will enhance our ability to instantly reach a broader consumer base, including Golden Nugget's loyal 'igaming-first' customers. This deal creates meaningful synergies such as increased combined company revenues driven by additional cross-sell opportunities, loyalty integrations, and tech-driven product expansion, as well as technology optimization and greater marketing efficiencies. We look forward to Tilman being an active member of our board and one of our largest shareholders."
GNOG added, "This transaction will add great value to the shareholders as two market leaders merge into a leading global player in digital sports, entertainment, and online gaming. Leveraging Fertitta Entertainment's broad entertainment offerings and extensive customer database, coupled with DraftKings' mammoth network, makes this an unbeatable partnership. Together, we can offer value to our combined customer base that is unparalleled. We believe that DraftKings is one of the leading players in this burgeoning space and couldn't be more excited to lock arms with Jason and the DraftKings family across our entire portfolio of assets, including the Houston Rockets, the Golden Nugget casinos, and Landry's vast portfolio of restaurants. This is a strong commercial agreement for both companies."
Analysts believe this deal is a win-win for both companies
Upon analyzing the agreement, Regulus Partners said, "The underlying profitability of GNOG's igaming footprint, with its leading share in NJ, is a welcome boost to the DK business model, which is not yet achieving much if any operational gearing."
"GNOG's operational online gaming expertise is also fertile ground for DK synergies, while a multi-brand strategy is likely to make increasing sense in a maturing and therefore segmenting market, in our view. Finally, since the deal is all paper, the transaction does not put any further hard-earned capital at risk, while GNOG is very easily accretive to DK at both the valuation and cash flow level."
"Not many deals are genuinely win-win, and very few US-led transactions currently seem all that sensible; this one ticks both boxes for us. It is nice to be able to write something positive for a change."
What does the deal consist of?
According to Bloomberg, "DraftKings will reorganize its holding company, and Golden Nugget Online Gaming shareholders will receive 0.365 shares of DraftKings for each of their own. Fertitta, who owns a 46% stake in Golden Nugget Online Gaming, agreed to continue to hold DraftKings shares that will be issued to him in the merger for at least one year."
Tilman Fertitta is the chief executive and largest shareholder of Golden Nugget Online Gaming. He will continue to own the Golden Nugget land-based business and will also join the DraftKings board.
The deal will also include promotions with the Houston Rockets basketball team and possibly a sportsbook at the Toyota Center arena in Houston.
The deal is still subject to regulatory approval but is expected to close during the first quarter of 2022.
News of the acquisition led to shares of Golden Nugget jumping 52% on the NYSE.