The Metaverse will change how we see online casino games, how they work, and how much we interact with features, themes, and rewards.
While the concept might seem in the "early days" phase, Virtual Reality technology contestant evolves, introducing features and enhancements that make the experience far more realistic.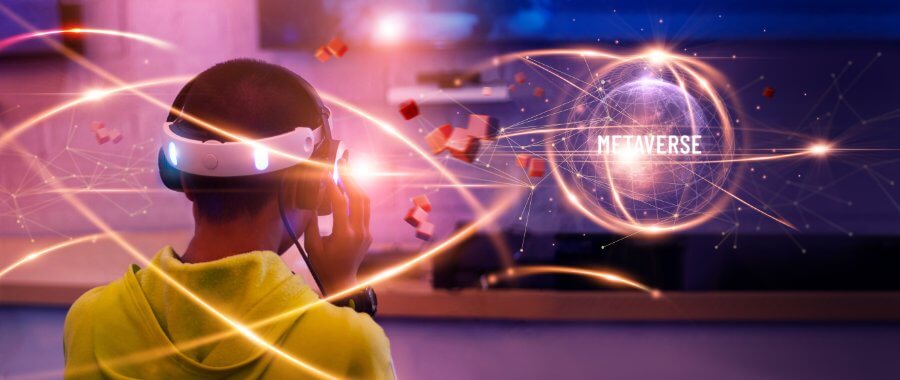 In this Article:
The Introduction of Metaverse
Metaverse Casinos
A New Style of Online Casino Games
Since as early as 1992, when author Neal Stephenson described the Metaverse in the Snow Crash novel, it's become an attractive concept for various online industries. Neal described it as a virtual multiverse where people can interact online and share the experience of an online world. 
Introducing Virtual Reality headsets and the rebranding Facebook to Meta were among the first large-scale steps to bring the Metaverse to life. While various concepts exist around the Megaverse, one of the most significant and exciting revolves around online casinos. 
Metaverse Online Casinos Already Exist
The Metaverse already provides access to online casinos, which require cryptocurrency. Stepping into the virtual casino floor offers various casino games, realistic tables, and many other players enjoying the games. 
In a nutshell, these Meta casinos represent virtual land-based casino floors, offering players an array of game choices such as Roulette, Blackjack, slots, and more. 
While perhaps not impressive yet, there are no limitations to what these casinos and the games could offer. Imagining a new form of casino games, styles, and interactions wouldn't be far-fetched, especially not with the incredibly realistic 3D graphics of Virtual Reality (VR) and Augmented Reality (AR) have to offer.
A New Style of Online Casino Games
It's difficult to explain what VR is like to someone who has not experienced it first-hand. Most expect it to be similar to a TV or computer screen with the advantage of being able to look around.
While it's true, the 3D technology makes it incredibly realistic. Look around where you are and imagine the table, chair, and everything around you becoming animated. It would still have its 3D appearance, meaning you can move around it, look at it from different angles, and even interact with it – that's VR.
In gaming, VR is the best for an immersive and realistic experience, which will soon spread to the online casino industry. Consider the wide range of video games, the different categories, and the themes that set them apart, and imagine what's possible for casino games.
Developers could move away from the standard set of reels in slots and instead create an adventure for players to enjoy and progress. Games could include more functionality, an immersive bonus round, and spin features that have you grabbing the reels to set them in motion.
Game themes could become an animation, and you'd be part of the story in a realistic way that's difficult to comprehend without first-hand VR experience.
Stay Updated with the Latest Online Casinos
The online industry constantly grows, offering new game styles, features, and themes to enjoy. Bookmark our news page and discover the latest VR features first. In the meantime, learn more about these related topics.