Butterfly Staxx Review
If you're a fan of NetEnt slots, you might have already noticed that each new slot release has a completely different theme and features that can't be found in any other slots, from any game provider. The Butterfly Staxx slot introduces a new way to enjoy the best of what online games offer. It's not just the impressive features and theme, but rather how everything comes together for an incredible experience.
---
Butterfly Staxx Review – A Calming Slot with Exciting Wins
The Butterfly Staxx slot from NetEnt is one of the most relaxing slots you'll even play. Everything from the nature theme to the calming melody just sets the mood for an immersive experience, but the impressive wins might make you snap out of it every now and then.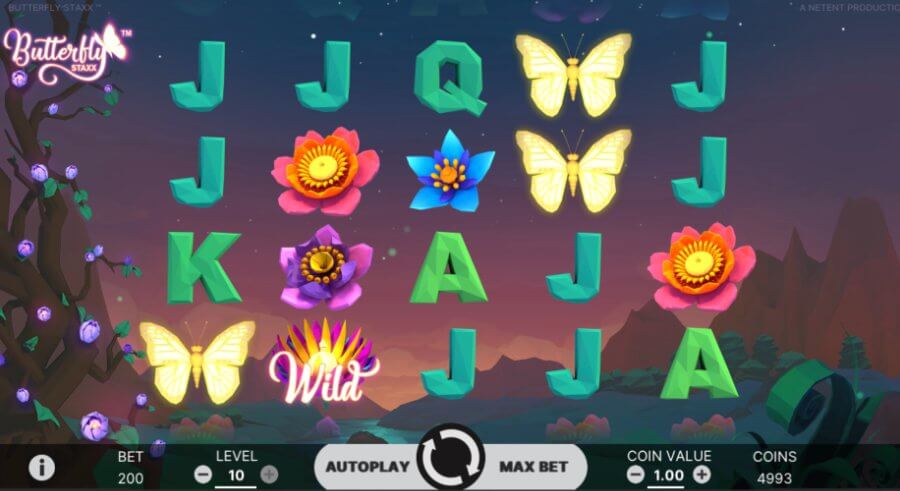 Delivering an RTP of nearly 97% and including unique features, it's the type of slot you'll return to, especially with the butterfly spins feature. The base game delivers re-spins, wilds, and 40 paylines that require a low wager of just 20 coins per spins. So, is it worth playing? I think you already know the answer, but let's dive into the details with our Butterfly Staxx slot review.
What I Reviewed in the Butterfly Staxx Slot
As one of the top game providers in the world, NetEnt creates slots that stand out above the rest with innovative designs, unique features, and themes you won't find anywhere else. To best describe the slot, its features, and how it all works, we'll follow the detailed layout as with all our other slot reviews.
---
More Details about Butterfly Staxx
| General Details | | | |
| --- | --- | --- | --- |
| Slot type | Video Slot | Number of rows | 4 |
| Provider | NetEnt | Reels | 5 |
NetEnt's nearly three decades of experience shows in the design and layout of every online slot in its portfolio. Keeping to a simplistic layout that's easy to adjust on both PC and mobile devices makes them a favorite among all player levels. Combined with brilliant gaming features, it creates an experience that's difficult to match.
The Butterfly Staxx slot uses a standard layout of five reels with four symbols each. Combinations trigger from the leftmost reel, which require symbols to appear consecutively on 40 paylines. Interestingly, it requires a wager of just 20 coins, covering all paylines and features. We'll take a closer look at the betting details later in this Butterfly Staxx slot review.
---
Butterfly Staxx Base Game and Bonus Features
| Features | No. | List |
| --- | --- | --- |
| BASE GAME FEATURES | 2 | Wild Symbols, Re-Spins |
| BONUS BUY FEATURES | 0 | – |
| BONUS GAMES FEATURES | 1 | Butterfly Spins |
Wilds and Staxx Create Wins to the Max!
During the Butterfly Staxx base game, combinations are always the main reward, but NetEnt includes a unique touch that could lead to incredible winnings, especially when you get a full reel of butterfly symbols. Of course, there are wilds and stacked standard game symbols as well, which deliver amazing rewards all by themselves.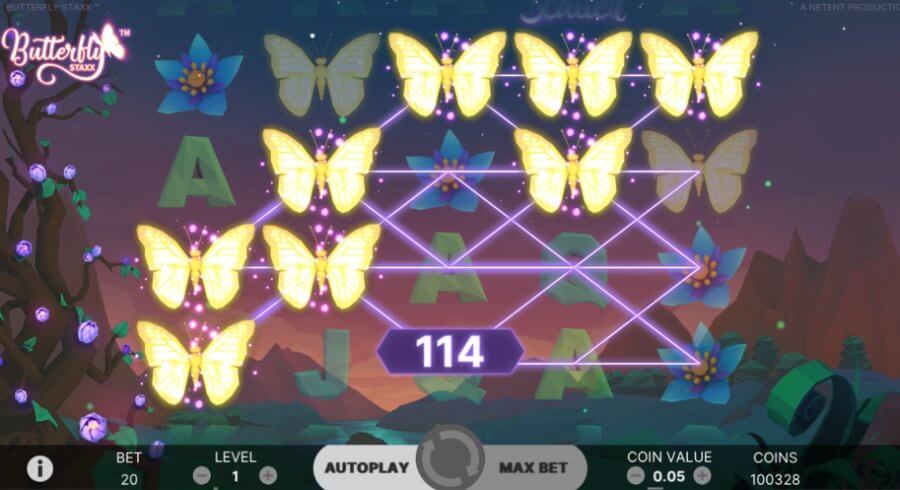 Wild Flowers
Represented by the yellow, purple, and pink flower, you'll see the wilds often and ready to create bigger wins. The wild flowers can represent any other symbols where they appear, making it possible to activate more and bigger combinations. As per usual, the wilds cannot represent the scatters, but can stand in for the butterfly symbols.
Get Butterfly Staxx for Re-Spins!
We might have mentioned it already, but I'll say it again; NetEnt creates unique features with every single slot release. In the Butterfly Staxx slot, the glowing butterfly symbols trigger a re-spin feature when at least one reel is filled with these symbols.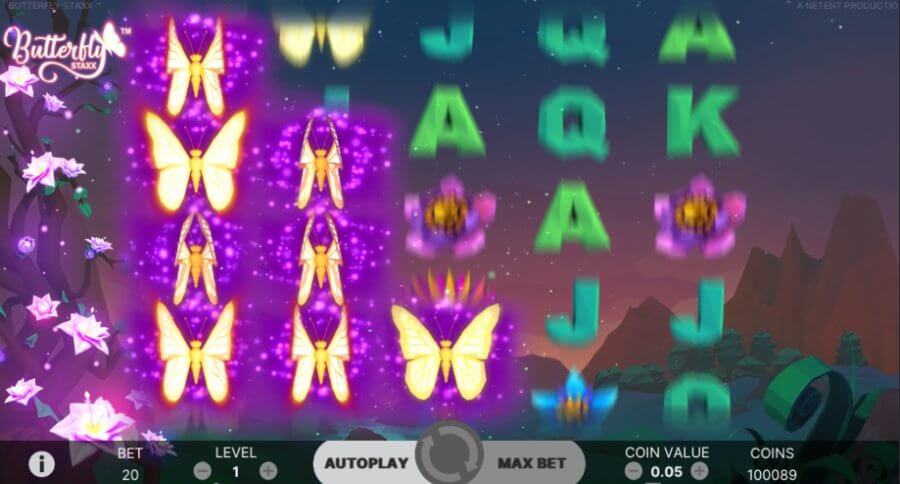 The stack and any other butterfly symbols will fly to the first reels, covering as many symbol positions as possible from left to right. A re-spin activates, and should any additional butterfly symbols appear anywhere, it too is added to stacks to fill up the second, third, fourth and fifth reel.
The feature continues until no more butterfly symbols appear or you've covered the entire screen with these beautiful creatures, followed by your reward. The butterfly symbols are the highest paying, and reward for as little as two symbols on a line, ensuring generous wins when this feature really takes off.
No Bonus Buy Feature Needed
The impressive base game features keep you entertained and activate rewards often. Of course, we all want to trigger the main feature with every spin, which makes bonus buy slots brilliant as you can purchase the feature at any point. However, in Butterfly Staxx the main feature activates often enough and a bonus buy option wouldn't really add much value.
Hold and Win Rewards During Butterfly Spins
I won't spoil how the main feature works as it's covered in detail in the next section of the Butterfly Staxx slot review. However, it does include a hold and win feature during free spins that lead to some impressive payouts. Of course, it's not quite the same as standard hold and win slots that allow you to lock symbols in place for a higher bet.
Powerful Butterfly Spins as the Main Feature
As with the unique re-spins during the base game, NetEnt includes a remarkable main feature that once again delivers on big wins. It's triggered by at least three scatter symbols that's represented by the purple flower on any reels. The more scatters appear in a single spin, the more butterfly spins you get to maximize those wins, let's take a look.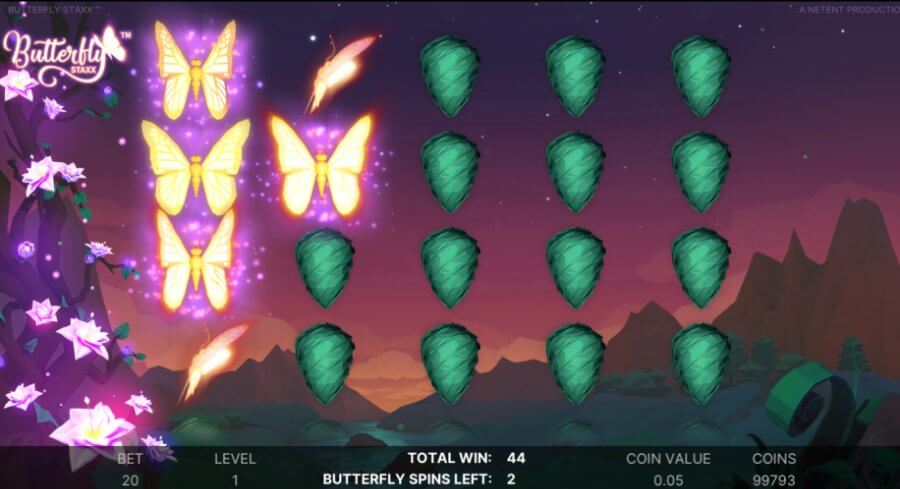 Butterfly Spins
Once triggered by at least three scatter symbols, the main feature presents a new set of reels where only cocoons appear. Of course, we want those to change into bright butterflies and trigger big wins.
The main feature is similar to re-spins during the base game as the purpose of the butterfly spins is to get as many butterfly symbols anywhere on the screen. These fly to the far left and replace the cocoons, activating payouts after every spin. The more butterflies you get, the bigger those rewards become!
---
Helpful Special Features in Butterfly Staxx
| Special Features | |
| --- | --- |
| Autoplay option | 👍 |
| Change the speed | 👍 |
| Mute the sound | 👍 |
| Adjustable bet size | 👍 |
Advanced game options are easily accessible below the reels on PC or around the spin button at mobile casinos. In the bottom left-hand corner, the spanner provides access to spin features such as spacebar to spin and quick spin.
Autoplay appears to the left of the spin button, and betting options on either side. The bet level acts as a multiplier, not just for the wager but all the winnings triggered as well. With the bet level at one and the denomination at $0.01, a spin would cost just $0.20. At maximum bet – bet level 10 and a coin value of $1.00 – a spin would cost $200.00.
---
The Theme and Design of Butterfly Staxx
Considering the theme and game sound, it's quite easy to assume that NetEnt aimed to create a relaxing, peaceful, and calming online slot experience. The theme provides an escape to the beauty of nature, featuring colorful flowers, animated fireflies, and tranquil symbol colors.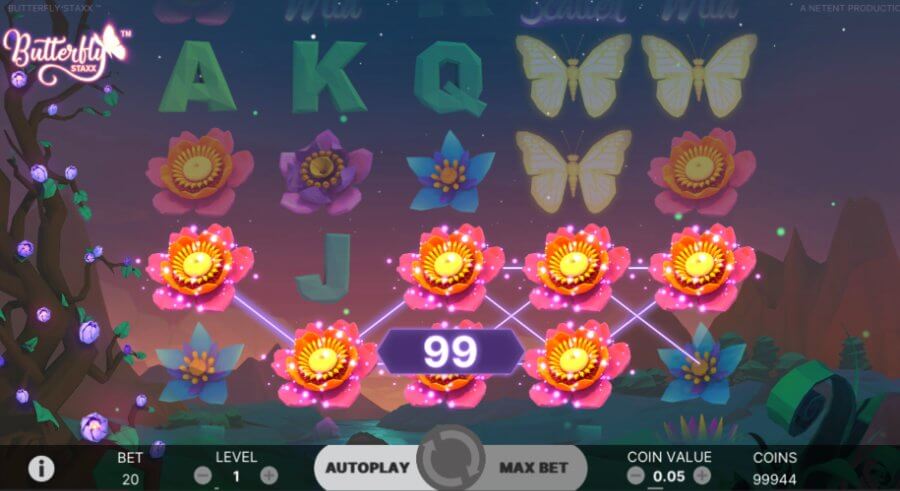 Nature Comes to Life with Every Spins and Win
Leaving the reels to rest eventually causes the purple flowers on the left to close, which bloom again as soon as you touch the spin button. It might be a bit of useless information, but it all adds to the experience. Of course, the primary focus is on the reels, which produce various animations, especially when a winning combination activates.
Relaxing Sound Effects
Everything from the background melody to the sound when triggering a winning combinations are calming and enjoyable. HD audio forms part of every aspect of the slot, and we really like that the background melody continues with unique sounds instead of repeating a short sound track constantly.
Overall, we'd recommend leaving the sound on and possibly add good quality headphones to experience the full effect.
---
Who Created Butterfly Staxx?
As mentioned multiple times in the Butterfly Staxx slot review, NetEnt is the professional game provider behind the development and design. Established in 1996, NetEnt is one of the few that started with the rise of online casinos. Loaded with unmatched experience, an incredible design team, and a unique eye for innovation, it's no wonder that they manage to stay one of the most popular.
More Popular Online Slots by NetEnt
NetEnt provides a broad collection of game styles and features that's never repeated on any of their slots. In fact, every release delivers a feature that's not available in the market at the time, much like the butterfly spins and re-spins in Butterfly Staxx. There are hundreds of NetEnt slots we'd recommend as each one has something different to offer.
---
Conclusion – Is Butterfly Staxx better than the others?
NetEnt slots are always an easy recommendation as you know most players would enjoy the game, theme, and rewarding features. Butterfly Staxx is no different, especially with an RTP of 96.8%, unique features, and a theme that allows you to relax, even with those mega wins that might have you jumping out of your seat.
So, is it better than others? I would certainly say it's better than most, especially for players seeking something different without getting bored within a few spins or having to figure out complicated bonuses. It's easy to play, offers betting options for all, and is available at most of our American online casinos.