Cash Noire Review
NetEnt's Cash Noire has over five unique attributes, including free spins
Enjoy a variety of unique and exciting features
Experience a slot game like no other
NetEnt's Cash Noire slot takes place in a dark, dingy office where you get clues that lead you to a hidden treasure!
Read our Cash Noire review to learn tips and tricks on how to get the best experience.
With avalanche multipliers, scatters, and free spins, you're sure to track down your reward in no time.
Read on to learn about where you can play Cash Noire!
We also tell you about free spins, unique features, RTP, bet range, and everything that gives you an added advantage.
Provider
NetEnt
Volatility
Low
RTP
96,06%
Features

Mystery Symbols
Avalanche
Multipliers
Crime Zone
Free Spins

Paylines
1024
Reels
5
Minimum Bet
$0.20
Maximum Bet
$200
Top Win
5,000x
Cash Noire Symbols And Payouts
With 1024 paylines across the five reels, and multiple symbols and scatters, you'll find it easy to enjoy yourself.
Cash Noire has a hit frequency of 21.87%, so roughly 1 in 5 spins will have you winning.
Because of the 10x multiplier, you could potentially hit a stake with a 1,033x payout.
Read on to learn how you could win big in Cash Noire.
Symbols
You have 11 symbols in the game, including the mystery symbol. The highest value symbols are the smoking woman, the crime boss, and detective Flint.
At the lower end are the magnifying glass, pack of matches, and ace of spades. The symbols perfectly capture the mysterious atmosphere of the game.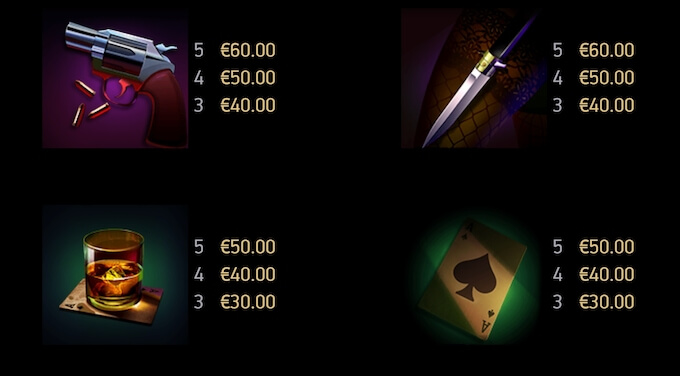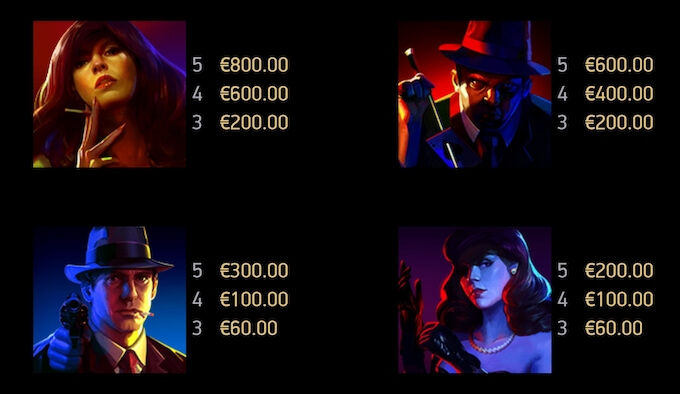 Paytable
We provide insight into the different symbols and paylines in the game for your convenience. Follow our guide for an easy big win.
Cash Noire Min / Max Bets
To place a bet, you'll need to put down a $0.20 wager. The maximum bet is only $200, which makes this an excellent game for casual and hardcore players.
Cash Noire RTP, Volatility & Hit Frequency
Because of the RTP of 96.06% and the low volatility, Cash Noire is an excellent game for winning.
We did a 200-spin test for our Noire Slots review and triggered the free spin twice.
With the multiplier extended, we hit a multiplier that gave us $500 on a $0.20 bet.
Cash Noire Jackpot and / Or Maximum Win
With a multiplier that stacks up to 10x, you could win over 1033 times your original stake.
With the potential of unlimited free spins and multipliers, winning is relatively easy and rewarding.
Cash Noire Features
We're taking you directly to detective Flint to investigate some of the most gruesome crimes, with the most exciting rewards.
Wilds and Other Game Features
Unusual for slots, Cash Noire bonus features and wilds are triggered by matching frames.
Due to Cash Noire's unique features, we decided to give you more details to help you win.
Mystery Symbols
While the game does not have a wild, the Mystery symbol adds some excitement to the game. If the logo appears outside the crime zone, it will turn into a random character.
With it, you receive another chance to win. If it lands inside the crime zone, it will reveal a random symbol and duplicate itself.
Avalanche Feature
An avalanche feature begins when you make a combination.
Whatever symbols you won with are removed from the reels, and new characters fall into the empty spots.
Your avalanches continue until there are no recent wins formed.
Cash Noire Free Spins
The Clue List shows your progress to Free Spins. Build matches until you activate 13 clues to start the Free Spins feature, which gives you 6 free spins.
As soon as the feature is unlocked, the Crime Zone covers 5 spots and stays in the same pattern. A City Chase map shows the multiplier positions and how you can win more free spins.
To win, you have to land winning symbols inside the Crime Zone.
Each time you do that, the car moves to new locations, giving you more free spins and increasing your multiplier.
Cash Noire Special Features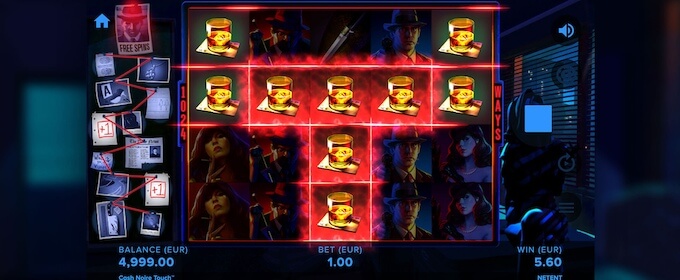 Unlike other slots, Cash Noire has the crime zone, where a red pattern of hotspots appears on every spin.
When specific clues from the Clue List are triggered, the area expands.
Every symbol inside the Crime Zone that wins activates an item from the Clue List.
With several intriguing features that give you a boost, you could enter the Free Spins mode and get up to 10x on your multiplier.
Graphics & Sound
With music that brings back the 1930s, you're transported back in time to a simpler life. The feeling of hard-boiled detectives is brought to life in Cash Noire with ambient music and witty remarks.
From the moment you click to play, the game treats you to visually stunning graphics.
Detective Flint adds some amusing commentary throughout the slot, giving you a sense of investigation.
Other Slots To Play If You Like Cash Noire
The unique feature of the expanding crime zone sets this game apart from most. You'll discover it's challenging to find another game that gives you the same level of enjoyment.
If you prefer a more traditional slot game, the Peaky Blinders slots have a similar feel as Cash Noire.
Cash Noire Review – Conclusion
Cash Noire is an enjoyable, humorous slot that rewards players in small increments that keep you wanting more.
Why not spend a few coins and have a good time. With excellent graphics and a captivating soundtrack, this game is definitely on the more enjoyable side.
If you're looking for something that gives you an enormous amount of micro-wins, this is your game.
If, however, you want something that offers big payouts once every blue moon, you'd probably get a bit bored after a while.