Cash Spin Review
Modern online slots are highly impressive with their incredible themes, designs, animations, and massive bonus features. However, we're not all looking for new slots with extensive features to get used to but would like some of the modern features. That's exactly where the Cash Spin slot fits in, offering a classic layout and features, with modern rewards, thanks to 243 ways to win.
Cash Spin Slot Review – Classic Wins with Modern Features
Most classic slots offer either three or five reels with up to 10 paylines. It was quite a surprise to see 243 ways to win in the Cash Spin slot from Bally, especially since the slot presents an older classic theme with "outdated" graphics.
Of course, it's entirely possible that the talented development team created it on purpose, giving classic slot fans the same simplistic and easy to use platform, but with winning opportunities that match the latest slots.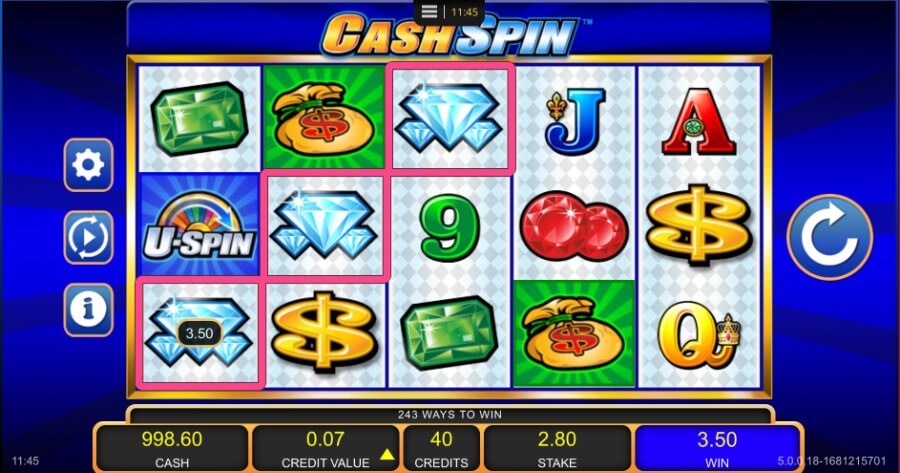 It would certainly be a mistake to assume everything about Cash Spin represents a classic since features such as free spins and the unique U-spin feature make a difference with hearty, high volatility rewards.
What I checked in Cash Spin
Classic or not, our Cash Spin slot review follows the same info and layout to ensure we cover every aspect of the game. Starting with the basic details, then the features, and ending off with the theme and developer makes it easy to compare to our other slot reviews and help you find the best games!
More Details about Cash Spin
| General Details | | | |
| --- | --- | --- | --- |
| Slot type | Classic Slot | Number of rows | 3 |
| Provider | Bally | Reels | 5 |
Some of the reasons to love a classic slot include the simplistic layout and uncomplicated design. The Cash Spin slot from Bally is no different, featuring five reels with three symbols each, the game and balance details at the bottom, and buttons along the sides.
To activate its non-adjustable 243 ways to win, a wager of 40 coins is needed per spin, which is multiplied by the betting value. It ensures all possible combinations activate from the leftmost reel in any direction, provided at least three of the same symbols appear consecutively.
Cash Spin Base Game and Bonus Features
| Features | No. | List |
| --- | --- | --- |
| BASE GAME FEATURES | 1 | Wild Reels |
| BONUS BUY FEATURES | 0 | – |
| BONUS GAMES FEATURES | 1 | Free Spins, U-Spin Wheel, Money Bags |
Base Game Features Aim for Bigger Combinations
During the standard Cash Spin slot, not many benefits from part of the experience. Instead, it's all about lining up those combinations with rewards of up to 500 coins. There are wild symbols, which is a great addition to any slot, especially when they appear in stacks.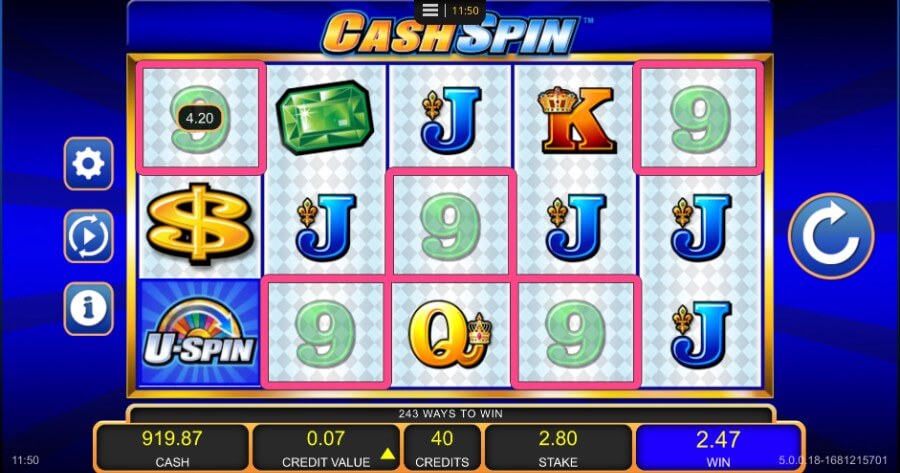 Stacked Wild Reels
The highest possible payout of 500 coins isn't nearly as high as some of the most popular classics such as Tricolore 7s from IGT. However, while the IGT slot doesn't have features, Cash Spin offers more benefits to activate more wins, including wilds.
Appearing on reels two and four, red and yellow wild symbols can represent any others where they appear, excluding the other special features, of course. The best part of it all, the wilds in the Cash Spin slot can appear in stacks, filling up the reel to activate multiple combinations.
A Bonus Buy Feature Would be a Nice Touch
In bonus buy slots, you get to activate the main feature at any time by purchasing it. The price tag is usually much higher and there's no guarantee that you'll win more than the purchase amount. However, it would have worked in Cash Spin as players would purchase the free spins feature if things take a bit too long to activate. Does it need it? We don't think so.
No Need for a Hold and Win Feature
Locking high paying symbols in place for a higher bet certainly works for hold and win slots, but it makes the game more complicated, which won't sit well with the Cash Spin slot. We like the way Bally kept it simple, easy to play, and straightforward.
The Bonus Features are the Highlight
Loaded with three unique bonus features, the Cash Spin slot becomes really impressive once enough of the bonus symbols appear on the reels. The features include free spins, a U-spin wheel, and money bags, and as with the rest of the slot, the features are uncomplicated.
U-Spin Wheel Feature
Represented by the U-spin symbol on reels one, three, and five, you'll need all three of these to activate the bonus wheel feature. Once triggered, a massive wheel appears on your screen with thousands in coin winnings and the opportunity to activate free spins. You'll win whatever appears on the screen.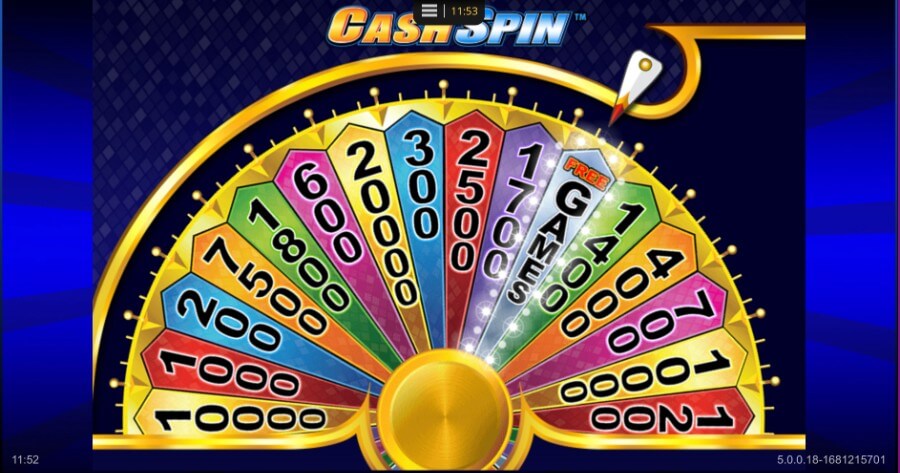 Free Spins Feature
As mentioned above, the free spins activate in the U-spin bonus, there's no other way to trigger it. You'll receive 12 free spins during which all winnings pay double the regular amount. It's also possible to activate the U-spin feature during free spins, which could add a huge win or more free spins.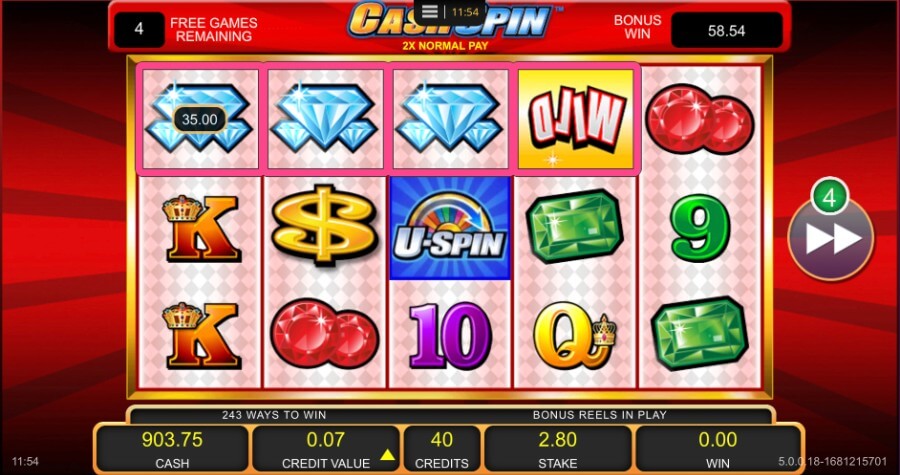 Money Bags Feature
Represented by the green money bag symbols on reels two, three, and four, the money bag symbols have to appear three times to activate the bonus. It's quite simple as you simply need to choose one of the blocks to activate an instant cash win.
Important Special Features in Cash Spin
| Special Features | |
| --- | --- |
| Autoplay option | 👍 |
| Change the speed | 👎 |
| Mute the sound | 👍 |
| Adjustable bet size | 👍 |
The layout in Cash Spin is quite straightforward, featuring the spin button on the right and the other game options on the left. At the top, the settings gear provides access to sound options where you can choose to mute as well. Next is the autoplay feature, allowing up to 25 auto spins at a time, and finally, the info button provides access to the pay table.
The only options at the bottom of the screen include the betting value, which is adjustable by choosing a bet per coin, starting from $0.01, making it possible to spin the reels from just $0.40. Higher bets won't increase the odds of winning, but will increase the rewards, but remember to play responsibly. The highest wager is $12.00 per coin, meaning a maximum bet of $480.00 per spin.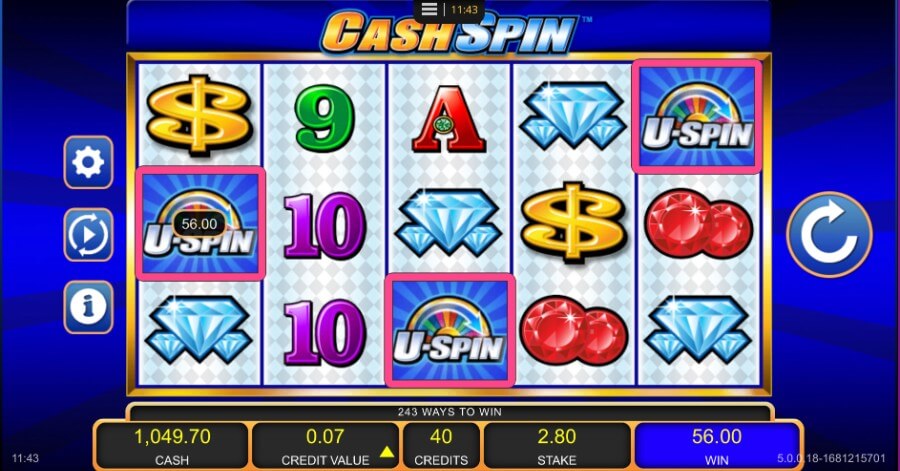 The Theme and Design of Cash Spin
As mentioned throughout the Cash Spin slot review, the development team created a classic slot that doesn't strive to deliver the latest graphics and animations. Instead, it's straightforward, and if you're hoping for an entertaining theme, you're bound to be disappointed.
Keeping it Classic and Focused on Wins
Spinning the reels causes a blur and activating a combination causes the winning symbols to flash as a block appears around them, but that's about it. While this might sound boring to most players, it's exactly what you'd want from a classic, allowing you to play longer and stay focused on winnings without any distractions.
The Mute Button is Useful
As with the graphics, there's nothing to rave about in the sound department of Cash Spin either. A mix of drums accommodate every spin, but the quality is quite low, which is why we chose to just set it to mute and play some of our favorite songs to fill the background instead.
Who Created Cash Spin?
Bally Technologies is a major casino brand in America, presenting games in both online and land-based casinos. Of course, the well-known red logo also appears alongside the best casinos in Atlantic City and other states.
More Popular Bally Online Slots
Classic slots are popular at Bally online casinos, offering a broad range of unique themes, features, and rewards. Of course, you'll also find a great variety of modern slots, featuring impressive graphics, animations, and bonus features that truly deliver an entertaining experience.
Blazing X
Triple Cash Wheel
Quick Hit Ultra Pays
Conclusion – Is Cash Spin better than the others?
Deciding if the Cash Spin slot is better than others would depend on what you desire from a classic slot machine. If you're hoping for massive wins that take a while to activate, you might be disappointed. However, if a better rounded experience with some features, high but smaller wins, and the addition of wilds float your boat, then this is an online slot that's well worth giving a try.