Jade Tiger Review
Low volatility slot game
Awesome graphics
Unique bonus round system
Betting opportunity to win $150,000
Jade Tiger maintains some entertaining visuals and highly enjoyable bonus rounds that combine to create some intense gameplay.
While this slot fails to deliver in the sound design department, it offers an overall fantastic experience with a mix of healthy chances for massive wins.
In our Jade Tiger review, you'll find out how this slot fares against others. We also take a look at the Jade Tiger rpt and types of bets you can make when you play.
Provider
Ainsworth
Volatility
Medium
RTP
93.71%
Features

Free Spins
Wild Symbols
Scatter Symbols

Paylines
30
Reels
5
Minimum Bet
$0.01
Maximum Bet
$100
Top Win
$150,000
Jade Tiger Symbols and Payouts
Jade Tiger has 30 paylines and 5 reels with many ways to achieve a paying combination. You can earn wins if you connect symbols from left to right and vice versa. This slot also allows for cluster combinations.
If you manage to match various icons on different rows, you'll see the familiar straight line indicators along with diagonals.
Symbols
There are quite a few symbols in this title. Among them, you'll find a tiger, jade coin, tortoise, fish, shaker, fortune cookie, and a pot. You can also find the 9, 10, jack, queen, king, and ace cards.
The slot, just like its name implies, has an Ancient Chinese theme. Almost every symbol exudes this style with vibrant colors.
You aim to match the tiger, jade coin, fish, shaker, and fortune cookie. These offer the most massive payouts.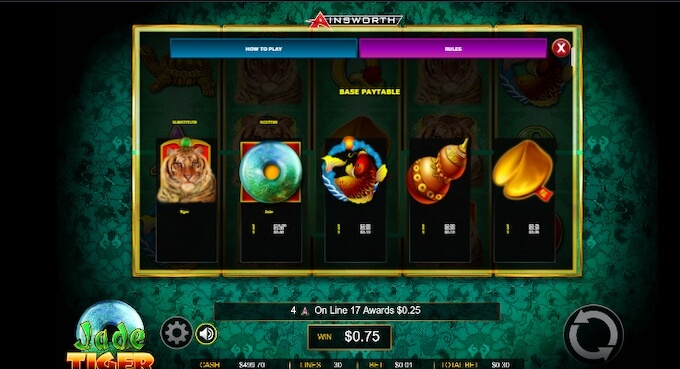 If you manage to line up enough of the giant feline symbols, an animation will play, and it roars, almost as if to cheer you on.
The remaining icons are pretty insignificant and will hand you about 25% of the value you would usually get from the top tier symbols.
These symbols play a more crucial role in combinations that push you into bonus rounds; it's generally better when they don't appear, allowing spots on the reels for more significant icons.
Paytable
Tiger: Wild
Jade Coin: Scatter and 15, 3, and 0.40
Fish: 2, 0.50, and 0.10
Shaker: 2, 0.50, and 0.10
Fortune Cookie: 0.75, 0.30, and 0.05
Pot: 0.75, 0.30, and 0.05
9, 10, J, Q, K, A and Tortoise: 0.50, 0.20, and 0.05
Jade Tiger Min / Max Bets
This slot offers a decent minimum and maximum betting range. You can wager from $0.01 all the way up to $100.
You can also select an amount and toggle an automatic spin feature that maintains your bet until the function finishes.
This automation continues through bonus rounds for a more convenient experience.
Jade Tiger RTP, Volatility & Hit Frequency
Jade Tiger's RTP is below-average, sitting at 93.71%. Regardless of this low percentage, the amounts it offers in terms of winnings is relatively healthy.
It's important to consider that the slot also has low volatility and a decent hit frequency.
One of the best strategies for Jade Tiger is to apply small to medium-sized bets.
Jade Tiger Jackpot and/or Maximum Win
This title does not have a jackpot. However, the maximum win amount is astounding. With certain bets and enough luck, you can net $150000. This sum is achievable via a specific gameplay mechanic.
To earn the top payout, you have to combine jade coins and tigers, scatters and wilds, to be specific.
This unlocks a series of bonus spins that upgrade the symbols. If luck is on your side, the end result is the maximum win amount.
Jade Tiger Features
The features included with Jade Tiger are a bit limited.
These are a bonus round with 10 free spins, a complementary attempt when you match multiple tigers, and a full reset on your 10 tries when you stumble upon the lucky boy on the first or fifth reel.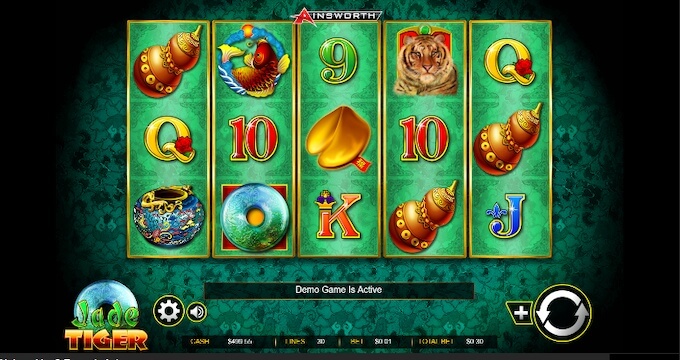 While the game has a scarce set of features, it still offers plenty to enjoy.
Rather than a plethora of extra bells and whistles, it provides an immersive and intense experience for the few that it has.
Wilds, Respins, and Other Base Features
The tiger represents the wild in this slot game. With the right set of symbols, you can stack it for extra winnings. Jade coins, at least three in a row, add up for a bonus round.
Wilds
Tigers that show up on the reels serve a few purposes. They can take the place of other icons for combinations that produce a win.
They participate in bonus rounds and free spins, along with the jade coins.
Most significantly, the wild works in sync with the lucky boy for the potential to walk away with the maximum amount and receive a reset on your 10 free spins.
Bonus Rounds
Jade coins are primarily for launching the bonus rounds. You need at least three to manifest the extra game. Here the background explodes and transforms into a beautiful golden design.
The reels follow suit and a new symbol enters the fray.
These extra spins that come at no additional cost, are a chance to match tigers, jade coins, and the lucky boy icon.
Tigers can stack, and the lucky boy icon can lead to some serious winnings.
Jade Tiger Free Spins
More opportunities to pull the digital lever are hard to come by. You get another chance at pulling the lever when you match a specific amount of tigers and jade coins together.
Roaring Spins
If you run into a stack of felines, you get one additional try. This combination is quite frequent.
The symbols react accordingly, with a roar of excitement and a unique animation.
More Opportunities
Jade coins throw you into a bonus round where you get 10 free spins. Matching tigers in this mode does not provide extra winnings.
They do, however, add more chances during the additional pulls.
If you happen upon the lucky boy symbol during the bonus round, it resets the extra chances, and you have 10 again. This event has no limit and can re-trigger continuously.
Graphics & Sound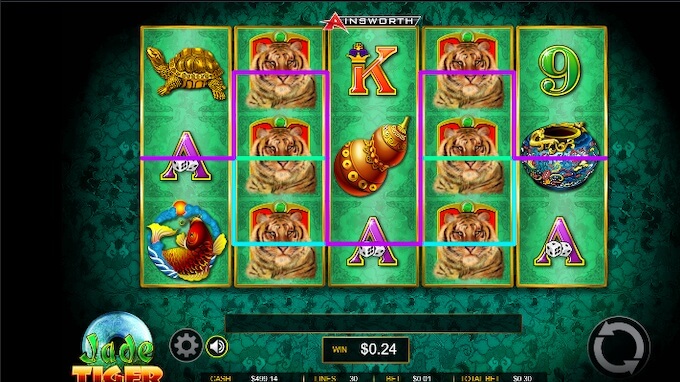 Stunning visuals and sound quality can take slot games to another level. Jade Tiger manages to impress to a certain degree. Its design is most astounding but in a specific way.
You might not consider it as impressive as other titles, but it's still quite captivating.
The background is composed of wavy flowers with different shades of green that maintain a homogenous tone. A brighter turquoise envelops the symbols on the reels.
A mix of blue, orange, white, and red icons spin through the middle of the interface. The colors pop, and the overall design is pleasing to the eyes.
Sound design for this title is lacking, to put it lightly. No chimes, bells, or whistles stand out, and no music tracks fill the awkward silences.
Matching icons produce soundbites that sound like a phone from the 1990s is ringing in the background.
The bell from the jade symbol feels like a cheap midi file that quickly turns into an annoying notification. You're better off hitting the mute button.
Other Slots to Play if You Like Jade Tiger
If you like the playstyle that Jade Tiger offers, but the sound design or theme doesn't convince you, there are other titles worth checking out.
Some of the following are from the same developer or have similar mechanics:
Rumble Rumble
Cash Cave
Crystal Cash
Eagle Bucks
Barnyard Bonanza
Winning Wolf
White Orchid
Roaring Reels
Dragon Lines
Wonder Woman
Family Guy
Flying Horse
Jaguar Mist
OMG Kittens
Jade Tiger Review – Conclusion
Jade Tiger isn't the most impressive online slot game on the market. It lacks extra features and ways to win big.
No presence of a jackpot and a below-average RTP brings the overall value it has to offer to near rock-bottom.
You should still give this slot game a try, though. It has some amazing visuals and highly entertaining bonus rounds.
It's quite a step up from the average title of its kind. If you need to know where to play Jade Tiger, you can check out our lists on our website.