Piggy Bank Bills Review
This piggy-themed online slot by Pragmatic Play is an easy and exciting way to take home some cash. To win, land two pieces of the same banknote facing each other or trigger the bonus to get up to 8 Free Spins!
How I tested Piggy Bank Bills
At AmericanCasinoGuide.com, we do our best to cover all aspects of a game in our reviews. We want to help you choose and find the best slot for you. Today we're gonna talk about:
Slot symbols – how to match the winning combo and how much they pay
Minimum and maximum bet – How much are they and, do they meet the different needs of a gamer?
Payout rate – the RTP value calculated in % tells us the theoretical returns of the game over time.
Volatility – describes how frequent the player can collect a winning combination and its size
Hit frequency – How often can you get a winning combination
Wilds and bonus features – Does the game offer any?
Graphics and sound – How they affect your gameplay experience
Play Piggy Bank Bills With the Best Bonus
You can play this slot in multiple online casinos. You can even play it for free! But before you dive in, make sure to visit our offers and promotions page to find out what's in stock for you.
Piggy Bank Bills – Symbols and Payouts
There are 12 symbols in total represented by pig-themed banknotes of different colors.
The symbols
The low-paying symbols are displayed in maroon, orange, light green, and yellow banknotes, and pay 0.25x, 0.5x, 1x, and 2x of your total bet.
High-paying symbols pay 20x, 50x, and 100x of your total bet whereas the green banknote is the highest-paying symbol, at 1000x!

Paylines
Played using a 6-reel, 3-row format, the Piggy Bank Bills slot includes 20 set paylines.
Minimum and maximum bet
The minimum stake per spin is $0.20 and the maximum bet per spin is $100.00 – a good betting range. The slot has an autoplay option that you can easily switch on or off.
Piggy Bank Bills RTP
The RTP for this slot is 96.5%, which is high enough. Games with higher RTPs have a much higher chance of returning more on average to players over a long period of time played. Check out our High RTP Slots list here.
Volatility
Piggy Bank Bills is a highly volatile slot. A game with high volatility suggests that the game might be better suited for more experienced players and those with larger budgets.
Jackpot and/or maximum win
There's no progressive jackpot in this game but you can win up to 5000x the total of your bet. This is a positive trade if compared to its high (risky) volatility side.
Piggy Bank Bills: an easy game to grasp!
I found Piggy Bank Bills a very easy slot to play. It didn't take me long to figure out how the game works and how to get my wins. It has the right amount of symbols and attractive payouts.
Game features
Piggy Bank Bills offers exciting features such as Wilds, Piggy, and, Free Spins which I'll detail below.
Wilds
Wild symbols help you create more winning combinations. For this slot, if you pair the wild symbol with a banknote, then the value of that banknote is paid out. If you land 2 wild symbols that are paired with each other, they will create a random banknote size.
Piggy
There are three different Piggy features in this slot.
Piggy Win: when you spin the reels and these have stopped, one little piggy will show up and turn 2 or more losing combos into winners.
Piggy Bonus: this little piggy can show up at any point and let you use the Free Spins feature.
Piggy Wilds: ….and this little piggy places 2, 3, or 4 wilds on the reels.
Free Spins
The Free Spins feature is activated when you land 1 or more complete scatter symbols. Depending on how many you land, you'll get the following:
1 complete scatter symbol: 8 free spins
2 complete scatter symbols: 8 free spins and the lowest paying bill is removed
3 complete scatter symbols: 8 free spins and the two lowest paying bill is removed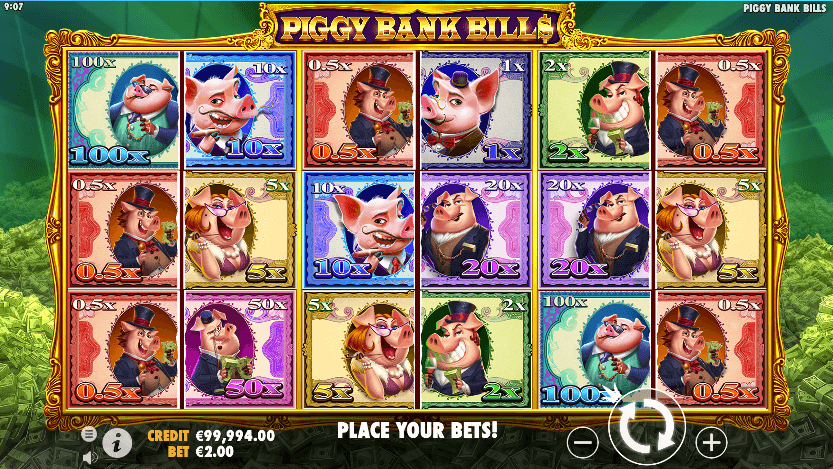 Piggy Bank Bills – Graphic & Sound
| | |
| --- | --- |
| Graphics | 3D |
| Optimized for mobile | 👍 |
| Music | upbeat carnival music |
| Special features | Free Spins, Wilds, and Piggy features |
What I felt about the music
I think that the music used in this slot is designed to keep you going. The simple but clear graphics definitely help you to stay engaged.
Solutions When Facing Issues with a Game
Every now and then we get to experience a technical problem when playing online. Here are some common solutions to the inevitable:
If the game is hanging, close it and relaunch it.
Contact the Customer Support team if the game isn't working properly.
In the event that the game malfunctions, the casino will void any bets and refund affected bets.
My two cents
While the Piggy Bank Bills slot is new to the market, a long run awaits it because of its simplicity.
The maximum payout is quite attractive and the game features are very easy to grab. Nothing can stop you from playing this game as it's been optimized to be played on mobile, laptop, and notepad devices.
Other Slots You Might Like to Play
If you like pig-themed online slots, then give these a try:
FAQs
Can I play Piggy Bank Bills on my phone?
Absolutely! Pragmatic Play has optimized this slot for you to enjoy on your mobile, laptop, and notepad devices.
Are there any free spins in Piggy Bank Bills?
If you trigger the bonus, you'll get 8 free spins. And if you trigger the bonus round with 2 or 3 scatters, the symbols of the lowest value are removed.
Is there a jackpot in Piggy Bank Bills?
There's no jackpot in this game but the maximum win is 5000x your total stake.
What is the RTP of the Piggy Bank Bills slot?
Piggy Bank Bills has an RTP of 96.5%
What are the minimum and maximum bets at Piggy Bank Bills?
The minimum bet is $0.20 and the maximum bet, is $100 per spin.