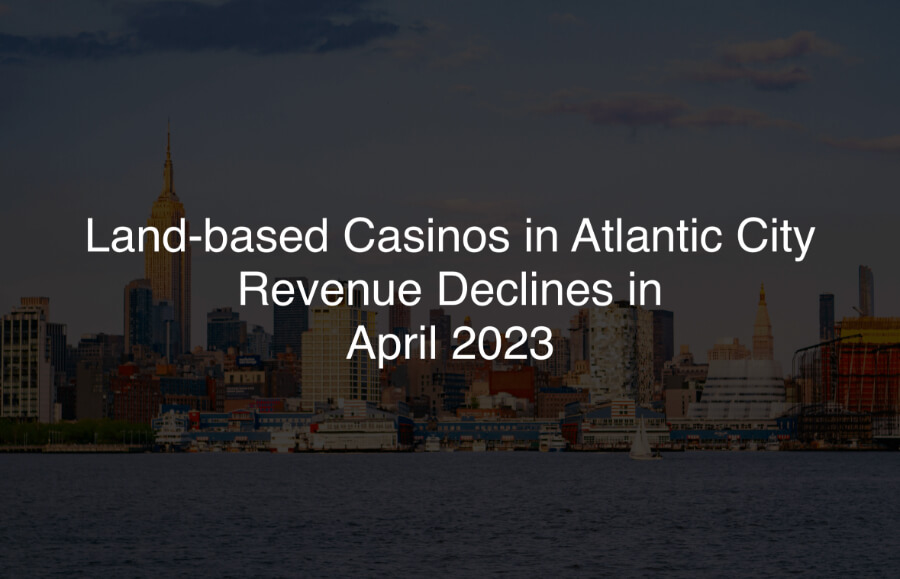 Land-based casinos in Atlantic City are finding it difficult to free themselves from the pandemic grip, failing to excel despite various upgrades and revamps.
In this Article:
An Impressive Increase for the NJ Casino Industry
A Decline in Land-based Casino Revenue
Uncommon Declines at the Biggest Casinos in AC
Revenue figures from the New Jersey Division of Gaming Enforcement show a decrease compared to April 2022 and a slight increase in year-to-date numbers.
When adding land-based casino revenue to totals generated by online casinos and sports betting, revenue figures show an increase of 9.5% compared to April last year. For the year, casinos and their online partners collected $1.8 billion up to April 2023, up an impressive 12.4% compared to the $1.6 billion for the same period in 2022.
A Decline in Land-based Casino Revenue in AC
The above figures show a significant increase in the casino industry in NJ. However, breaking the numbers down into individual sections show that land-based casinos are not keeping up.
Land-based casino revenue in April 2023 accumulated to $231.5 million, showing a decline of 1.6% compared to the $235.3 million for April 2022. Up to the end of April, casinos collected $886.8 million for the year, only 4.6% ahead of the $848 million for the same period last year.
Uncommon Declines at the Biggest Casinos in Atlantic City
Of the nine land-based casinos in Atlantic City, only two increased revenue in April 2023. Ocean Casino Resort managed an impressive 30.3% increase to $34.2 million, followed by Golden Nugget AC with $13.1 million, a 6.6% increase based on year-on-year figures.
The market leader, Borgata Hotel Casino and Spa saw a decline of 5.7% in April 2023, generating $58.1 million. Hard Rock Hotel and Casino collected $38.8 million, a drop of 4.4%.
The three land-based casinos operating under Caesars Entertainment also suffered a decline, including:
Caesars AC – Down 2.7% ($19.7 million)
Harrah's Resort AC – Down 5.7% ($21.9 million)
Tropicana AC – Down 13% ($19.5 million)
It's worth mentioning that the three casinos mentioned above are currently undergoing various upgrades, which would result in a decline as sections are closed due to contribution.
The same applies to Bally's AC, which is also in the process of various upgrades and renovations. During April 2023, revenue decreased by 4.3% compared to April 2022, collecting $13.8 million.
Finally, Resorts Casino Hotel shows a decline of 13.1%, with revenue accumulating to $12.4 million in April.
Read More About Casino Revenue in New Jersey
We strive to deliver updated and accurate news articles about land-based and online casinos in New Jersey. Bookmark our news page and continue reading with these related topics: