What are the best online casinos to play French roulette?
French Roulette is a highly recommended casino game for all types of players. With its easy betting rules and a classy set-up, many online casinos feature this variant in their portfolios. If you're playing from the US, you can play this game on the following websites: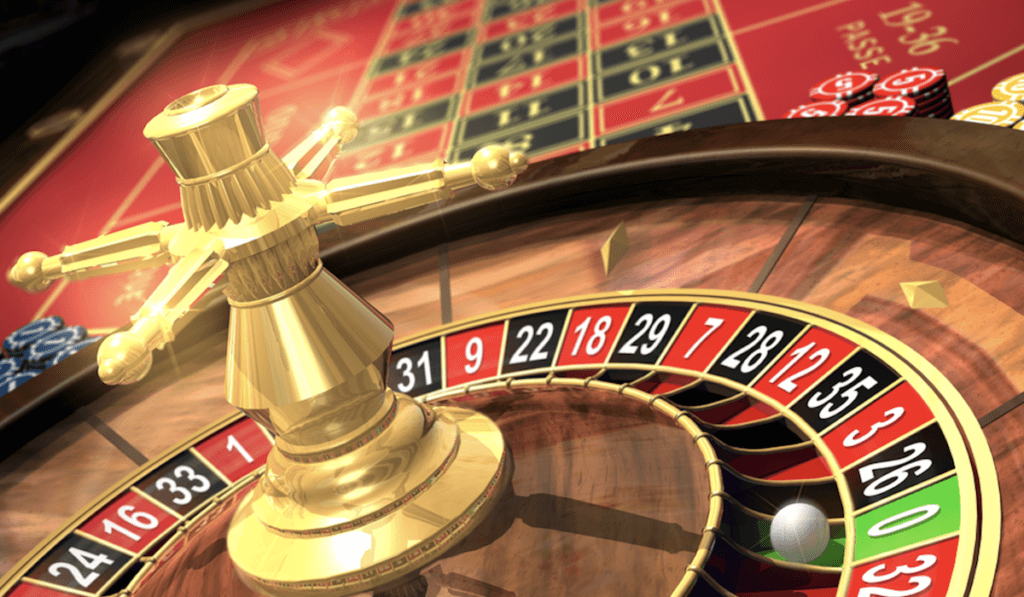 Master the Rules & Odds of French Roulette
The rules of French Roulette are no different from the American and European versions. This game still retains its familiar layout: you have the roulette wheel with 37 numbered pockets and a table where the possible bets are displayed. Throughout this guide, we'll help you master the French Roulette rules and special bets, so you can play with confidence.
The Objective
In French Roulette, players have the same objective- they need to bet on the outcome of the spin of the roulette wheel. In this classic casino game, you can be on a number, a group of numbers, a color, or propositions on whether the final number is odd/even or high/low. You can check out the complete explanation of the different types of French Roulette bets below.
Types of bets in French Roulette
French Roulette is an exciting table game to play thanks to the different types of bets to play. What's interesting about these bets is that they offer different odds of winning and payouts. As such, this game appeals to players who prefer to set up a betting strategy. Bets in French Roulette are available in two categories, inside and outside bets, with a few special bets to play along the way as explained below.
Inside bets for French Roulette
The inside bets in French Roulette are those that offer higher payouts but come out less frequently. Discussed below are the popular examples of inside bets you can play in the French Roulette betting table.
Straight up bet
Also called a single number bet, this wager offers a top payout of 35:1.
Split Bet
This is a wager on two numbers, and you put the casino chip between the two numbers. A winning split bet pays you 17:1.
Street Bet
You are betting on a row of three numbers, and a successful wager pays 11:1.
Corner Bet
This is a bet on four numbers, and you place the casino chip on the intersection of these numbers.
Outside bets in French Roulette
Your outside bets in French Roulette are those that come up frequently but with lower payouts. Included in the list are your even-money bets that are discussed below, which potentially double your bet in roughly half the time.
Color Bet
As the term suggests, you are betting on which color will come up on a random spin. You bet on black or red to win a payout. If the roulette ball lands on the green slot, you lose the round.
Odd/Even
Here, you can wager if the final number is odd or even. Your winning bet on the table pays 1:1.
Column Bet
You will place a bet in the table's 2:1 space, and you win if the roulette ball lands on one of the numbers in that column.
High/Low
This is another example of an even-money bet, where you are betting that the final number belongs to the first half (1-18) or second half (19-36).
Other types of bets
Aside from these standard French Roulette bets, there are other special bets that you can play on the table. These special bets are often referred to as 'call bets' since you announce these, and the croupier places the bets for you. True to the game's title, these special bets have French names.
Finale en plein
This is a series of wagers on numbers that share the same last digit. For example, you can bet on 3, 13, 23, and 33.
Finale a cheval
This roulette bet is a bit complex, as you wager on the numbers' last two digits. For example, your bet called 'finale a cheval 1/4' includes numbers that end in either 1 or 4.
RTP, Payouts and House edge in French Roulette
As discussed above, French Roulette is almost like the European variant except for the presence of the La Partage rule. In roulette, the La Partage allows the player to get half of their wager if the roulette ball lands on the green '0'. This betting rule favors the player, thus proving a friendly Return to Player (RTP) percentage and house edge. You can use the table below to find the different bet types, the schedule of payouts, the probability of winning, and the house edge.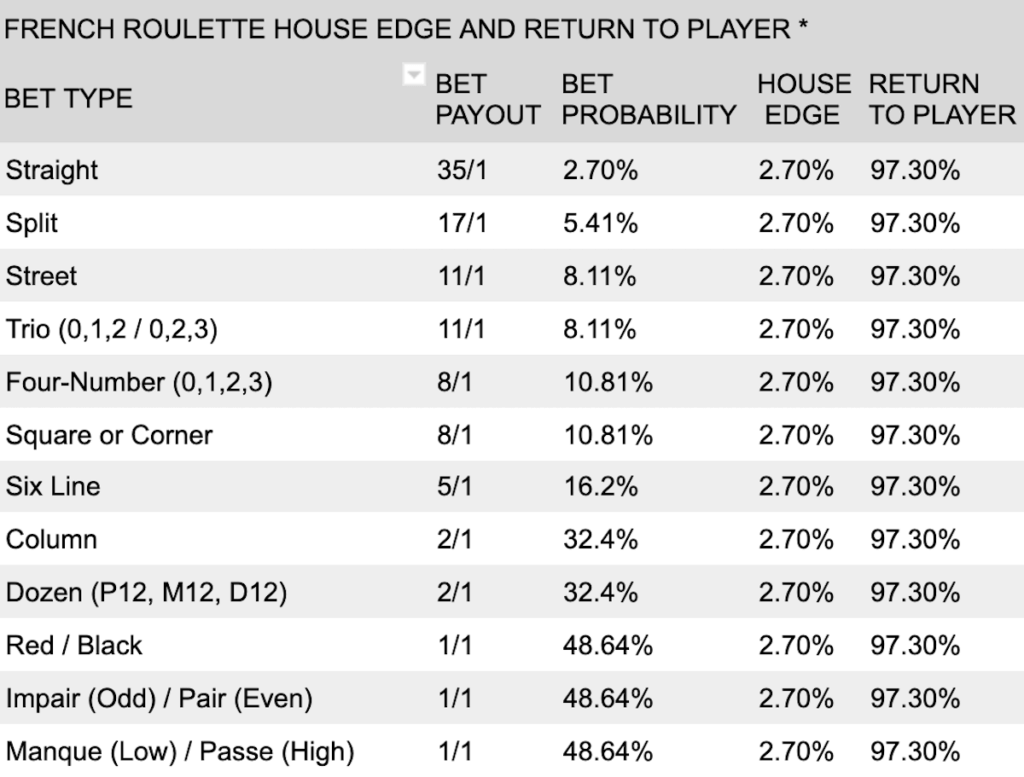 RTP in French Roulette
The RTP is an important measure in online casino games, as it tells you how much the game will payout over time. French Roulette is an example of a casino game with a friendly RTP of 97.30%. This figure is better than the American variant, with an RTP of 94.74%.
Payouts in French Roulette
This game rewards you with lucrative payouts if you correctly predict the outcome of the spin of the wheel. However, your actual payouts depend on selected bets. Using the table above, a wager on a single number (or straight up) offers the biggest payout of 35 to 1. A split bet is next in line, which pays 17 to 1.
House Edge in French Roulette
A house edge refers to the casino's mathematical advantage in a specific game. In French Roulette, the house edge is set at 2.70%.
French Roulette vs. other Roulette Variants
All roulette variants available in US casinos use a roulette wheel and a betting table. They all share the same objective, which is to bet on the outcome of the spin of the roulette wheel, and boasts almost the same types of bets. Among the three popular variants of the game, the French, and American Roulette variants are the most similar. Both games feature the same wheel layout, betting options, and numbers. The only difference lies in the addition of two extra rules: La Partage and En Prison.
| | | | |
| --- | --- | --- | --- |
| | French Roulette | American Roulette | European Roulette |
| Layout | 37 pockets(0-36) | 38 pockets(0-36 + 00) | 37 pockets(0-36) |
| Bets | Straight-up, Split, Street, Corner, Odd/Even, High/Low, Red/Black, Announced bets such as Voisins du Zero, Le Tiers du Cylinder, Jue Zero, Orphelins and Finales | Straight-up, Split, Street, Corner, Odd/Even, High/Low, Red/Black, Five Line, Special Bets | Straight-up, Split, Street, Corner, Odd/Even, High/Low, Red/Black |
| RTP | 97.30% | 94.76% | 97.30% |
Difference between French and European roulette
As explained, the French and European Roulette games are the most similar in terms of wheel layout, betting options, and numbers. However, the French variant slightly differs due to the presence of two special rules: La Partage and En Prison. The En Prison rule applies when the roulette ball lands on a '0' pocket. If this happens, you can decide whether your wager stays for another round, or you take back half your bet. In the La Partage rule, you get half your money if the ball lands on the zero pockets.
Difference between French and American roulette
The French and American Roulette versions share the same game objective, the use of a roulette wheel and a betting table. They primarily differ in the layout of the wheel, the odds of winning, and overall RTP. French Roulette uses the layout of the European Roulette, with an extra slot for '0'. However, the American version adds another slot for '00', which adds another bet to play but with a much higher house edge.
How to play French Roulette — Breakdown of a round
Once you have mastered the rules and features of French Roulette, then you're ready to play and win!
Sign up for a casino account and complete the initial deposit. Some casinos let players access the French roulette online free demo, which is recommended for beginners.
Log in to your account and proceed to the 'Games Lobby'. Pick a French Roulette table. In most US casinos, you have the option to choose the classic game or the live dealer version.
Decide and place your roulette bets. Pay attention to the table limits when setting up your wager on each round.
The croupier then spins the roulette wheel to officially start the game. At this point, bets are still allowed. But when the croupier announces 'No more bets', players are no longer allowed to place their bets.
If your bet is correct, you get paid based on your wager and bet type!
Strategies for advanced players
In roulette, the results are completely at random. Whether you are playing the classic French Roulette or its live dealer version, the result of each spin is independent and at random. There's no sure way of predicting the results of the next betting round. However, there are a few betting strategies you can use that can improve your odds or even extend your bankroll.
The Martingale System
Under the Martingale betting system, you will double your bet when losing. You continue this approach until such time that you win, and you return to your base wager.
Reverse Martingale strategy
This is simply the opposite of the Martingale approach, where you double your bet when winning. Again, you need to identify first your base bet before you start playing.
Fibonacci strategy
With this betting strategy, you will use the famous Fibonacci sequence as your guide when making a bet on the French Roulette table. In this approach, you increase the bet size when you lose, and move one number up the sequence. And if you win, you need to move two numbers down the sequence.
D'Alembert strategy
This betting strategy works well with even-money bets. It's a simple betting approach where you increase your wager by a unit after losing and decrease it by one unit if you win.
Conclusion
French Roulette is a well-loved classic casino game that you can find in most US casinos. Before you play in real money, make sure you read and master its rules, the French roulette table layout, betting options, and special rules specific to the variant. A clear appreciation of the game's mechanics will give you the confidence to play and improved odds to potentially win huge payouts!
Frequently asked questions
Both are popular versions of roulette and share the same layout and numbers. However, they differ in one special rule: the La Partage rule that applies to even-money bets of the French Roulette.
Like in American and European variants, a bet on a single number delivers the biggest payout of 35:1.
Since it features the same layout of the European version, it also boasts a house edge of 2.70%.