Big Bucks Bandits Review
Check out another incredible Megaways slot from ReelPlay, with a 96.1% RTP which is more volatile than the era in which it is set. Read on to see what makes this game so unique and what bonus features you can discover!
How I tested Big Bucks Bandits Megaways
I am always interested in testing an already existing property that has been given the Megaways treatment. There are several important things to take into consideration when writing a slot review. Here are some reasons why you can trust this review:
A great place to start is by looking at the RTP and the volatility of the game you are potentially going to play.
It is essential to actually play the game. You may encounter some review sites which have not played the game and are reviewing based on technical data and promised features.
A truly well-designed game can have a huge effect on how likely a player is to be engaged and continue playing. A slot can immediately catch your attention with how it uses its theme. I will be taking the graphics and the design into consideration.
Games should not be exclusive, so I look at the minimum and maximum bet to ensure all potential players can play.
You could try to work out what the purpose of each symbol is through playing the game, but I think it is important to understand beforehand. This review will give you a grasp of those symbols before playing.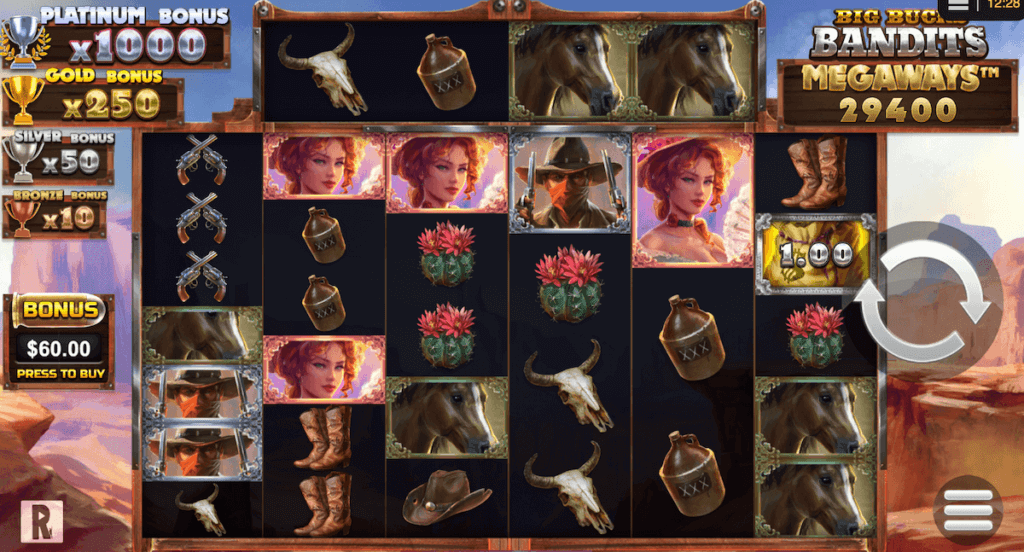 Play Big Bucks Bandits Megaways with the best bonus
There are several top U.S. casinos where you can enjoy this great Megaways themed online slot. These include:
ReelPlay has built up a partnership with a good number of casino operators, so you'll find its games are quite widespread. However, when you are trying a new game it is best to take full advantage by using a great sign-up offer from a new casino.
Borgata Online Casino is currently offering players a sweet deal of a $20 Welcome Offer and a 100% Match on the first deposit of up to $1,000! The $20 offer can be used on a number of slots at Borgata Casino, with a super low wagering requirement of just 1x!
The symbols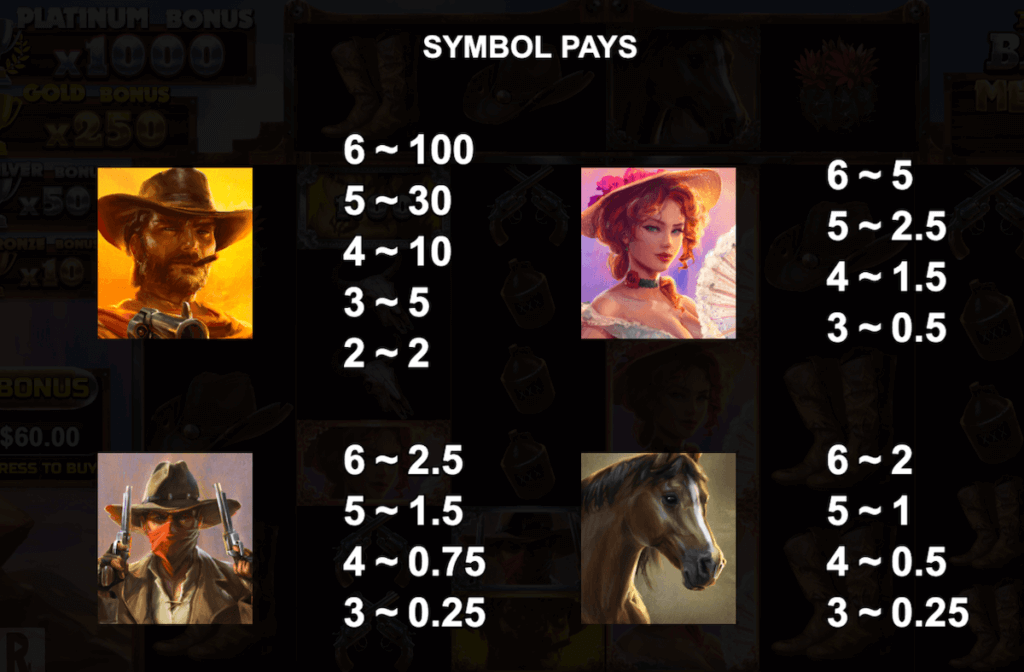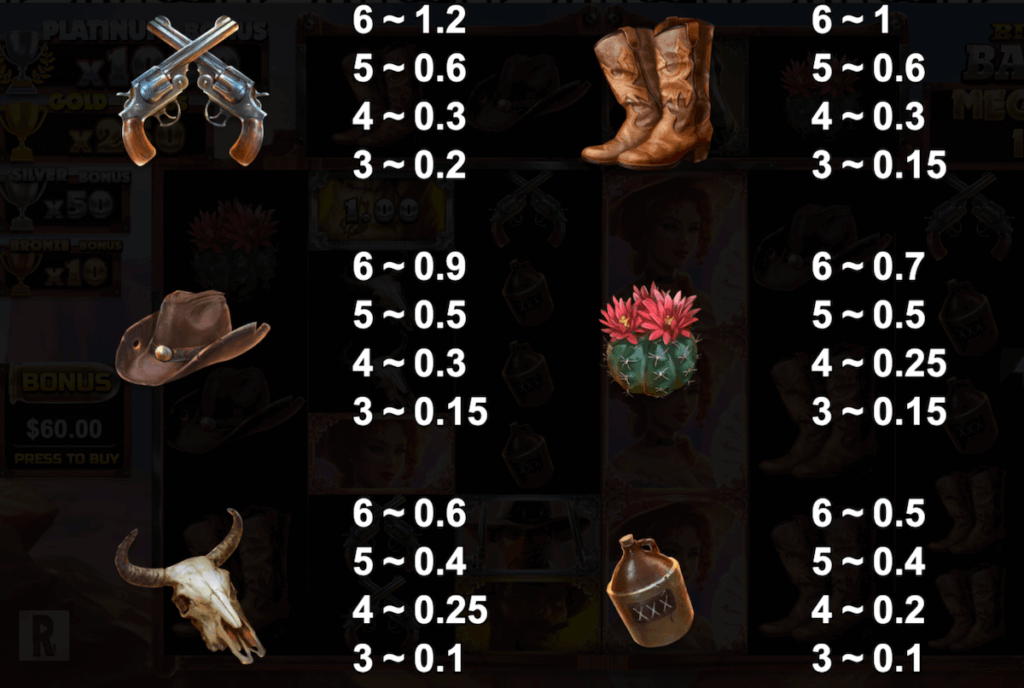 Minimum and maximum bet
This game has a minimum bet of $0.20 and a maximum bet of $20. This is a nice minimum and is inclusive of smaller budgets, but high rollers will likely want the maximum bet to be higher.
Autoplay option
The autoplay option is slightly hidden. Click the menu button in the bottom right-hand corner to see some choices. Click the autoplay function and choose from 5, 10, 25, 50, or 100 auto-spins. There are no advanced options, though, such as enabling them to stop when a certain action occurs.
RTP
I maintain that most online slot machines worth playing have an RTP above 96%. This one is sitting pretty at 96.1%
Volatility
This game is highly volatile, so expect big but elusive wins.
Maximum win
The maximum win in this online slot game is 10,000x your stake. In the bonus game, there is the opportunity to win jackpots of up to 1,000 times your stake.
Big Bucks Bandits Megaways has a low minimum bet, but you need to watch out for volatility. The technical data is quite promising for this game. It has a nice RTP and when this is combined with a high volatility you would probably be hoping for some irregular, but big wins.
Game Features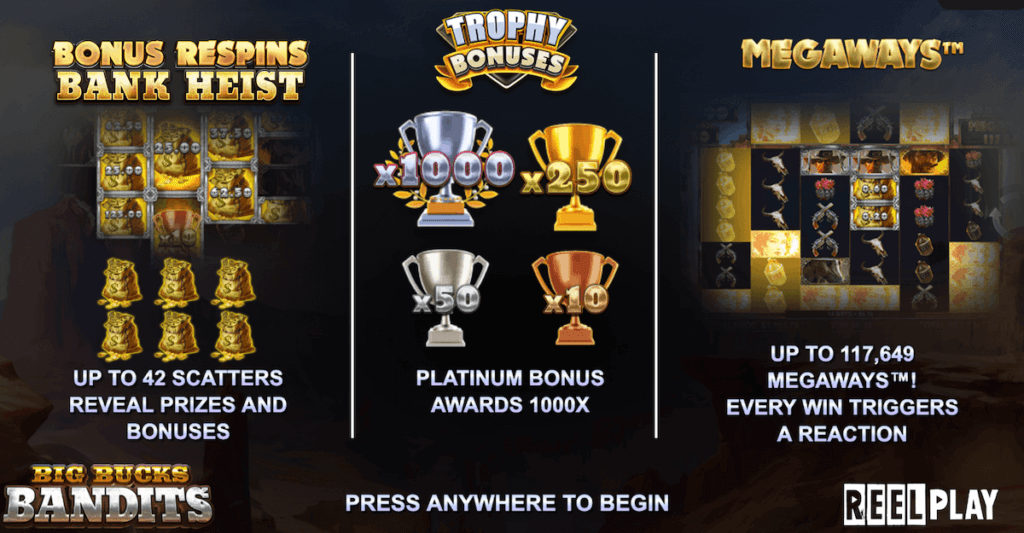 Special Symbols, Free Spins and other features
Reactions Feature
This works similarly to avalanche or cascading symbols features you might find in other games. Any symbols which are involved in a winning combination will disappear, and new ones drop in to replace them. It is possible that they will generate a win, with the reactions ongoing until no new wins are generated.
Jackpot Respins Bank Heist feature
There is no free spins feature in this game. Instead, it offers three re-spins in the bonus feature. To unlock this feature, you must land six or more of the money bag symbols. In this event, they become sticky and remain in place as the rest of the symbols turn blank. Your spin is replayed three times.
If another money bag appears, that becomes sticky too and provides three more re-spins. It is possible to fill the screen with money bags, and at the end of the round, they will all reveal a monetary value.
Monetary value is not all they could reveal, though, as you may be rewarded with one of the four jackpots advertised in the top left. These are the bronze jackpot worth 10 times your total, the silver jackpot worth 50 times, the gold jackpot worth 250 times, and the big platinum jackpot worth 1,000 times your total.
Double Cross Gamble Feature
Once your winnings have been totaled and potentially multiplied by the jackpot, you have the opportunity to gamble them. The set-up is pistols at dawn, win and leave with potentially five times your winnings, or lose and leave with nothing.
You are presented with a wheel showing white and green sections, plus a slider bar in the bottom right with multipliers up to 5x. If you land on the green section, you shoot first and move up the slider. If you land on the blanks section, you are shot and move down. Get shot too many times and earn a 0x multiplier, and everyone knows anything times zero is… zero.
Bonus Buy
Constantly clicking spin while trying to unlock the bonus games can be very laborious. This game knows of that possibility and will tempt you with the option to pay $60 to unlock both the Bank Heist and Double Cross feature.
Big Bucks Bandits Megaways Response Feature
In an attempt to be unique among a choice of many, many Wild West slot machines, this game does not have a free spins feature but rather a response feature. I paid for the bonus game, and the game grid animates as it is about to generate the sixth money bag needed to enter the bonus game.
I managed to generate around $30 from the re-spin feature. I figured it made sense to risk it in the following gamble feature to potentially double my money and break even. I was able to land on the green the first time, move up the slider to 1.5x. This wasn't quite enough, so I pressed on and lost the next two, which ultimately left me with a 0x multiplier and down $60.
Big Bucks Bandits Megaways Graphics & Sound
| | |
| --- | --- |
| Graphics | 2D |
| Optimized for Mobile | 👍 |
| Music | Western-themed |
| Special features | Animated game grid when approaching bonus |
In a medium saturated by Wild West-themed installments, it is important for slot designers to make their game stand out. The design of this game is not particularly unique, but the background is nice, and the sound and music complement the game very well.
The symbols are very standard for such a game, which include the cross pistols, the bison skull and the wild sheriff's badge. The most valuable symbol in Big Bucks Bandit Megaways is a cowboy with a red bandana covering his face. The music is fantastic and sounds like it is lifted straight from High Noon.
Other Wild West symbols include cowboy boots, a liquor bottle, and a red-haired maiden. Each time a winning payline is landed, symbols start glowing and become animated, and the music grows louder to mimic the overall excitement.
Solutions if you have some issues with a game
ReelPlay does not seem to have a dedicated support section on its website. However, it does have a contact form that you can submit, but it is unlikely to be a place to solve issues. If the gameplay is interrupted during a turn, you will have the chance to replay that turn, but any winnings will be void and your stake will be returned.
Verdict
When you are vying for attention among many slot games themed similarly to yours, you have to do a lot to stand out – and Big Bucks Megaways is on the right path to do so. The game is not particularly unique when compared to other Wild West-themed slots, but the gameplay is pretty straightforward and the unique respins feature comes in hand here.
The overall features and bonuses of the game can be rewarding, and they do make a nice change and gets more exciting at the end when the chance to gamble your winnings appears.
Other slots to play if you like Big Bucks Bandits Megaways slot
If you prefer a game with free spins and designed with a similar theme, you can check out NetEnt's Dead Or Alive II. Other slots to test out include: