Cash Machine Review
It doesn't get simpler than this; a three-reel slot that shows exactly what it pays based on the symbols that appear. Symbols include a 1, 2, 5, 10, zero, and double zero, presenting the amounts you'll win as they line up across the single payline. So, line up the five and double zero to win $500, it's really that simple, and you'll get to boost your wins with special re-spins!
Cash Machine Review – Win What you See, How Much Easier Could it Be?
Everi is the game provider behind the Cash Machine slot, offering a simplistic approach to online slots in a way we haven't seen before. The concept is straightforward as only four symbols with a cash value appear (1, 2, 5, and 10), and the rest are either a blank or extend the win by adding zeros behind it. It's a brilliant concept, but can you score worthy wins with just four valuable numbers and zeroes?
You're not the only one that's skeptical, and we played the slot for quite a while to put it to the test. To play with all three reels active, the lowest wager is $10, which didn't set our minds at ease, but we'll explain the betting in more detail later.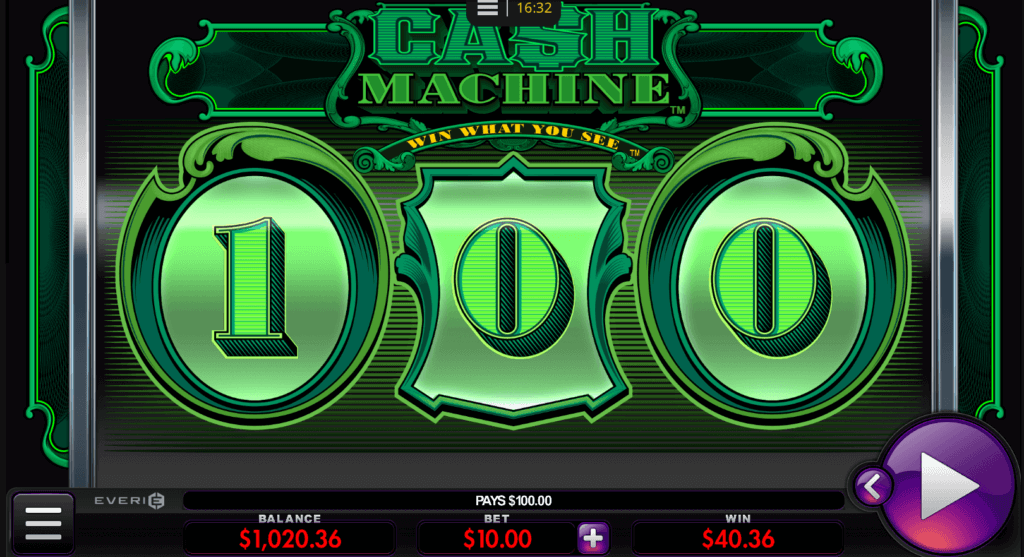 After the first few spins, we claimed a few, $1, $2, $5 and $10 wins here and there but were highly impressed when a zero showed and activated re-spins, adding a 5 to the left of the zero, triggering our first win of $50. A quick visit to the pay table shows all the possible combinations, including the jackpot of $10,500, which requires symbols 10 / 5 / 00 to appear on the reels.
What I checked in Cash Machine
Even though the Cash Machine slot presents a unique layout and way of rewarding, we followed the same steps as with all our slot reviews, making it easy to compare and know exactly what the game offers.
Mode Details about Cash Machine?
| General Details | | | |
| --- | --- | --- | --- |
| Slot type | Classic | Number of rows | 1 |
| Provider | Everi | Reels | 3 |
The layout and functionality of the Cash Machine slot is unique, even compared to other classics. Most present a large range of symbols and provide various winnings when certain combinations trigger. However, in the Cash Machine slot, it's all about lining up the numbered symbols, which activates wins of up to $10. Lining up a single or double zero to the left of the number means you'll increase your winnings by a massive amount.
Get Symbol "5" – Win $5
Get Symbols "5" and "0" – Win $50
Get Symbols "5" and "0" and "00" – Win $5,000
Of course, there's also a "10" symbol, which makes it possible to win much higher, but the above examples show just how simplistic the Cash Machine slot really is. It's further enhanced by a re-spin feature when zero or double zero appears on its own, which we look at next.
A Look at the Cash Machine Slot Bonus Features?
Having played classics in the past, you'll know bonus features are rare in this slot category. However, Everi managed to combine the game with a re-spin feature, which certainly caught us off guard in the most joyful way possible. It's a great addition to boost the winnings when you least expect it.
| Features | No. | List |
| --- | --- | --- |
| BASE GAME FEATURES | 1 | Re-spins |
| BONUS BUY FEATURES | 0 | – |
| BONUS GAMES FEATURES | 0 | – |
An Unexpected Re-Spin Twist Could Lead to Bigger Wins
The Cash Machine slot doesn't include any special bonus symbols, but could activate two re-spin features to help lineup bigger combinations, which lead to bigger wins, of course.
The Red Re-spins Feature
As long as you're wagering above one coin per spin, the red re-spins feature could trigger at complete random. The reels that hold a winning value will remain as they are while the other reels spin again with the goal of rewarding a higher value. You'll only win the re-spin reward, which could result in worthy winnings, especially if the double zero joins the reels.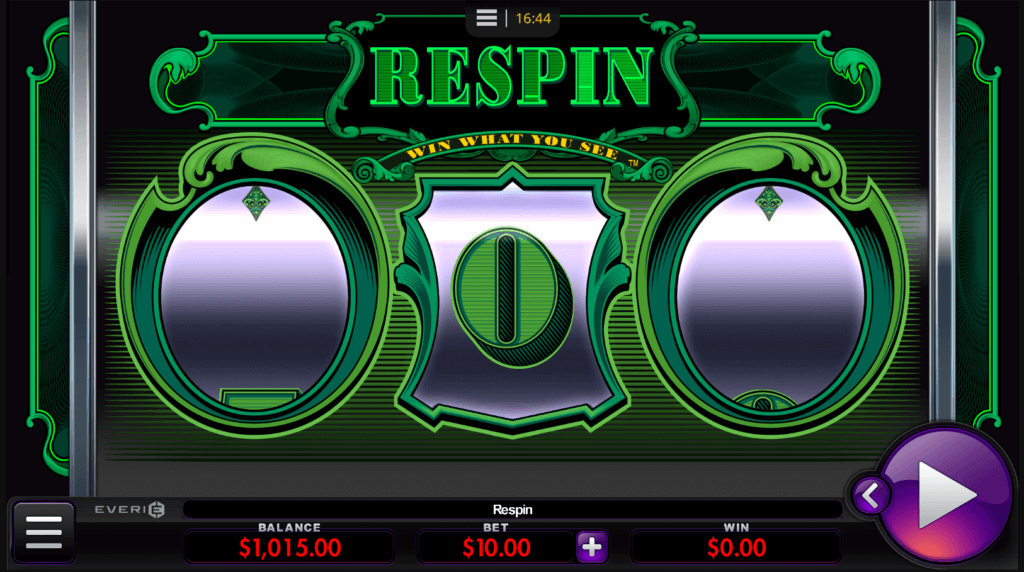 Zero Re-spins Feature
Here's where the winnings can get really big! If you get a non-winning spin with a zero or double zero on the reels, you'll receive a re-spin to possibly add a five or ten to the combination. Should you get another zero or double zero in addition to the one that activated the feature, you'll receive another re-spin.
No Need for a Bonus Buy Option
Since there are no free spins or bonus games, it's not surprising to see that the Cash Machine slot does not have a bonus buy feature.
Re-spins are Similar to Hold and Win Features
Since both the re-spins hold valuable symbols in place as the other reels spin again, it's best described as a hold and win feature. It's a great addition to the feature as you won't lose out on valuable winnings when the re-spins trigger.
What innovative Special Features can be seen in Cash Machine?
| Special Features | Availability |
| --- | --- |
| Autoplay option | 👍 |
| Change the speed | 👍 |
| Mute the sound | 👍 |
| Adjustable bet size | 👍 |
The betting interface in the Cash Machine online slot is straightforward and easy to use. There are mainly three options that will affect the way the slot rewards, starting with the betting level.
In order to use all the reels, you'll have to use 10 coins per spin, making it possible to line up three winning values in a spin. Should you choose to decrease the wager to five coins, only two reels would be active, offering a maximum win of up to $1,000. A further decrease of just one coin per spin would result in a single reel, offering up to 10x winnings.
The Cash Machine betting window also shows the denomination, also playing an important role in the outcome of your winnings. The lowest value is $1, which is multiplied by the number of coins per spin. For example, using a $1 denomination with 10 coins per spin would result in a total bet of $10.00. The coin value does increase up to $10, which multiplies all your winnings as well.
What's the Story behind Cash Machine's Theme?
Resembling a bill and having cash values, it's quite easy to see that the theme of the Cash Machine slot is money! It's all about lining up those numbered symbols to activate the highest payout, which ranges up to $10,500 with a wager of just $10.00 per spin.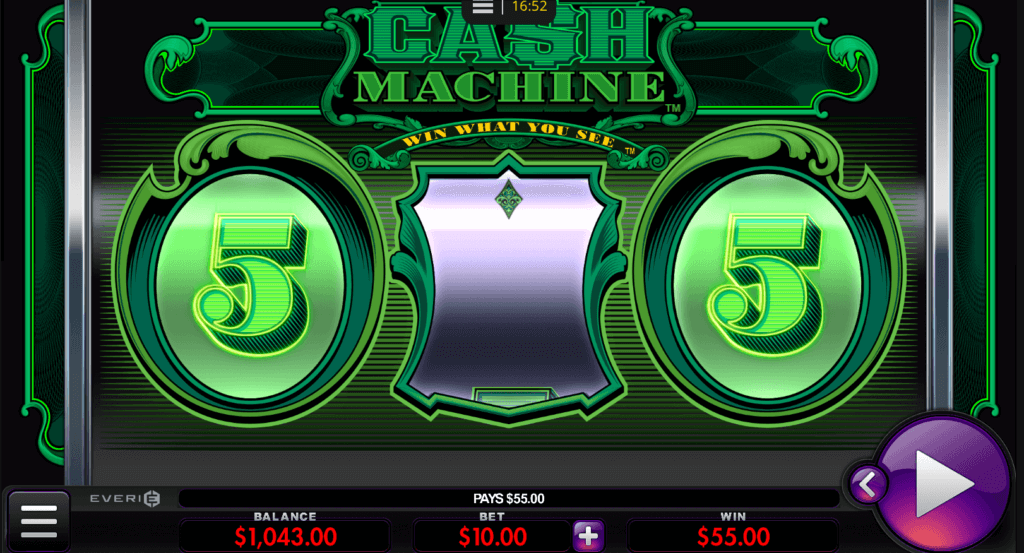 Clean Green Cash Machine Graphics!
What can we say, there aren't many graphics to comment on as nothing other than the reels move. However, even though it's a classic slot machine, the graphics and game quality are incredibly clear and crisp. It doesn't resemble an old game, but rather a neat and attractive layout that shouts, money!
The Sound of Money?
Even though you'd expect to hear cash flapping and coins dropping, the Cash Machine slot actually has a rather boring sound that reminds us of a land-based slot machine more than anything else.
The spinning reels sound like, well, spinning reels, and the only real other sound is a twinkle when a winning combination lines up. There is some excitement with re-spins or lining up a large possible win, but for the most part, the sound doesn't add much to the game experience.
Who made Cash Machine?
Based in Spring Valley, Nevada, you can't get a more American game provider than Everi. Chances are great that you've already played a few of their slots at land-based or online casinos and you were most likely impressed by them. The wide range of Everi online casinos provide a great collection of games, ranging from classics like Cash Machine through to the most impressive bonus-filled slots.
A few of our Favorite Slots by Everi we think you might enjoy!
Striving to include unique gaming titles in the American online casino market, the most popular slots from Everi Holdings aren't the same as what you'll find from most developers. It's certainly exciting, especially when you find your way to some of their "out of this world" titles.
Conclusion – How the Cash Machine Slot Compares
In all fairness, there aren't many slots that offer a similar experience to the Cash Machine slot from Everi. Therefore, it's in a league of its own, but is bound to be better suited for players who enjoy classics. It's a high volatility slot machine that requires higher than usual betting amounts. On the other hand, the winnings are incredibly impressive, but you might need to hang around and get used to the sound before those strike.
If the Cash Machine slot is your type of game, check out these slots next: