If you want to know where to find the best online craps games and understand exactly how to play, this how-to-guide from our team of experts is for you!
Read on to find out more about online craps in the U.S.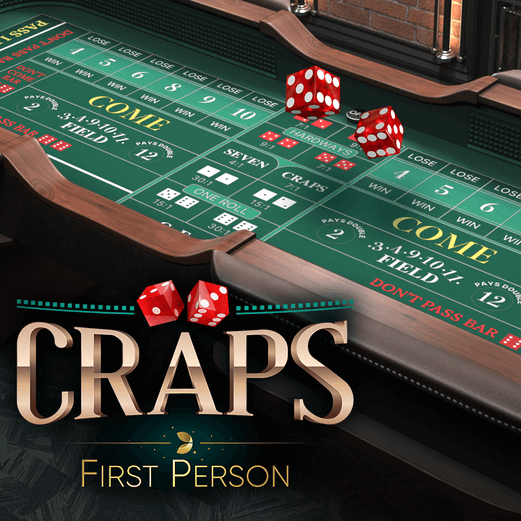 What Are the Best Casinos to play Online Craps in the U.S.?
DraftKings is the only casino in America to offer online craps! The game is available to all players in states where online casinos are legal.
Sign up to play at DraftKings and enjoy a welcome bonus of a 100% match bonus up to $1,500. You can also claim an exclusive $10 bonus just for signing up by clicking the link at the top of this page!
In addition to this exclusive game, DraftKings has the best selection of branded tables in America. You'll find plenty of ongoing promotions all the time at DraftKings.
Are Online Craps games legal in the U.S.?
Yes, it is legal to play craps online in the U.S.
While no U.S. online casinos offer craps, it's likely that they will include them in their games library in the future.
In the U.S., PartyCasino, Golden Nugget, and SugarHouse are a few sites that have a diverse variety of online casino games.
While some online casinos focus on popular slot machines, most have a table game presence—at least blackjack, poker, and roulette.
If you are a serious craps player, it might be worth it to look around at the online casinos we've reviewed to compare the variety and see which games interest you the most.
Here at AmericanCasinoGuide.com, we've only reviewed casinos that have been authorized by and licensed by their respective states. Currently, only five U.S. states allow online casino gambling: New Jersey, Pennsylvania, West Virginia, Delaware, and Michigan. All of the casinos on our site are licensed by their respective states:
Online gambling has been legal in the U.S. since it was legalized in New Jersey in 2013. For more information on the legality of online craps, check out each state's page on regulations and legislation, listed above.
Are Online Craps games rigged?
No, by playing craps online at one of the online casinos our team has reviewed, you can be confident that you're getting a fair game.
Just make sure you choose a casino that is licensed in the U.S. and fits your needs after reading the reviews from our experts.
How it works: In online craps (and many other virtual games), a Random Number Generator (RNG) is used. These RNGs are regulated and have been tested by agencies like eCogra.
Online casinos that host live craps games use professional dealers, so you can trust the fairness of play.
Why Play Online Craps?
Online Craps vs. Craps in Land-Based Casino
| | Online Craps | Craps in Land-Based Casino |
| --- | --- | --- |
| Play from any location | ✔ | X |
| Bonuses | ✔ | X |
| Promotions | ✔ | X |
Play from any location
The best part of playing casino games online in the comfort and convenience it offers.
If it's late at night or if you only have a few minutes to spare or if you can't make it to the casino, you're always in a position to play. And when you start, you can play for as long or short as you want.
With many U.S. online casinos offering mobile applications, you can even play online casino games on the go.
Bonuses
Starting online casino play at a reputable New Jersey online casino is easy, and it's just as easy to find one that offers a welcome bonus when you start.
Our team of experts has detailed the best online casino bonus offers which will allow you to play your winning hands and slots with some bonus funds in your pocket. All you have to do is sign up!
Promotions
To best duplicate the casino atmosphere, many online casinos offer live dealer promotions.
For some players, there's added adrenaline and excitement that makes playing live dealer casino games worth their while.
Many casinos offer live casino bonuses, which will help you get playing with some more funds on your side.
What is Online Craps?
Online craps games is a casino dice game designed by a gaming software developer (also called a provider). Most online craps games are quite similar, but they may differ in payouts. They all use a Random Number Generator to make sure the game is random.
You can select your bets and bet amount easily.
Difference between Live Dealer Craps and RNG (Virtual) Craps
Both live dealer and RNG (virtual) games are new and exciting ways of playing craps online.
The biggest difference between the two, of course, is the dealer: In live dealer games, there is a human, professional dealer present; in RNG games, there is not.
For live dealer games, the hands will be streamed onto your screen in a casino setting. This will give you the opportunity to interact with the dealers while you play.
For RNG craps games, it's a virtual affair, with computer-generated tables and cards that are dealt randomly.
In these games, the casino software ensures complete fairness and random results that you should be confident in.
In reality, both games are the same: The biggest difference is the replication of the social environment which makes the game great.
How to Play Online Craps – Best Craps Strategy
To play live craps, follow the following steps: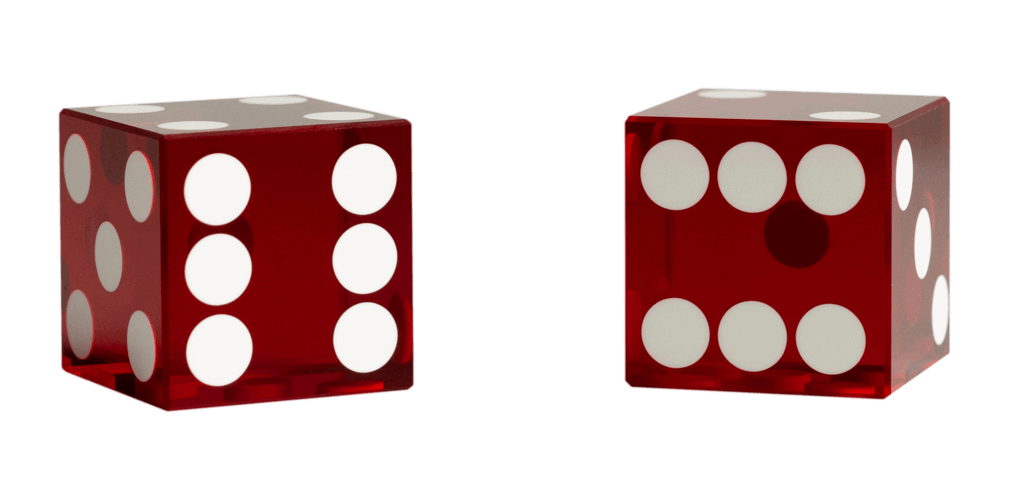 Find a New Jersey online casino that offers live craps.
Register and verify your new account.
Opt-in to any live casino welcome bonuses if available.
Go to the live casino tab located on the site's main menu.
Find a live craps table and start playing.
The rules are simple and the betting options are immense. The course of action is determined by the players choice of bet.
Pass Line Bets: One of the more popular betting choices. This bet can be placed before the come-out roll. If the come-out roll is a 7 or 11, the bet wins and pays even money. If the come-out roll is a 2, 3, or 12 the bet is lost. This is known as "crapping out." If any other number is rolled, this number becomes the point and the game is considered "on." From then onward, the player will win when the point is revealed before a 7 and will lose if a 7 is revealed before the point. Any other result will require the game to remain "on" and another roll is made until the bet is settled.
Don't Pass Bets: This can be placed when the game is "off." If the come-out roll is a 2, 3, or 12 the bet wins. The player loses if a 7 or 11 comes out after the roll.
Come and don't come bets: These bets are the same as the Pass Line and Don't pass bets, however, they can be placed when the game is "on."
Odds bets: These bets are based on the other bets. However, odds bets can only be placed when the point has been set and can be removed after every roll.
3 important tips to know before playing Online Craps
It's important to be as informed and prepared as possible when you're playing craps for money, which is why our team of experts has put together this guide to help and teach you the most important aspects of the game:

1. Know Basic Rules, Side Bets, and Payouts
As the shooter, you can place the two most common bets, the 'pass' and the 'don't pass' bet. These may be known in some casinos as a 'win' and a 'don't win' bet. These bets are essentially bets on the outcome of the round, or, in other words, whether the shooter will win.
Every round of this casino dice game will have two phases. The first phase is the Come Out roll.
A craps game begins with the Come Out roll, which is thrown by the first player in the round, also referred to as the 'shooter.' When playing online, you simply have to click 'roll' to take your turn.
After the Come Out roll, here are three outcomes that can happen:
Craps: Snake Eyes! You have rolled a 2 or a 12 and have lost but still have the chance to roll again.
Natural: You have rolled a 7 or an 11 and get to roll again; you're a winner!
Point: You have rolled a 4, 5, 6, 8, 9, or 10 and get a second roll, but you need to hit the same number as the first roll to win. If, however, you roll a 7, you lose the round.
2. Learn all Craps Betting Strategies
Employing the right strategy is key to having success in craps because it's a flexible way to boost your chances of winning in different situations.
Beginners may like to stick to a basic strategy before trying something more complex as they go on.
3. Plan your budget and your time
Perhaps the most important thing about playing craps online is planning and gambling responsibly. You must be prepared to win or lose.
A good practice is to plan your budget ahead so you know when to quit, and also to give yourself enough time to get the hang of things.
Which craps variant is the best for you?
By now, you know that there are a bunch of different versions of craps that are popular all around the world.
While you won't find all of them when you play craps online, which currently isn't available in New Jersey, it's good to know what they are and the different strategies that go into them. The more you know, the better.
Here are some craps games based on variants that may pique your interest.
Bank Craps: The most common variant of craps online is Bank Craps. This game can be found in practically every online casino. The first difference you'll notice is it uses a special table and a different layout. Bets are all made against the house, rather than other players. However, the rules of craps remain the same.
Crapless Craps: Crapless Craps improves your odds on come-out rolls. You can't lose money on the come-out roll if you placed a pass-line bet. Other than that, the rules of the game are the same. Often known as Never Ever Craps, Ruse Craps, and Bastard Craps, you won't find this in too many online casinos as it's often not profitable enough to justify it.
High Point Craps: High Point Craps is a simple variation of the game and is highly recommended for new players. To start with, if the shooter rolls 2 or 3 then these rolls are ignored and the game continues again. An 11 or 12 means the player wins automatically. Any other number is a point, and the round moves to the next phase. High Point Craps pays even money. But the casino's edge is higher than ordinary craps, at 2.35%.
Simplified Craps: The biggest difference in simplified craps is there's only a single dice roll per round. A roll of 2, 3, 4, 10, 11, and 12 is a win. Any other number is a loss. However, the house edge is much worse than even High Point Craps. Expect to play against a 2.8% casino advantage in this game.
Die Rich Craps: Only one die is used in Die Rich Craps. This exotic variation of online craps is another easy variation for beginners to try out. If you roll a one, it's an instant loss and if you roll a six, it's an instant win. Any other number will establish the point and the game moves to the next phase. The shooter then has three chances to hit their point number before they hit a one.
New York Craps: From the Eastern United States comes to New York Craps. This is another craps game played on a special table. The double-end dealer table involves different bets. The come/don't come and place bets aren't eligible bets in this version of the game. Players place bets on the box numbers 4, 5, 6, 7, 9, and 10. While you will get the true odds, the casino takes 5% commission on any wins. New York Craps comes with a house edge of 5%.
How to improve your game
As you know, craps is a game of both luck and skill. And while you can't do much about the luck aspect, you can do something about the skill.
There are several ways to improve your chances of winning at craps besides sticking to a basic strategy. Depending on what online casinos and tables you play at can provide added value, and even following professional players for insider tips can influence your game and your wallet for more winnings.
1. Read our game & casino reviews
The most important thing is to choose the right place to play craps online.
Choosing a casino with a strong welcome bonus and regular promotions will provide added value. Some casinos have a wider selection of casino dice games than others and certain casinos may give you cash back on losses incurred on craps, which can help you win more overall. Others may reward you with reload bonuses that you can use to play the game.
Additionally, if you're prioritizing craps, you'll want to pick an online casino that has a number of different tables and game variants to best suit your budget and playing style — although at the moment, no New Jersey online casinos host craps games.
Be sure to check out our comprehensive casino reviews, where you'll find the latest on bonuses, promotions, and any special craps offers, along with a detailed look at the craps selection for each casino.
2. Practice for free
If you're not quite ready to put your money on the craps table, many casinos offer virtual games that can be played for free.
This is a great way for beginners to feel out of the game and find their best strategy without having to put money on the line. Practicing for free is simple: You play as you normally would but without real money at stake.
Though live dealer craps games typically don't offer a demo version, you may be able to receive a live casino bonus that you can use to play with extra funds.
3. Watch streamers to discover new tips
Another fun option to get better at craps is by watching the professionals play.
Perhaps the best way to do that is by following some craps streamers on Twitch. There, they often discuss their best strategy and tactics which you can implement into your game.
Play Craps on mobile
With so many online casinos focusing on mobile applications, it's as easy as ever to play craps on your mobile device.
Many U.S. online casinos have optimized mobile sites or dedicated applications and playing craps on a mobile app can give you access to special features like push notifications.
In many cases, these apps offer a better user experience overall. Plus, you'd be able to play craps online anywhere in the U.S.–skipping the sign in process on a mobile browser–whenever it is available in the state.
Online Craps: Coming Soon to the U.S!
While online craps games are currently unavailable to U.S. players, we fully expect that to change soon.
Check back often for updates to see which top U.S. online casino will be the first to offer this classic game.
Frequently asked questions
Online craps is legal in any state where online casinos have been legalized. Currently, online casinos are legal in Deleware, Michigan, New Jersey, Pennsylvania, and West Virginia.
No, online craps is not rigged. All online casino games are regulated through a state government board or agency that ensures that all casino gaming (both online and at land-based venues) is fair to all players. Offshore and illegal casinos are not held to this same high standard, so you will never find such sites listed on our pages.
Craps is available only at a few select US casinos. US players will find RNG craps games at DraftKings and Live Dealer Craps games at various casinos like BetMGM.
Yes, you can play craps online for free at a number of online casinos in the US by playing the game in Demo Mode. This is a great way to learn how the rules of craps and practice gameplay before you start wagering real money.
Craps is a casino dice game where players place wagers on the outcome of the dice when they are rolled by the dealer.