by Steve Bourie Learn more about the author read more »
In early December 2008 my wife and I made a visit to the casinos of Tunica, Mississippi.
I had been there twice before, but this was my wife's first visit. I had enjoyed my previous stays in Tunica, but both times I had little time to see nearby Memphis and for this visit, I made sure that we had one full day in that city to visit some of its attractions, the most famous of which is Graceland, the former home of Elvis Presley.
We flew non-stop to Memphis from Miami and it's interesting that the first thing you notice when heading in for a landing is the abundance of Fedex planes.
Memphis is the company's headquarters and also its largest hub for package sorting.
The facility processes more than 1.5 million packages a day and, depending on the time of day you arrive or leave, you will probably see lots of their planes. The day we flew in there were only six, but when we left three days later there were at least 40.
At the Memphis airport we picked up a rental car for the 30-mile trip to Tunica, but there are other options. A shuttle service is offered by Blues City Tours (662-357-9609) with a price of $47 per person ($37 per person for two passengers). Yellow Checker and Premier Transportation (901-577-7700) also offer taxi service that averages about $83 for a cab that holds up to four people.
From the airport the drive to Tunica is all on major highways and once you cross into Mississippi you understand why the state is so well known for its cotton growing because there is basically nothing but miles and miles of cotton fields.
Tunica's nine casinos are somewhat spread apart with two areas each housing three casinos that are within walking distance of each other. When I had last visited there was a paid shuttle service that went to all of the casinos, but it had been discontinued.
If you don't have your own transportation it would be difficult to visit all of the casinos. The only other option is a free shuttle service run by Harrah's.
They own three casinos (Harrah's, Horseshoe, and Sheraton) and provide free shuttle service to and from those properties, however, you must be a Total Rewards slot club member. Since there is no charge to join their slot club, it is very easy to qualify for the free rides.
An interesting thing to note about Tunica's casinos is that none of them is located directly on the Mississippi River. As required by state law, all of the casinos are built on barges, but all are set back from the actual River and they are all floating in water that is fed from the Mississippi.
The first casino you come to on the drive down is Harrah's Tunica and this place is huge! Originally opened as Grand Casino in 1996, it was bought by Harrah's in 2004, but they kept the Grand Casino name until May 2008 when it was changed to Harrah's.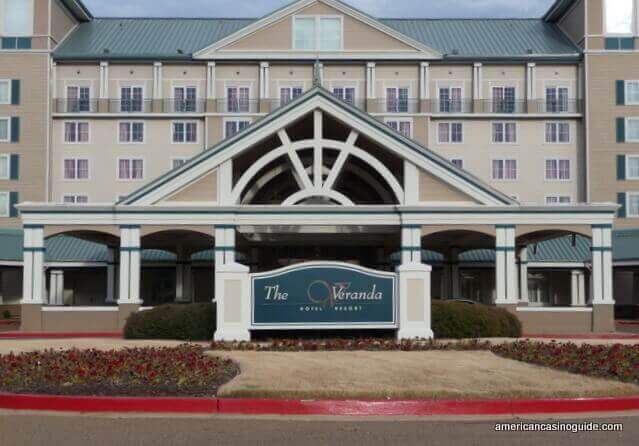 The massive size is somewhat evident when you make the turn-off from the main highway and discover that you still need to drive about another mile on their property to reach the casino.
The entire complex takes up 2,000 acres (about three square miles) and it houses the area's largest number of hotel rooms: 1,356 in three separate hotels.
There is also a 2,400-seat event center, an 18-hole golf course, a 200-space RV park, a 40,000-square-foot convention center, a 16-000-square-foot spa and salon, a skeet and sporting clays shooting center, plus a Kids Quest childcare center.
We stayed at the Veranda Hotel which is about one mile from the casino with a shuttle service scheduled about every 15 minutes offering free door-to-door service. The hotel was fairly upscale and we enjoyed staying there.
There are five different restaurants to choose from and a highlight of our stay was eating at the Paula Deen buffet.
Harrah's entered into a partnership with celebrity chef Paula Deen to brand their buffet with her name when the property changed to the Harrah's name in 2008.
She periodically makes guest appearances at the property and she personally approves all of the menu items.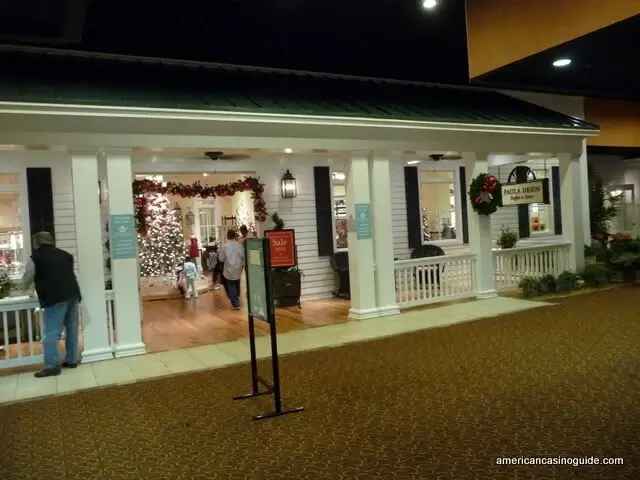 There are six separate stations serving a variety of Southern-style foods, such as fried chicken, collard greens and smoked BBQ. There's even a "Hoe Cake & Biscuit" section, plus "Little Jacks' Corner," which was our favorite because it offered an assortment of delicious desserts.
We really liked the buffet a lot and would heartily recommend giving it a try.
About three miles south of Harrrah's is Bally's which is built to resemble a barn with a silo. Their 238-room hotel is located about a quarter-mile away from the casino and a free shuttle service is offered for hotel guests.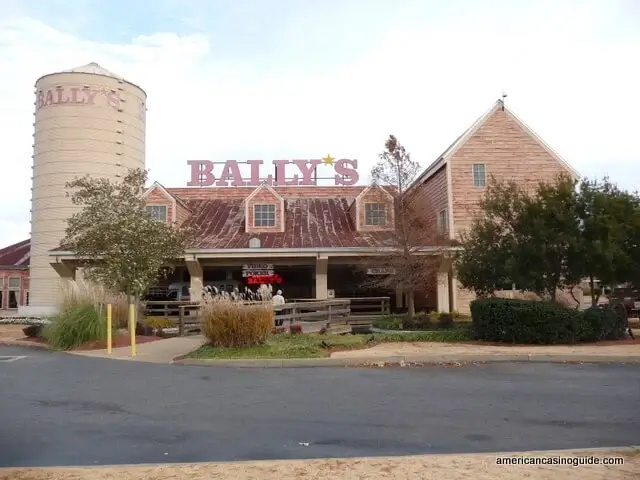 Bally's, as well as Resorts Tunica, are owned by Resorts International which also operates Resorts Atlantic City, the Atlantic City Hilton and the Las Vegas Hilton.
The casino has one fine dining restaurant, a buffet and a coffee shop. While we were there they were promoting a special "One Buck Buffet" offer.
To qualify, you had to earn one comp dollar on your Resorts Destination players club card and then you were eligible to redeem it the same day for a free breakfast, lunch or dinner buffet. The promotion was a continuous offer which could be used every day of the week and it seemed to be a very good deal.
Another mile south is the home of three casinos that are within easy walking distance of each other in an area known as Casino Center Boulevard.
The Gold Strike is an MGM Mirage property and, with 1,200 rooms, the 31-story hotel/casino is the largest of the three properties. Dining options include a steakhouse, a coffee shop, a deli, and a food court with three fast-food outlets.
The 800-seat Millennium Theatre features a variety of headline entertainment and there is free nightly entertainment on the casino's Bullion Bar Stage.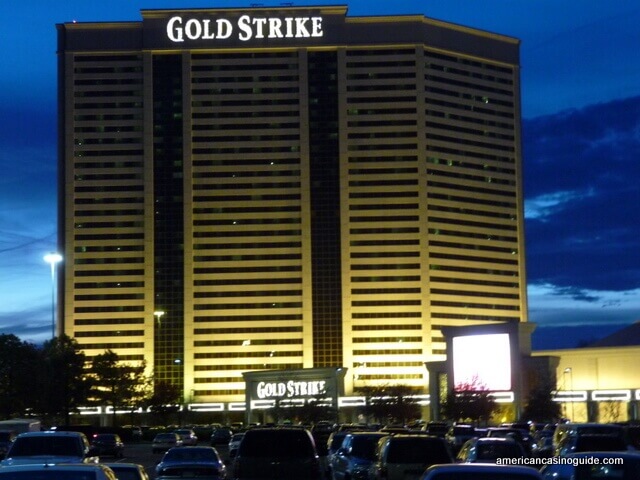 Adjacent to the Gold Strike is the Horseshoe Casino Hotel which is owned by Harrah's. It features 511 rooms and it has a steakhouse, a buffet, a deli, a Starbucks, and a snack bar.
There is also a 300-seat Bluesville Nightclub which showcases headliner entertainment.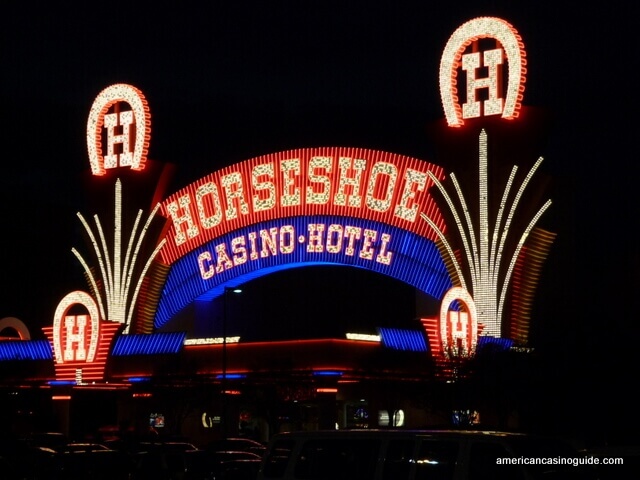 The Sheraton Casino and Hotel is the area's third property and it is also owned by Harrah's. All 140 of its rooms are suites and each has its own Jacuzzi.
It has a steakhouse, a buffet, and a T.J. Cinnamons that serves freshly-baked cinnamon rolls, as well as sandwiches and salads.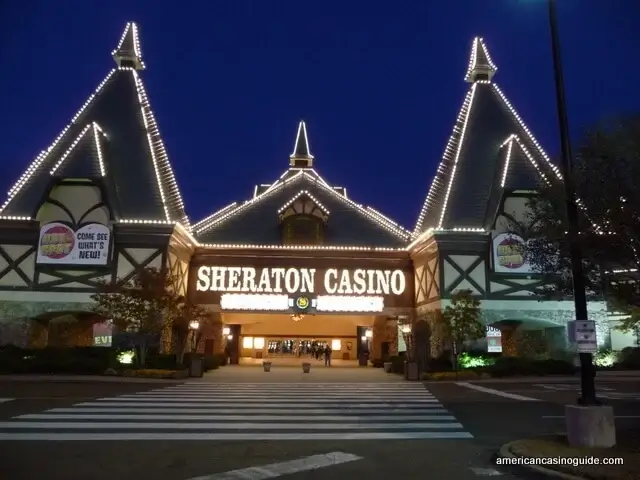 About three miles further south is the Fitz Casino and Hotel. It is part of the Majestic Star Casino Corporation which also owns the Fitz Casinos in Las Vegas, Nevada and Black Hawk, Colorado, as well as the two Majestic Star Casinos in Gary, Indiana.
It is an Irish-themed property with 577 hotel rooms and is built to resemble a castle with turrets. The property offers a steakhouse, a buffet and a cafe.
Free lounge entertainment is offered Wednesday through Sunday nights at its Stage Bar and concerts are periodically offered at its Great Hall Event Center.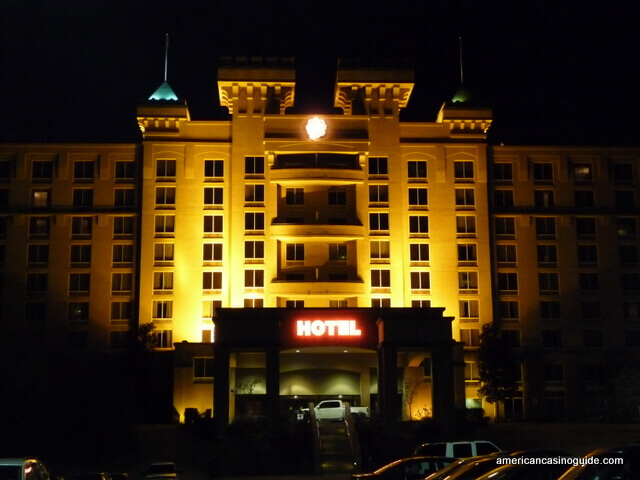 A final cluster of three casinos can be found three miles further south on Casino Strip Resort Boulevard and they comprise the area's remaining gaming properties.
The largest is Sam's Town with more than 800 rooms. Next is Hollywood with 494 rooms and the smallest is Resorts with 201 rooms. All three are associated with the nearby 18-hole River Bend Links Golf Course and offer golfing privileges to their guests.
The American Casino Guide conducts a survey each year to determine our readers' favorite casinos in each area of the country and Sam's Town has consistently been the winner in Tunica.
It's owned by Las Vegas-based Boyd Gaming which operates more than a dozen casinos throughout the country and is well-known for its "looser" player-friendly games.
The Tunica casino is a smaller version of the original western-themed Sam's Town in Las Vegas which has always been a popular casinos for "locals."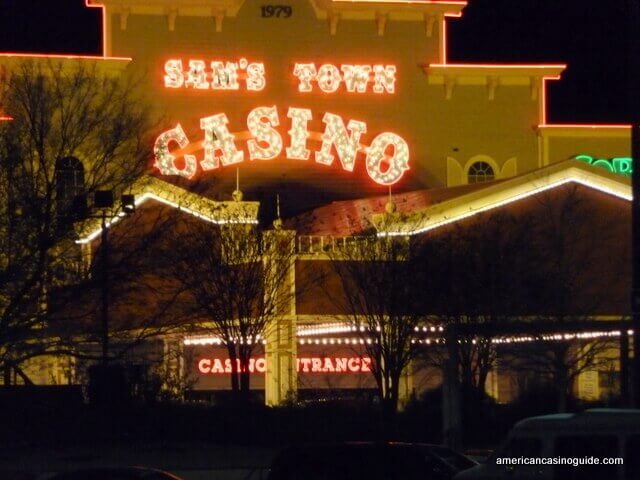 My wife and I played some 9/6 Jacks or Better video poker at Sam's Town Tunica for about one hour and when we returned home we received some good offers in the mail.
We were given three free room nights (Sunday through Friday) for up to three separate future visits, plus $10 in free slot play on each visit. This seemed very liberal to us and we could understand the popularity of the property if it treated all of its customers this way.
Hungry casino-goers can enjoy their choice of a fine dining restaurant, a snack bar, a coffee shop, or a buffet that offers a Corky's BBQ section, plus free draft beer and wine. The property also has a 100-space RV Park and a 1,600-seat special events center.
Sam's Town is located on the north side of the busy boulevard while Hollywood is situated about 1/2-mile away and across the street. It would be a long walk, but once you arrived it would be a short walking distance to Resorts as it is right next door and connected by a walkway.
Hollywood Casino is owned by Penn National Gaming which operates 16 casinos/racinos throughout the U.S. and its Tunica property is a truly unique destination that can be fun to visit even if you're not a gambler.
In keeping with its "Hollywood" name, the casino contains a treasure trove of movie artifacts and displays.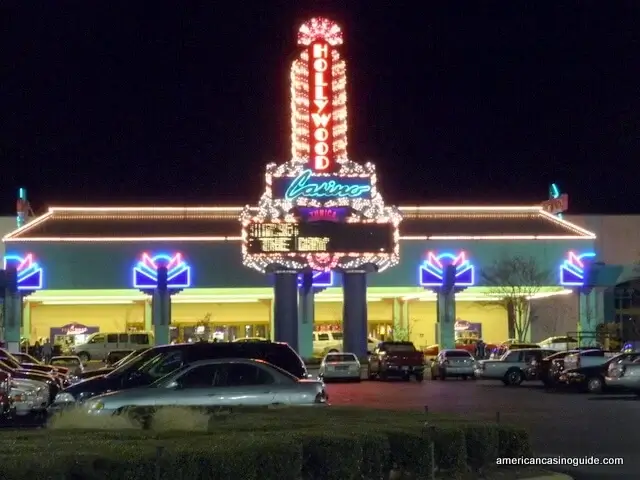 Some of the larger memorabilia on display include the Delorean from Back to the Future, the Batmobile from Batman: The Movie, and the Harrier Jet from True Lies.
There's also a six-ton scale model of the Titanic used in the move starring Leonardo DiCaprio and Kate Winslet, plus numerous displays of costumes and props from other famous movies. The property also has a 123-space RV park, a steakhouse, a buffet and a cafe.
At Resorts Tunica (owned by the same company that operates Bally's Tunica) the dining choices include a steakhouse, a buffet and a Cantina Grill serving Mexican dishes, as well as standard coffee shop items.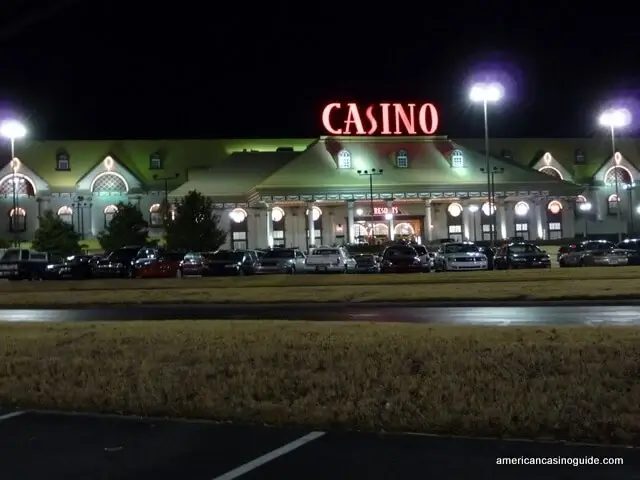 Just like Bally's, the buffet promotion was in effect and we would have taken advantage of the "One Buck Buffet" for dinner, but we had made plans to meet a friend later that evening at Tunica's most famous local eatery: the Hollywood Cafe.
Casually mentioned in John Grisham's first novel, A Time To Kill, the Hollywood Cafe's most notable mention is in Marc Cohn's hit song, Walking in Memphis. In the lyrics Cohn recalls a night at the cafe when he played piano and sang with one of the locals.
Now Muriel plays piano
Every Friday at the Hollywood
And they brought me down to see her
And they asked me if I would —
Do a little number
And I sang with all my might
And she said —
"Tell me are you a Christian child?"
And I said "Ma'am I am tonight"
Part of the music video for the song was also filmed at the cafe, but lately the eatery is more well-known for its appearance on a Travel Channel show entitled Deep Fried Paradise.
A segment on that one-hour show delved into the history of the Hollywood Cafe as the birthplace of the deep fried dill pickle back in the 1970's and its continuing popularity among diners.
Naturally, we tried it out, and we all agreed that the pickle chips, which are fried in a beer batter with cayenne pepper and chili powder, were quite tasty!
A trip to Tunica's Casinos Pt. 2
The next day we headed back to Memphis and our first stop was Graceland. Surprisingly, the late crooner's gated estate is not in a fancy area.
Just 10 miles from downtown Memphis, it faces a major thoroughfare (Elvis Presley Boulevard) that contains many commercial buildings.
The visitors' admission area is directly across the street from the main gate and a shuttle bus arrives every few minutes to ferry passengers to the other side and up the hill to the house on the 20-acre estate that the "king" bought for $102,500 in 1957.
The stairs to the second floor of Graceland where Elvis died
Elvis originally lived there with his parents, as well as his grandmother, and all four are buried in the Meditation Garden at the side of the house.
In 1967 Priscilla moved in after marrying Elvis and she lived at the house until she separated from him in late 1972.
They divorced the following year. Their daughter, Lisa Marie, also lived in the house until her parents' separation when her mother moved with her to Los Angeles. Elvis died in the upstairs bathroom of the house in 1977.
There are three tour options and all include the use of a headset which gives you an audio-guided tour of the house and its surrounding grounds.
The cost for the house tour alone is $28. For $5 extra, an upgraded "Platinum" tour adds a self-guided tour of four other displays back at the main admission area: two of Elvis' private jets; his auto collection; a huge assortment of his jumpsuits; and "Private Presley" which relates to his tour of duty in the U.S. Army.
At $69, the priciest option is a "VIP" tour that includes all of the "Platinum" options, plus some extra Elvis memorabilia; front of the line access for bus boarding (there was a 20-minute wait when we went); unlimited all day access; plus a souvenir "keepsake backstage pass."
We opted for the "Platinum" tour and it was a very interesting few hours. For us, the first impression we got was that, surprisingly, the house was not very big.
The official square footage is slightly more than 17,000, but the rooms are not very big. There is an upstairs (which isn't open to the public), the main floor, a basement (housing a TV room, a bar, and a billiard room) and in the back of the main floor is the famous "Jungle Room" (den).
Our second impression of Graceland was our conclusion that even if you have a lot of money, you don't necessarily have good taste. Most of the rooms were pretty gaudy looking and not at all attractive.
We understood that we were basically in a time capsule dating back to 1977, but we still had to wonder why Elvis, with all of his money, never hired an interior decorator to make the place look more tasteful?
The tour exits at the back of the house and onto the grounds which feature a few more exhibits. There's a building showcasing many of the King's gold records, the wedding outfits he and Priscilla wore, plus numerous photos and other clothing.
There is also a racquetball building that has been converted into a museum showcasing more of his gold records, awards, and jumpsuits.
The last area on the tour is the Meditation Garden at the side of the house, just a few feet from the swimming pool and patio.
Elvis, his parents and his grandmother are all buried here. Elvis, who has an eternal flame at his gravesite, was originally buried at a local cemetery, but due to security issues, he was reburied at Graceland less than two months later.
After boarding the bus and heading back to the main admission area we toured the remainder of the exhibits. I liked seeing Elvis' cars and planes, while my wife preferred viewing his jumpsuit collection.
After Graceland we headed to downtown Memphis to take a tour of the Gibson Guitar factory.
This $10 tour is by appointment only and led by a knowledgeable employee who showed us how a guitar is created from start to finish.
We got a very upclose look at the factory's craftsmanship in action at 16 different work stations and they put out a truly beautiful product.
Naturally, my wife and I were familiar with the Gibson name, but we weren't really that familiar with guitars or their cost.
The tour gave us a new respect for the production of a guitar and a walk around the retail store at the factory gave us quite a lot of respect for their cost when we found out that many Gibson guitars sell for about $3,000 and some sell for more than $30,000!
After the guitar factory tour we headed across the street to the Rock 'n' Soul Museum located in the FedEx Forum sports and entertainment complex (where the NBA Memphis Grizzlies play).
This museum, which was developed by the famed Smithsonian Institute, provides a comprehensive Memphis music experience beginning with rural field hands and sharecroppers of the 1930s, through Memphis' musical heyday in the 70s, to its global musical influence.
Admission is $10 and the museum's self-guided audio tour features over 300 minutes of information, including more than 100 songs. There are seven galleries featuring three audio visual programs, more than 30 instruments, 40 costumes and other musical treasures.
After our enjoyable visit to the museum I mentioned to my wife that I thought it was time to see the ducks walk at The Peabody and her reply was, "what?"
To be honest, I wasn't quite sure what this involved, but I had heard rumors of it for many years. All I knew was that it involved ducks walking through a hotel lobby. So we headed over to The Peabody Hotel and got there around 4:40 p.m., which, it turned out, was very good timing.
I asked the desk clerk, "what time will the ducks be walking?" When he answered, "5 p.m.," my wife said "I thought you were kidding." Me? Kid about a duck walk? No way!
With some time to kill we grabbed a table in the main lobby close to the travertine marble fountain and ordered a drink.
We then noticed that five ducks were playing in the fountain and we waited for the "walk" to begin. As time went by the crowd got larger and then the "Duckmaster" arrived to announce the upcoming walk.
He then roped off the ducks' walking area and gave a brief history of this tradition, which officially began in 1940.
It turns out that the ducks live in the "Royal Duck Palace" on the hotel's rooftop and make the trek down each morning at 11 a.m., returning at 5 p.m.
The hotel lobby was beautiful and we both agreed that the duck walk was a fun event to witness. There's no need to buy a drink, as you can just stand in the lobby to watch the walk. However, by getting a table we had a front row seat and our drinks came with a nice assortment of nuts, dried fruit and pretzels. It was definitely a relaxing way to unwind after a whirlwind day.
There were a few other attractions we would have liked to see, but we didn't have enough time and we'll try to see them on a future visit.
At the top of the list is the National Civil Rights Museum ($12 admission), which is housed in the Lorraine Motel where Dr. Martin Luther King, Jr. was assassinated in 1968. Another is the Sun Studio tour ($12 admission) where Elvis recorded his first record; and a third is the Stax Museum of American Soul Music ($12 admission) located at the original site of Stax Records.
Later that night we visited Beale Street which is promoted as the "home of the Blues and the birthplace of Rock and Roll." It's the most popular tourist entertainment area in Memphis and covers a three-block area with about 25 shops, bars and restaurants.
The main emphasis seems to be on bars and I would compare it somewhat to Bourbon Street in New Orleans, except it's much cleaner and more wholesome.
We tried a local barbecue joint which we both liked a lot and then we went to one of Beale Street's bars to have a few beers and listen to some blues music.
It was a weeknight so there was no cover charge and beers ran $3 each. A reasonable price for a fun evening at the home of the Blues!