by Steve Bourie Learn more about the author read more »
In March 2014 my wife and I made a trip to Venice, Italy to visit the Casino di Venezia, which advertises itself as the world's oldest casino, saying that it has been operating since 1638.
My last visit to Venice was in the summer of 1970 when I had hitchhiked across Europe from London to Istanbul. I saw a lot of cities during that trip and Venice was one of my favorites so I was looking forward to finally making a return trip.
Piazza San Marco (St. Mark's Square) is the most popular tourist destination in Venice, Italy.
Trip preparation
I used my frequent flyer miles on American Airlines to plan our trip, but they had no direct flights to Venice. We live in south Florida and American had recently introduced non-stop service from Miami to Milan (a two-and-a-half-hour train ride from Venice), so that was our best option.
Unfortunately, the best arrangement I could find was an Air Berlin flight from Miami to Dusseldorf, Germany with a one-hour connecting flight to Milan. However, on the way back we were able to get seats on the non-stop flight from Milan to Miami.
We had never heard of Air Berlin before and we were a little apprehensive about what to expect, but we both enjoyed their flights and we would definitely recommend them as a good airline.
Since I wanted to write an article about the casino I started looking for a public relations (PR) contact for the casino about two months before our trip. Usually, the PR director can help coordinate the gathering of information, as well as photos, to help make the project go a little more smoothly. I have been dealing with PR directors at casinos for more than 20 years and I never had a problem, until this trip, but more on that later.
Hotel rooms in Venice tend to be a little pricey, but after booking our flights and checking room rates they seemed to be especially high. After doing a little research I discovered that our visit to Venice was occurring at the end of Carnival which is one of the most popular events in the city and it lasts for about three weeks.
During Carnival, many people wear elaborate costumes, or just masks, and walk around the city to participate in different events and balls. You can read more about it here – http://www.carnevale.venezia.it/?slang=en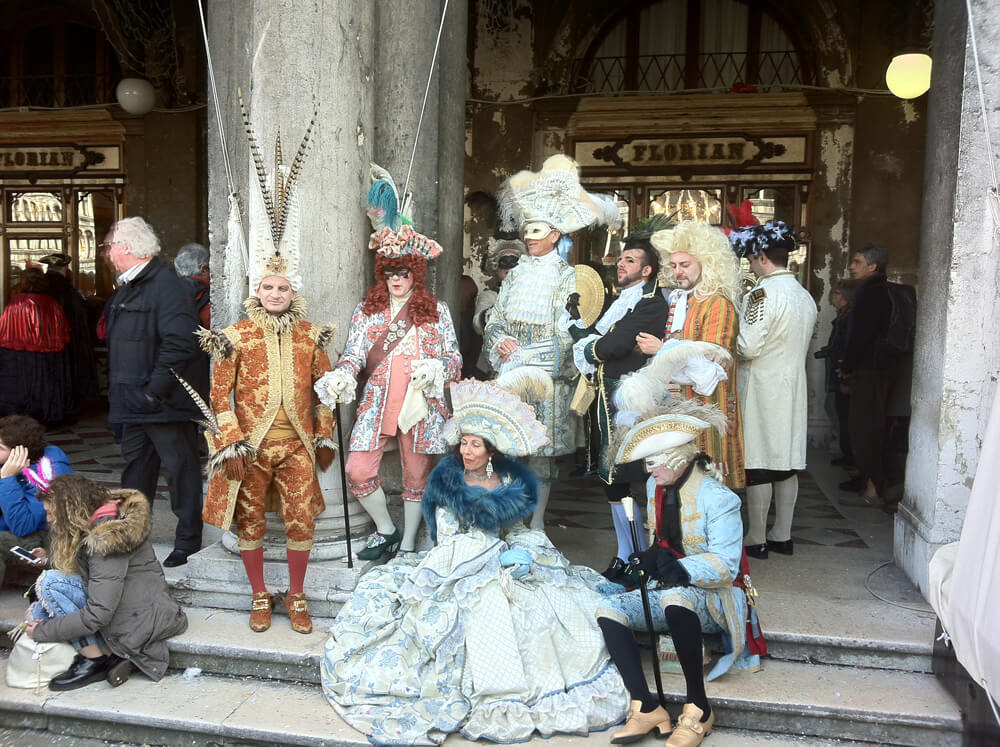 Carnival is an annual festival held in Venice, Italy when participants get dressed up in elaborate costumes and masks.
Since the room rates were so high I looked at other options and decided to stay at a hotel in Mestre, which is about five miles from Venice, and the room rates were more reasonable. Since Mestre was the last train stop before Venice it was only a 10-minute ride away and it turned out to be a good option.
I knew that I could charge most of our expenses to credit cards and that most of them would charge a foreign transaction fee of around three percent on each transaction. However, I had two credit cards that didn't charge those fees and I called them in advance of our trip to let them know that I would be using those cards in Italy.
I brought some cash along to cover smaller expenses and once we arrived at the Milan airport the first thing I needed to do was exchange it for some euros. I really should have researched this option a little more thoroughly before I left home because it turns out that using a currency exchange is an expensive option.
It seems that using an ATM is the best option for getting money when abroad because the withdrawal is automatically converted into foreign cash at a much more favorable exchange rate. The overall fees are also much lower, but it's a good idea to check with your bank before leaving to see what options they offer you when abroad because some ATM's might be part of their network and offer you lower fees, while other ATM's might be out of their network and charge heftier fees.
At the airport I exchanged $60 for 28.30 euros which turned out to be a terrible rate as my $60 only got me about $39 worth of euros. If the process were transacted at the true conversion rate ($1.38 = 1 euro) I would have received about 43.50 euros, which means that I lost about 35% of my money as a processing fee. The currency exchanges will offer you a better rate if you change larger amounts of money, but you are still paying an exorbitant fee and, as I found out, it's best to avoid them if you can.
After a 45-minute train ride from the airport to the Milan train station I was ready to buy our tickets to Venice, but there was a slight problem. There were plenty of electronic kiosks for buying tickets and they accepted both cash and credit cards. Of course, I wanted to use my credit card because I didn't have much cash and as I approached the machine I noticed quite a few signs saying "beware of pickpockets."
As I was trying to figure out how to operate the machine a "friendly passerby" came up and offered to help. He spoke some broken English and seemed to be pushing the right buttons to help us buy our tickets to Mestre from the kiosk. I thought it was a little strange that he smelled a bit like a brewery at only one in the afternoon, but hey, it's Italy and they drink a lot of wine. When we finished the process and it was time to pay I found out that the machines required users to enter their pin number when paying with a credit card and I had no idea what my pin number was for my credit card.
After several more tries, using different credit cards I never did get it to work and I thanked the guy for his time. As we walked away, my wife reminded me about the "beware of pickpockets" sign and we both wondered if he was a pickpocket. I wasn't sure if we had indeed encountered one, but he definitely wasn't a random passerby and I was sure he wasn't just being friendly.
Since we couldn't buy our tickets from a kiosk, we headed into the main ticketing area to buy our tickets from a clerk because they would accept a credit card without a pin number. There were only about five clerk windows open and I thought things wouldn't be too bad because you could grab a number from a machine and wait for it to be called rather than having to stand in line. The only problem was that our number was 648 and the number being called was 420. Holy crap! This was going to be a long day!
There was certainly no rush on the part of the clerks to lessen the wait and everything moved at a snail's pace. The only good thing was that many people didn't show up when their number was called and after about an hour-and-a-half wait, we finally got our tickets.
As we reached the platform to board our train we were, once again, approached by another "friendly passerby" who seemed to sense that we looked a little lost. In his broken English he asked if we needed help and I showed him the tickets. We then followed him along the platform and as we passed the first-class section of cars I was thinking "gee, this guy is awfully nice!" When we reached the second-class section where we had our seats, he motioned for us to step up into the train and he followed us with our bags to take us directly to our seats. At this point I realized he was just trying to make some money so I gave him a two Euro tip (about $2.75). He acted a bit insulted and asked for more, but I said "no" and he left.
Venice, at last
Our hotel in Mestre was directly across from the train station which was very convenient as we used the train the next day to get into Venice. For almost all train tickets you purchase in Italy you are supposed to get them time-stamped at the station before your board the train. I think this is done to prevent you from using the ticket more than once and there are fines to pay if you are caught with an unvalidated ticket. On our lengthy trip from Milan to Venice we did see a conductor checking tickets, but we never saw anyone checking tickets on our shorter train rides.
Once you reach Venice you will see that there are no cars because the city is a group of 118 small islands that are connected by bridges. All transportation is by boat and there are three basic types to choose from: water taxis, gondolas and water buses (vaporetti).
Gondolas are really only used for tourist rides, rather than transportation to get around the city, so it may not be fair to count them as a transportation method. A 40-minute ride costs 80 Euros and up to six people can fit in the boat for the same price. A much cheaper option is to take a traghetto, which is a larger, specialized gondola used as a ferry to get from one side of the city's Grand Canal to the other. These gondolas are less ornate, riders usually stand, and the price for tourists is two Euros (about $2.75), while locals only pay an amount equal to about 60 cents.
A couple enjoys a leisurely gondola ride in Venice, Italy.
Water taxis are private boats that can carry up to 14 passengers and are rather expensive. The initial charge is 13 Euros and then it costs 1.80 Euros per minute of travel. If more than five people are in the boat, then there is an additional charge of 10 Euros per person.
A much cheaper alternative is to use a water bus, called a vaporetto (singular), which is the primary form of public transportation in Venice. They travel on designated routes and you usually don't have to wait longer than 10 minutes for one to arrive.
Boat traffic on the Grand Canal in Venice can sometimes be hectic. On the right is a water taxi, in the center is a vaporetto (water bus), and on the left are some gondolas.
The fare is seven Euros per trip, but most people buy passes for 12 to 72 hours of unlimited travel. There is also a seven-day pass available for 50 Euros.
Once again, just like with the trains, users must validate their ticket each time before boarding the boat.
We bought a multi-day pass for the vaporetti and printed on the pass was free admission to the Casino de Venezia. This was useful because normally the casino charges a five Euro entrance fee, or for 10 Euros, you can get free admission, plus a voucher for 10 Euros to be used for play in the casino. I had read that many hotels in Venice also offer free passes for admission to the casino, but I never asked about them because we didn't need them.
"Normally," I would get admission to a casino at no charge by contacting the public relations director ahead of time to explain that I was going to write about the casino and asking for help in gathering information. Then, I would meet them, or a different representative, at the casino to take a tour and ask questions. I had no problem doing this at the Monte Carlo Casino in Monaco, nor at the Empire and Playboy Casinos in London.
I say "normally" because that's the way it is supposed to work. However, there seemed to be some problems with that procedure at the Casino de Venezia.
My emails went unanswered for several weeks and when I finally did hear back, I got very little information, plus my requests for photos to use in this article went unanswered. Additionally, although I kept writing to say that I was leaving within 10 days and that I wanted to set up a specific day and time to meet at the casino, I never heard back before I left.
To be fair, on the few occasions when I did hear back, I don't think the representative spoke much English. However, you would think that a casino in a major European city would have a multi-lingual staff, especially if they wanted to cater to English-speaking visitors, which this casino certainly did. Also, if they didn't speak English, then they should have at least made an effort to find someone in the company who could speak English and correspond with me about writing an article about their property.
When the day of our trip came and I hadn't heard back I figured that I would just visit the casino on my own and ask for the PR rep by name when I got there.
The Venice Casino
The Venice Casino is in a three-story building right on the Grand Canal and a short walk from the San Marcuola vaporetto stop. The first floor houses the slot machines, while the second-floor houses a poker room and the table games are located on the third floor.
Casino di Venezia entrance from the Grand Canal.
We went on a Monday afternoon around 3:30 because that is the opening time for the table games and I wanted to see that area, as well as the slot machine section which opens daily at 11 a.m. Both areas close at 2:45 a.m., except for Saturday nights when they remain open an extra half-hour.
We walked up to the lone clerk at the admission desk and showed her our vaporetto passes. After presenting our passports we were issued free tickets with our names printed on them and the tickets were also valid for readmission to the casino until it closed later that evening.
I asked at the admission desk for the PR person that I had been dealing with by email, but the clerk spoke limited English and didn't seem to know the person I was asking for, so I decided to give up on that idea and just see what I could find out my own by walking around.
The slots were housed in about five different small rooms that each held about 15-20 machines. There were only four video poker machines in the entire casino and they were housed in one small room along with a double-zero wheel electronic roulette game, plus a few slots.
The denomination of all the video poker games was half-a-Euro and they were all multi-play. The jacks or better games had 9/5 pay tables (98.44% payback) which wasn't especially bad. However, there was a problem because the royal flush didn't pay 800-for-1 unless you made a maximum coin bet of 25 Euros. In U.S. casinos you usually only need to make a bet of five coins to increase the payoff for a royal from 250-for-1 to 800-for-1, so this actually lowered the payback on these machines to only 97.21% unless you made that maximum bet of 25 Euros.
I wanted to play the video poker a bit to test it out, plus I wanted to get some more Euros for the rest of my trip so I went to the cashier cage to change $200 into Euros, but I was told that the casinos didn't change money. Actually, the first person I dealt with didn't speak any English, but a second cashier said that I would have to use my credit card in order to get the Euros I wanted.
The casino's web site said that they accepted U.S. dollars so I was little surprised that they wouldn't take my dollars, but I decided to go ahead and charge 150 Euros on my credit card. When I asked at the cage if this would be considered a cash advance against my credit card, nobody knew the answer.
Actually, nobody seemed friendly at all and it was a rather complicated process to get information about the various ways the casino worked. I have been going to casinos for more than 40 years and if it was a difficult process for me I can just imagine how much more difficult it could be for a novice gambler.
Anyway, getting the 150 Euros turned out to be an excellent deal because it was processed as a sale rather than a cash advance and there were no fees involved. Also, it was processed at the best possible exchange rate which was an added bonus!
I was given a voucher for 150 Euros and headed back to the machine to play, but when I inserted the voucher the machine kept rejecting it. After trying it in some other machines the ticket was still being rejected so I went back to the cage to tell them about the problem. At this point I was told that those machine don't accept vouchers and a manager was called over to discuss my problem. He told the clerk to give me cash and I was handed three 50 Euro notes for my voucher.
I went back to the machine and it gladly accepted my 50 Euro note. I played about 15-20 hands and was up five Euros so I decided it was time to cash out. However, when I hit the cash out button a screen popped up saying that I needed a hand-pay. Wow, a hand-pay for 55 Euros? That was weird.
Although there weren't many people playing the machines, there also weren't many employees on the floor and after fruitlessly waiting a few minutes for an attendant to arrive I decided it was time to go find someone to pay me. I went back to the cage to explain the problem and, once again, a manager was called in to resolve the problem.
He told the clerk to pay me and I was given my 55 Euros. I thought that was a little strange because in the U.S. they would usually follow you back to the machine to see the amount displayed, pay you that amount, and then reset the machine. I guess they had some way to verify the amount I won from the cashier cage and then reset the machine from there?
After my quick play at video poker I was now eager to see the table games and I headed back to the lobby. When I spoke to the ticket checker at the entrance to ask how to get to the table games area I was gruffly told that I couldn't go up there because I wasn't wearing a jacket.
Hmm. That seemed a little strange as it was only four in the afternoon. I had been to the casino in Monte Carlo, which is much more famous, as well as much more popular, and they didn't require their customers to wear a jacket in the afternoon, so I wonder why the Venice Casino was so much more picky about this issue?
I did have a jacket with me, but it was in my hotel room so I decided that we would just have to come back another night to check it out.
Casino di Venezia entrance from the street.
Two nights later we got dressed up, had a nice dinner and then returned to the casino around 8:30. Once again, we showed our vaporetto passes at the admission desk to get our free admission tickets, and then headed to the third floor to check out the table games.
The casino wasn't very crowded and as we started to walk around to check out the games my wife pointed out to me that a lot of the men were not wearing jackets. At that point I did a quick survey and I would say that about a quarter of the men in the casino weren't wearing jackets! Wow, they wouldn't let me in at four in the afternoon without a jacket, but they had no problem letting all these other people in at night without jackets? That was very annoying because it made me feel like they had purposely singled me out to deny me entrance to the table games area, when it really shouldn't have mattered.
Most of the people were playing roulette and the casino had six tables, although only three were open. There were four French tables and two American tables (which the casino referred to as "fair roulette"). All of the games were single zero and the only difference between them was that on the American table you had to exchange your cash for chips that could then represent any amount that you wanted and they were only for play at that particular table. For example, you could exchange 100 Euros for chips and tell the dealer you wanted 100 one Euro chips, or 50 two Euro chips, or 20 five Euro trips, etc. Then, when you were finished you would need to cash those chips in with the dealer to have them exchanged back into regular casino chips.
At the other French tables you could only bet with regular casino chips so there was no need to exchange them. The layout of the French table was also different and slightly larger than the American version, plus there were several croupiers (dealers) at the table, while the American table only had one dealer.
Roulette was definitely the most popular game in the casino as it was the only game that was really having any action and I would guess that there were about 20 people playing. The minimum bet was two Euros which made it an affordable game for some leisurely fun and the single-zero wheels made the casino edge only 2.70% which was much better than the 5.26% edge found on U.S. roulette games with double-zero wheels.
Located in the same room were about 10 baccarat tables, but they were all empty. That was a disappointment as I was eager to see these tables in action because the casino offered Chemin de Fer, which I have never seen in a U.S. casino. The game is similar to American baccarat, but in this version someone at the table acts as the banker and the house just serves as a middleman to deal the cards, plus it gets to keep the five percent commission on the winning bank bets. The other difference is that in Chemin de Fer the players can sometimes decide how to play their hands. In the American version of baccarat that isn't an option as strict rules need to be followed concerning the drawing of a third card.
If you've ever watched a James Bond movie then you've seen Chemin de Fer in action because Bond always wins his baccarat bets directly from the bad guys rather than the casino, plus the dealer will ask him whether or not he wants another card. With so many baccarat tables in the casino I assume that the game is popular, but perhaps we needed to be there later in the evening for the players to begin arriving? I did notice that there was another room behind the baccarat table section and it contained even more baccarat tables. I am sure this was a private salon for higher limit players, but it too was empty.
There was only one other room to visit and when we entered we saw three blackjack tables, a Caribbean Stud Poker game and some Punto Banco tables.
The Caribbean Stud Poker table was empty and it seemed to be out of place because it's a dying game. It used to be popular many years ago, but it's now hard to find the game in any U.S. casino. I would tend to think that the casino's management was out of touch with offering this game because Three Card Poker and Let It Ride are much more popular.
Punto Banco is actually the same game as baccarat that is played in U.S. casinos and the Venice Casino offered it at a large table that seated up to 15 players, as well as at smaller blackjack-sized tables that seat seven players and would be referred to as mini-baccarat in the U.S.
The blackjack games all had continuous shuffling machines and the minimum bet was 10 Euros.
According to the printed felt on the table the dealer stood on soft 17, which was good, but I never did find out the complete rules. It seemed that whenever I asked someone a question they either didn't speak English, or they seemed indifferent.
From the admissions desk, to the cashiers cage, to the dealers, there seemed to be an attitude of not wanting to be helpful. I thought that maybe it was me asking too many questions, but I later looked up reviews of the casino on traveladvisor.com and I found that many people had the same problem. The review titled "poor hospitality" probably summed up the situation best when they wrote "Unsure what to do when we arrived at the Casino but no one interested in helping us. Staff talking to each other and not interested in welcoming visitors."
My thoughts on our visit were pretty similar. I always enjoy going to casinos, but this place really wasn't much fun and nobody seemed to care. If you are heading to Venice and you like casinos, I would still say it's an interesting place to visit. However, you should be forewarned that visiting the Venice Casino might be about as much fun as visiting your local Department of Motor Vehicle Office, except nobody speaks much English. Ciao!