by Steve Bourie Learn more about the author read more »
In February 2008 my wife, Michelle, and I made our first visit to Costa Rica. It was primarily a business trip to visit a friend and his wife who work in the Internet industry there, but I was also curious to see the country's casinos as well as explore some tourist areas.
I had been to numerous casinos in the Caribbean so I assumed that the Costa Rican casinos would be similar, but I was very wrong. My first inkling that there were major differences was when I did some research on my friend's web site at wedoitallcostarica.com
In its casino section the site mentions "there are casinos in most popular tourist areas in Costa Rica. They are usually part of a hotel, however, they are not huge casinos as in Las Vegas. The table games are renamed in Costa Rica. Some games have different names; others, different rules." It went on to say that in Costa Rica's casinos "Rummy" is blackjack, "Canasta" is roulette, and "Dominoes" is craps. This was all new to me and I looked forward to learning more about it.
Costa Rica is located in Central America between Nicaragua to the north and Panama to the south. We left from our hometown Fort Lauderdale airport and three hours later we arrived in the country's capital of San Jose.
Our friends met us at the airport and we were whisked away, only to face our first San Jose traffic jam. It was 5 p.m. on a weekday so the traffic could be understandable, but our friends pointed out that traffic is usually very heavy most hours of the day.
On the ride to our hosts' house we couldn't help but notice that most houses had burglar bars on their windows and razor wire on top of their fences or walls. Evidently, petty crime is a problem (our friends warned us not to bring jewelry on the trip), but violent crimes are not as prevalent. However, we did see several instances where guards armed with shotguns stood watch outside banks or stores.
In fairness, we had spoken with some other friends back home who had already visited Costa Rica and they advised us about some of these problems. Additionally, we had read some travel books and visited some web sites with warnings about the crime situation, especially in downtown San Jose at night, but it was still a little jarring to see it in person.
Our friends lived in a beautiful house (even though it had razor wire and burglar bars) on the outskirts of San Jose and we had a great dinner with them that evening. Afterward, I was ready to visit some casinos and when I asked my friend about going to some, he shot back "want to see a brothel too?"
Well, I've never seen a brothel, so I said "sure, let's go." The four of us then got back in the car and headed to where else? Downtown San Jose!
It turns out that prostitution is legal in Costa Rica and this wasn't really a "brothel" in the traditional sense. Rather, it was a casino/hotel that was used by many "ladies of the evening" to solicit customers. As the four of us strolled through the various areas of the Del Rey Casino and Hotel it was amazing to see at least 200 attractive women of all ages just standing around waiting to negotiate their deals. I wanted to stop while passing through the casino to take a closer look at some of the games, but we felt somewhat out of place, so we left right away.
Club Colonial
We only had to walk across the street to visit the next casino, Club Colonial. Evidently, the Del Rey was the only casino that catered to prostitutes and the crowd here was a more typical mix of gamblers. This gave me a chance to look at some of the games, but there was no literature available to explain the rules. The roulette game, which they called Canasta, was strange because there was no roulette wheel. Instead, they used a circular wire cage with numbered balls to represent the 38 numbers on a roulette wheel (1 to 36, 0 and 00). They would spin the cage rapidly to mix up the balls and then one ball would fall into a chute as the winning number. As far as I could tell, the winning payoffs were the same as on a standard American roulette game.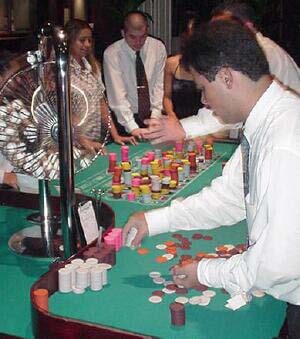 Costa Rican roulette is called Canasta
I stood and watched the blackjack game they called Rummy, but I was a little lost. Actually, I'm still lost, but according to the Colony Club's broken English web site, I believe that if your first three cards are of the same value (2,2,2; 6,6,6; etc.) you're an automatic winner and are paid at 3-to-1. If the three cards are sevens then the payoff is increased to 5-to1 and if the three sevens are suited, then a jackpot is awarded. It's my understanding from some further research I did that some bonuses are also paid for three-card straight flushes and all of those bonuses are good things. The bad thing is that a regular blackjack (ace and a 10-value card) only pays even money (rather than 3-to-2), plus it's not an automatic winner. If the dealer draws to 21 you "push." I never did play this game and I only watched from the sidelines.
The next stop on our tour was just across the street at the Horseshoe Casino. This place is named after its Las Vegas counterpart, but they have no business relationship and it is co-owned by former kindergarten teacher turned professional poker player, Dewey Tomko. They only had table games and we left after walking around for a few minutes.
After visiting these three casinos the thing that struck me the most was how small the casinos were. Each only had about 10 tables and of the two casinos with machines each only had about 50 machines. Additionally, the slot games were rather old and the types of machines that you would have seen in American casinos a few years ago. There were also a few video poker machines available with some bad paytables. I was expecting the casinos to be bigger and equipped with more modern machines so this initial introduction was a bit of a surprise to me.
After surviving our first night in downtown San Jose we were ready the next day to take in some tourist sites and the first place our friends took us to was the Poas Volcano. Located about 20 miles northwest of San Jose, this is the world's largest active crater and the entire area has been turned into a national park. Poas last erupted in 1910 so there isn't any need to worry, but it's still quite a site to see.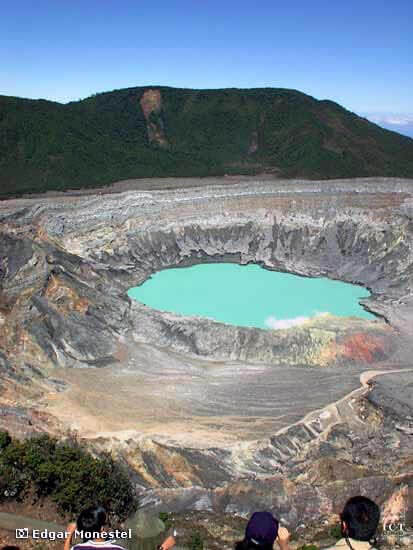 Poas Volcano
The attendant at the entrance warned us that it was a cloudy day and we might not be able to see much, but we decided to go in anyway and hope for the best. For the first 20 minutes he was right because all we could see were clouds. However, a nice breeze came along to push the clouds away and for about 10 minutes we had a great view of the one-mile wide crater and its bubbling sulphurous lagoon.
About 10 miles further away was our next stop, the La Paz Waterfall and Gardens. This was a really unique attraction with two miles of walking paths that encompassed five waterfalls, a butterfly observatory, a hummingbird garden, a serpentarium, a frog exhibit, and an aviary. It was well-maintained facility and the waterfalls were truly beautiful. Personally, I was most intrigued by the frog exhibit which housed Costa Rica's world famous leaf frogs and poison dart frogs. I had seen pictures of these frogs, but I never knew how tiny they were until we saw them in person, plus they were exhibited in a somewhat natural setting. They were in two greenhouse rooms that contained plants native to the jungles and the frogs were free to roam around each room.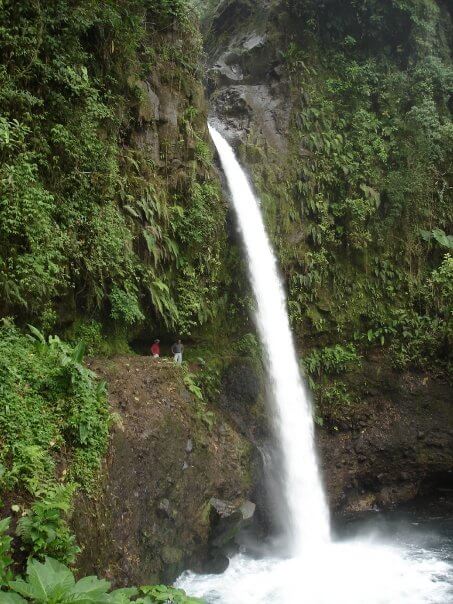 La Paz Waterfall. Did you notice the two people to the left of the falls?
To help us locate the frogs there was a small sign pinned to each plant where a frog was located, but even with the signs I usually couldn't find them. Fortunately, there was also an attendant in each room who could point out where the little guys were hiding among the leaves. Their colors were always strikingly bold and each was quite a sight to see.
It was time to head back home and on the drive back our friends got a little lost. When they stopped to ask for directions my wife couldn't help but point out the irony of the situation. "This is strange," she said. "Why is that?" I wanted to know. "Because they're asking: Do you know the way to San Jose?" Okay, very funny, she got me with that one.
White House Hotel and Casino
Later that evening our friends wanted to take us to the White House Hotel and Casino after dinner. They had been there before and were very impressed with this five-star resort that is perched on a mountainside and offers panoramic views of the entire San Jose area. As we left our downtown restaurant we could see the White House up on the mountain and we headed in its direction. As we got closer my friend realized he wasn't quite sure which street to take so he stopped to ask for directions. I understood parts of his conversation in Spanish with the "Tico" (the term for a native Costa Rican man) and I easily understood him when he ended the conversation with "perfecto! Gracias!"
Unfortunately, the directions weren't quite as perfect as we had hoped because we couldn't find the place even though we could see it up on the hill.
Okay, time to ask for directions again. "Perfecto, Gracias!" repeated my friend as we rode off with a new set of directions provided by another Tico. However, those directions were no good either and, to make a long story short, we asked five different people for directions and we never did find the place.
Our friends told us that part of the problem is that Ticos are usually very friendly and they will try to help you out rather than say "I don't know how to get there." I think it was after our third set of directions, however, that I realized there was a much bigger problem: there are no street names or address numbers in Costa Rica!
I couldn't believe that in this day and age a city of more than one million people didn't have any street names, but it was true. Our friends explained that when giving directions in Costa Rica it usually involved mentioning a landmark, such as "turn right at the old church, or make a left at the big tree." "But what if the tree gets cut down?" I asked. "They still say to turn at the big tree," they answered. "They just assume everyone knows where the big tree was located."
Corobici Hotel and Casino
After giving up on finding the White House, we went to the Corobici Hotel and Casino which was where our friends usually did their playing. It's one of the country's largest casinos and it also had a craps table. My friend began playing and it seemed like a regular craps table to me. He pointed out, however, that craps is illegal in Costa Rica and this game was called dominoes. I did notice that there were about six dominoes sitting on the layout in front of where the boxman sits, but other than that, the rules and payoffs seemed to be identical to an American craps game. That was our last night in San Jose and the next day we left to explore other areas of Costa Rica.
Our first stop was the Arenal Volcano. It is one of the 10 most active volcanoes in the world and it last erupted in 1968 with a force powerful enough to blow off the west side of the volcano and kill 87 people.
Arenal is one of the country's most popular tourist spots and the nearby town of La Fortuna hosts a bevy of hotels and tourist-related activities. We took a shuttle bus from San Jose for the 90-mile trip at a cost of $35 per person and it dropped us off right at our hotel.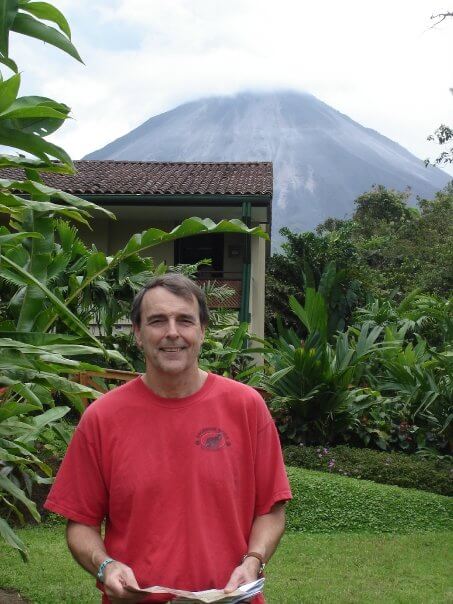 Arenal Volcano in the background
We stayed at the Tabacon Grand Spa Thermal Resort which is located closer to the volcano. This was a beautiful resort that featured a separate lush, tropical hot springs area across the street within about 100 yards of the main property. There were several regular pools, plus seven individual river pools and waterfalls that were geo-thermically heated by the volcano to differing temperatures. The hottest pools were a balmy 102 degrees Fahrenheit and it was quite relaxing to bask in these areas.
We stayed in a Deluxe Forest Room which had a balcony that looked out onto the tropical rain forest and the price was $330 per night (plus taxes of 16.39%). The bathroom had a jacuzzi which we used the first day and while relaxing we opened the window to have a nicer view of the jungle and to get some fresh air. We kept hearing some strange noises and couldn't figure out the cause of this ruckus until we stuck our heads out the window. We then saw a family of six bats hanging out just behind the window. Needless to say, we never opened the window again.
Other rooms at Tabacon began at $270 per night and all included free admission to the hot springs. If you're not staying at the resort you can buy an all-day pass to the springs for $60. During our two-night stay we never left the resort and we managed to fit-in time for a couples massage at the on-site Grand Spa. An interesting aspect of the massage was that it was given outdoors in a remote area of the hot springs in an open-air hut. It was a great way to spend an early evening being pampered by the masseuses and listening to the sounds of the cicadas.
The next day we were ready to visit the next spot on our itinerary, Quepos, which is located on the west side of Costa Rica directly on the Pacific Ocean. Since we were short on time, we had chosen to fly rather than opt for the six-hour drive. We took a taxi early in the morning from our hotel to the La Fortuna airport. As we made a right turn from the main highway onto a side road we realized that the "airport" we arrived at was basically an unpaved field strewn with rocks. Oh well, too late to chicken out now!
At the "shack" which served as our "terminal," we met our Sansa Airlines check-in rep who had us step on a scale, along with our bags, to weigh us before we got on the 12-passenger plane. After that, we were notified that we had to pay a $7 departure tax, per person, to the airport. It seemed ironic that such a tiny airport would charge one of the highest fees I ever remember paying to a local airport. I was thinking it would be nice if they used that money to fix up the airport, but looking at the condition of the terminal I would assume the money went to other uses. There was only one other passenger on our flight and we all sat directly behind the pilots for the 20-minute flight to San Jose where Michelle and I would board a similar plane for a further flight to Quepos.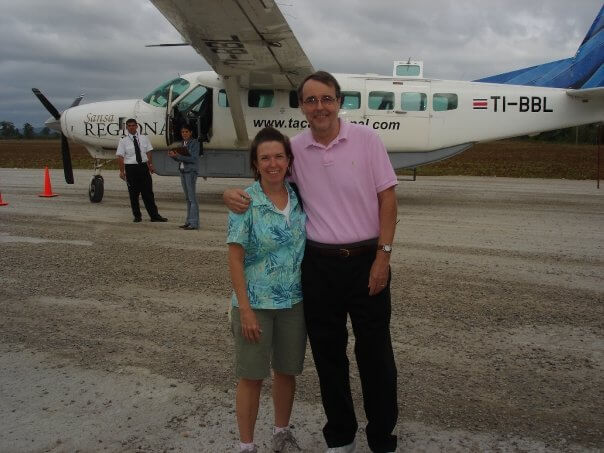 Our plane at the La Fortuna "Airport."
Even though the planes were small, the flights were really great and they gave us fabulous views of the Costa Rican countryside. The Quepos airport was much nicer than La Fortuna's and a short taxi ride later we were at our hotel.
La Mariposa Hotel is actually in Manuel Antonio which is the first town south of Quepos. The 30-year-old property sits atop the highest point in the area and it offers a panoramic view of the Pacific coastline. We reserved an ocean view room for about $265 per night (plus taxes of 16.39%) and, while the room itself was rather plain, it most definitely had a million dollar view.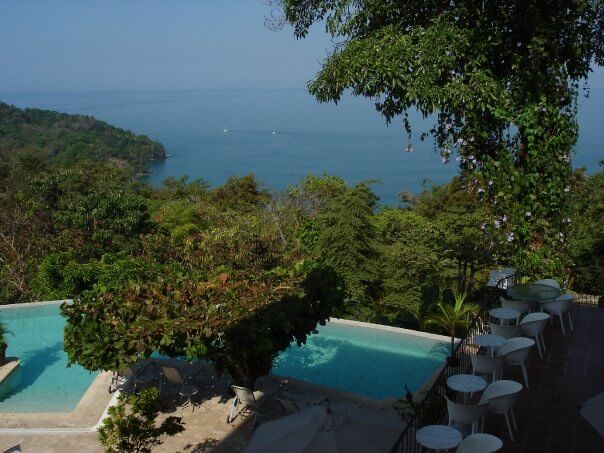 View of Manuel Antonio coastline from our hotel room
The first thing we did was head down to the beach and I can assure you that from where we started out it didn't seem very far away, but it turned into quite a lengthy walk. The result was worth it, however, because it was a beautiful, expansive white sand beach which we walked along until we came to a local snack bar where we stopped for lunch.
After lunch we were trying to figure out how to get back to our hotel when someone suggested that we take the local bus that runs between Quepos and Manuel Antonio. That turned out to be a great idea because it provided efficient transportation, it gave us a taste of the local culture, and it was a bargain at only 35 cents!
Later that day we took another bus back to downtown Manuel Antonio for dinner, but we took a cab back to the hotel because it was getting late. Just a short distance from the downtown area is Manuel Antonio National Park where visitors are allowed in for $6 per person. We later heard some nice things about the park, but we never made it there. Instead, we opted for a rainforest eco-tour the next day which had been recommended by our friends back in San Jose.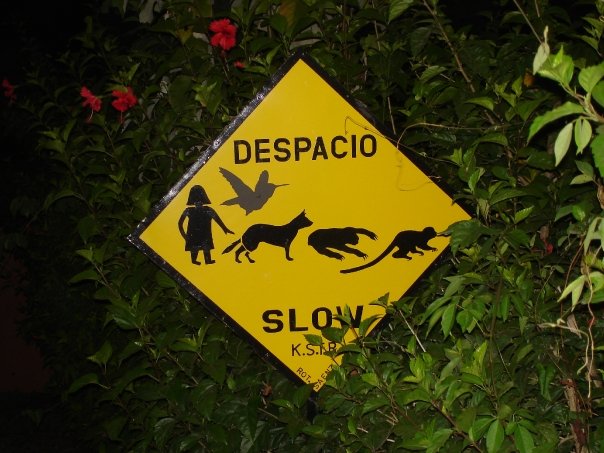 Caution sign outside our hotel warns to look out for people, hummingbirds, foxes, sloths and monkeys
The $70 price for the Rainmaker tour included round-trip transportation from our hotel and the drive took about 45 minutes each way. One thing I noticed about Coast Rican roads was that unless you were on a major highway, most bridges were built for just one lane of traffic. Therefore, whenever we approached a bridge we would sometimes have to wait for the oncoming traffic to finish before we could head across.
As we drove through the local villages it was evident that many of the country's inhabitants are still living in poverty. I later looked at some web sites to find out that the minimum starting wage for an unskilled laborer is $230 per month and for someone with a college degree it's $530. Those web sites also noted that you could probably hire a live-in maid for about $200 per month.
The Rainmaker tour takes place on a privately owned rainforest reserve that is dedicated to conservation projects. Unlike the La Paz Waterfalls Garden we visited near San Jose, this had no fancy displays. It was just a three-hour tour of a natural rainforest with a guide along to point out any interesting plants, insects or animals that we should encounter on our journey.
The guide explained that the tour started at the jungle floor and we would eventually work our way up to the tree tops where we would travel from tree-to-tree by canopy bridges. If anyone was scared of heights we were given the option to take an alternate route, but the four of us in our group were okay with the tree-top route.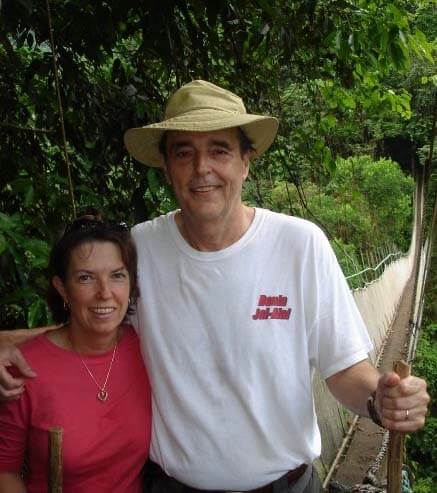 Time for a picture before heading out on the canopy bridge
Before heading out we stopped at a barrel that contained an assortment of walking sticks of various sizes and our guide chose one for himself. I really didn't think I needed one, but when he explained how he would be using the stick to poke around in piles of brush to check for poisonous snakes I thought it would be best to grab one for myself. Unlike our guide, however, I thought I might use my stick to beat the snake to death before it bit me. After all, conservation does have its limits. Fortunately, we never encountered any snakes and I was able to pass myself off as a true conservationist.
At various places on the tour our guide stopped to point out certain things and he welcomed our questions. Overall, it was a very interesting tour and we would recommend it to anyone visiting the area. The only part that was a little scary was when we had to cross some of the canopy bridges. They looked fine when we were looking at them from the ground, but it was a little different once we saw them up close. They are very shaky when you begin walking on them and there are also weight limits – no more than two people on a bridge at one time. We all survived, however, and had a great time.
When we got back to the tour's starting point we were served a typical Costa Rican lunch of chicken, rice and vegetables. Of course, it was delicious, but what was most interesting to me was the drink they served. It was a lemonade-type drink made, but with carambolas instead of lemons. The yellowish carambola is also called the "star fruit" because of its resemblance to a five-pointed star and, evidently, it's widely available in Costa Rica. I had never tasted a drink like that before and it was very good.
After our ride back to the hotel we lounged around the pool for awhile and then headed to downtown Quepos. We visited the usual assortment of tourist shops and we noticed that there were quite a few outlets that specialized in arranging fishing trips. Thus, we learned that Quepos is a world-renowned fishing spot and it is espcially well-known for its sailfishing charters. After stopping at the beach to snap a photo of a beautiful Pacific coast sunset we then headed off for dinner on our last night in Costa Rica.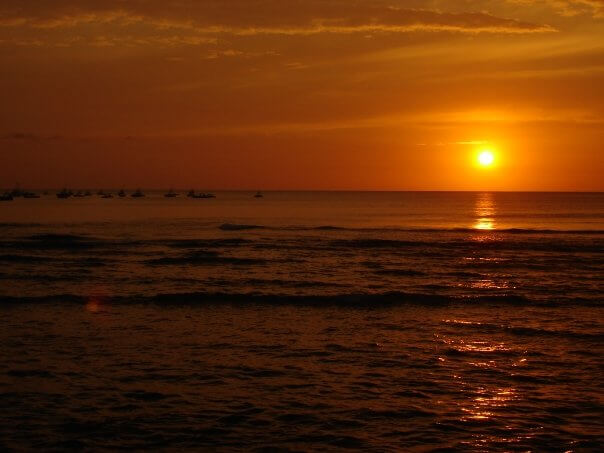 Sunset from the beach in Quepos
Looking back on our trip I would say that I certainly wouldn't recommend heading to Costs Rica just for the gambling, but it's there if you want it. I also wouldn't recommend spending much time in San Jose. Instead, I would urge visitors to plan on visiting the various outer areas to see the country's natural beauty and meet its friendly people.