Alabama is one of the states where we'd be most surprised to see gambling legalized. It has no state lottery, all forms of gambling are illegal, and there's no serious talk of legalizing gambling or moving toward online casinos.
Online Casinos in Alabama
There are no online casinos in Alabama, and there are no indications that it will be legalized soon. Alabama does not even have a state lottery, which often indicates an openness to other forms of betting.
The nearest online casinos will be in West Virginia, which has already approved legislation. Tennessee has approved online sports betting.
But, you can still register with a legal online casino while you're in Alabama. That means you can get the casino's bonus offers or deposit, and then play whenever you're in states where it's legal (even in a layover at the airport). (Do be aware of the casino bonus's expiry date, though.)
Land-Based Casinos in Alabama
There are no casinos in Birmingham, Alabama. However, there are two Montgomery, Alabama casinos within 15 miles from that city's downtown area: Wind Creek Casino Wetumpka and Wind Creek Casino Montgomery.
For Mobile, Alabama casinos, the closest casino would be Wind Creek Casino Atmore which is about 50 miles northeast of downtown Mobile.
The only land-based casinos in Alabama are on Native American reservations.
There are no Alabama casinos with table games. All of these casinos in Alabama offer Class II video gaming machines, which are games that look like slot machines but are bingo games. The spinning reels are for "entertainment purposes" only.
Types of Casinos in Alabama
The only types of casinos in Alabama are those located on Native American reservations. These are all casino hotels and have Class II video gaming machines, but no table games.
List of Land-based Casinos in Alabama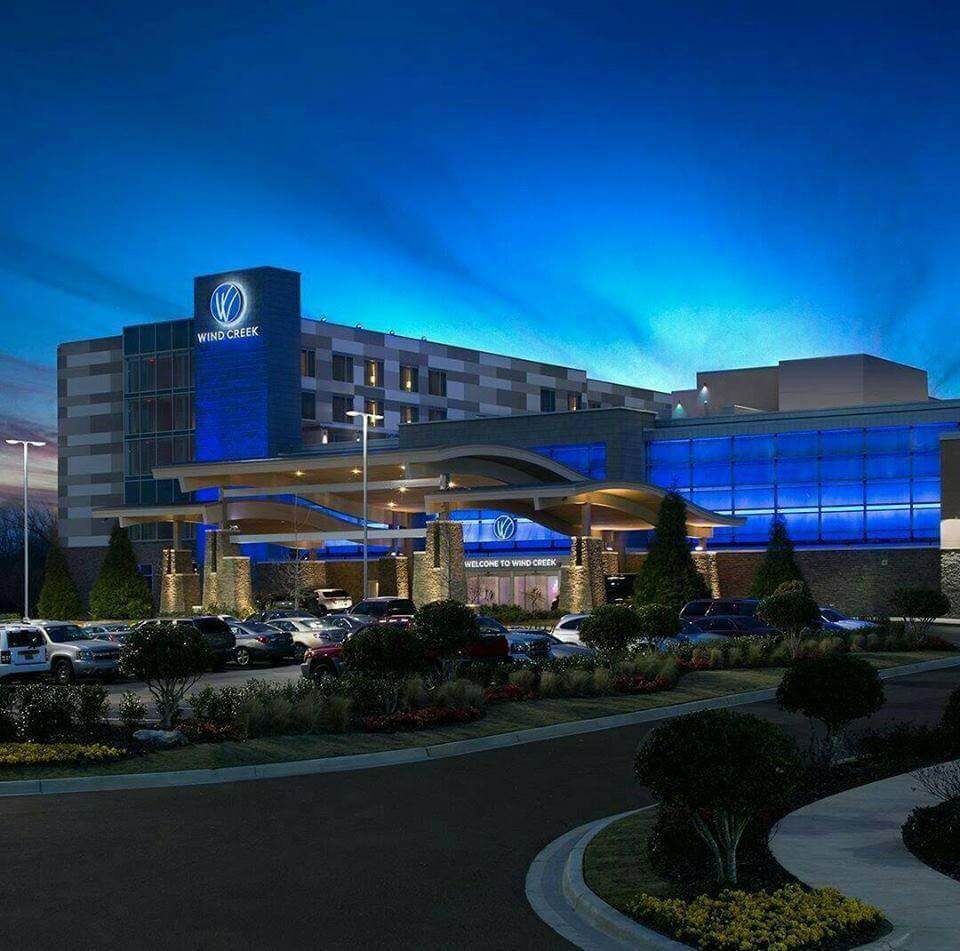 Wind Creek Casino & Hotel Montgomery
The Wind Creek Casino & Hotel Atmore is located in Montgomery, Alabama (in Macon county). This Native American casino has a 65,000 sq. ft. floor with over 2,200 games.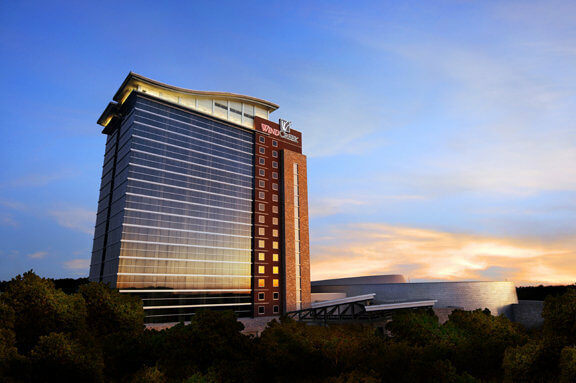 Wind Creek Casino & Hotel Atmore
The Wind Creek Casino & Hotel Atmore is located in Atmore, Alabama (in Escambia county). This is a Native American casino with over 1,700 games. There is a non-smoking section and also an area for high-limit games.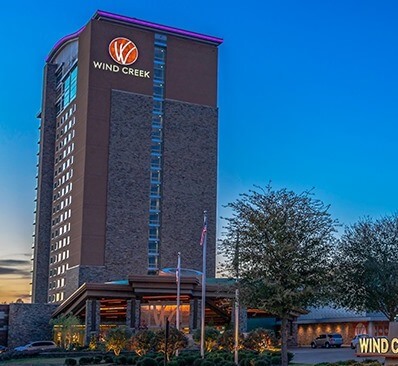 Wind Creek Casino & Hotel Wetumpka
The Wind Creek Casino & Hotel Atmore is located in Wetumpka, Alabama (in Elmore county). Their floor has 2,500 games, with a separate section for high limit games and a no-smoking section.
Options For Gambling in Alabama
There has been little to change the existing legislative ban on gambling which dates as far back to the 19th century where gambling was predominantly done on steamboats. Playing in home games as well as social gambling settings can still be considered illegal under state law, as does friendly bets in office pools.
Alabama has some of the harshest penalties around. Simple gambling is a misdemeanor that could cost you up to three months in jail and a $500 fine for each infraction. Having a device for gambling is a felony and you will lose your voting and gun ownership rights while also having to pay $15,000 in fines.
Gambling venues within Alabama often include restaurants, buffets, as well as live entertainment. Some places offer resort-style amenities as well as areas to allow for sports betting alongside dog and horse races.
According to the latest American Casino Guide, no public information is available regarding what slot machines payback to the public in Alabama. Unlike the casinos in Alabama, in many states, the slot machine payback statistics for that particular state's casinos are released as a matter of public record. Just click here to see a list of slot machine payback statistics for all US States.
Alabama Land-Based Casinos Map
Use our interactive Casinos Map to see all casinos in Alabama.
You can easily see all casino locations by using our Alabama casinos map. To zoom in, just click the + (plus) sign in the lower right corner of the map, or to zoom out, just click the – (minus) sign in the same area.
To move the map of casinos in Alabama, click and hold down either of your mouse buttons. Then use the hand icon to drag the map in whichever direction you desire.
Each of the red icons on the map is a casino location. Just click on any red icon to see the name of the casino at that location. If you want more information on that casino, simply click again on the casino's name and it will direct you to another page with detailed information on that particular casino, including address, phone number, toll-free phone number, room rates, casino size, dining information, games offered, availability of discounts for seniors, any special features, and a direct link to that casino's website.
Gambling Laws in Alabama
The minimum age to gamble at casinos in Alabama is 21 and all Alabama casinos are open 24 hours. All Alabama casinos are run entirely by the Native Americans on their reservations as there is no legalized casino gambling within the state. While Alabama law has a wide definition of gambling, tribal casinos allow bingo as well as some forms of video gambling.
Table games are not legal under Alabama law, so many like to cross the Mississippi where table games are more available within the neighboring state. In 1901 Alabama defined gambling as any game for financial gain that implies an element of chance. For generations, the state has used this loose interpretation as a precedent to outlawing many popular gambling games. Interestingly enough, racing dogs and horses are exempt from the definition with the argument being that races are a game of skill, not chance.
Alabama does not have a state lottery either, nor do they participate in any national programs of a similar nature. Bingo and various raffle games are legal as they fall under charitable gaming laws through a very strict license that implies specific conditions be met.
At this time, however, no one in Alabama has been tried or charged for participating in any online gambling.
VictoryLand
In 2010 former Governor Bob Riley formed an aggressive anti-gambling task force. That year VictoryLand owner Milton McGregor was arrested along with 10 state senators in an FBI investigation. Although McGregor was charged with multiple counts of conspiracy, bribery, and honest services fraud, he was acquitted on all counts. VictoryLand was shut down in 2010 but reopened in 2016.
Useful resources
The Tribal Gaming Commission: http://pci-nsn.gov/wordpress/tribal-gaming-commission/
"Governor's panel hears reports on lottery, Indian gambling compact" https://www.al.com/news/2020/05/governors-panel-to-hear-reports-on-lottery-indian-gambling-compact.html
Try an online casino for FREE. We have over 15 No Deposit Bonus Codes. No credit card needed, just sign up and start playing!
For more information on visiting casinos in Alabama, or for general tourism information, call the Alabama Tourism Department at (800) 252-2262, or visit their website at alabama.travel.