Online Casinos in Connecticut
Although Connecticut has a long tradition with some great land-based casinos, it has not legalized online casinos. There are ongoing discussions between the governor's office and the casino-owning tribes of Connecticut, but so far no agreement has been reached.
Connecticut expressed some interest in legalizing online casinos in 2012, but conversations never got far enough to call for a vote.
Connecticut does have nearby states where online casinos are legal: New Jersey, Pennsylvania, and Delaware. The success of New Jersey's online casino market has clearly given Connecticut reason to push harder to legalize online casinos in their state.
The upshot is that you can register with a legal online casino while you're in Connecticut. That means you can get the casino's bonus offers or deposit, and then play whenever you're in New Jersey, Pennsylvania, or Delaware. (Do be aware of the casino bonus's expiry date, though.)
Land-Based Casinos in Connecticut
Connecticut is one of the best states to be in (or next to) for land-based casino gamblers. They have not one, but two of the U.S.'s best casinos!
These are both up-to-date, spacious, and professional casinos. It's no wonder why neighboring states are trying to improve their casinos to compete with Connecticut's gambler's paradise!
Types of Casinos in Connecticut
There are two Connecticut casinos and both are affiliated with Native American tribes.
A third casino should be breaking ground in 2020. It will also be a Native American casino.
List of Land-based Casinos in Connecticut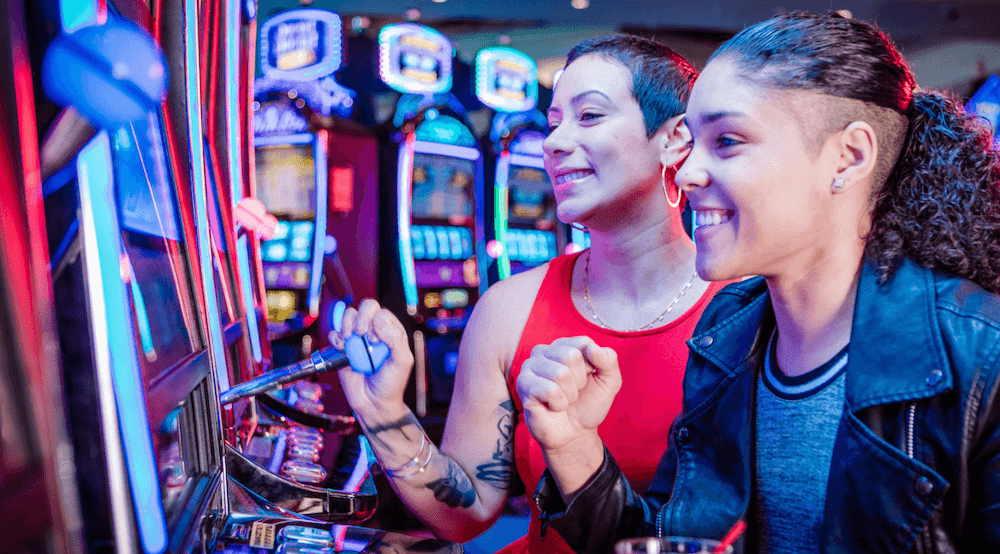 Foxwoods Resort Casino
An outdoor pool is surrounded by a sundeck, and cabanas with flat-screen TVs (fee). There's also a spa. The resort offers restaurants, bars, 7 casinos and a mall. Valet parking is available.

Mohegan Sun Casino
In addition to 3 lively casinos, entertainment options include a 10,000-seat arena, an arcade for kids and several nightclubs. The complex also features a 55-ft indoor waterfall, 46 restaurants and bars, and indoor and outdoor pools, plus a solarium, a spa and shops.
Connecticut Land-Based Casinos Map
You can easily see all casino locations by using our Connecticut casinos map. To zoom in, just click the + (plus) sign in the lower right corner of the map, or to zoom out, just click the – (minus) sign in the same area.
To move the map of casinos in Connecticut, click and hold down either of your mouse buttons. Then use the hand icon to drag the map in whichever direction you desire.
Each of the red icons on the map is a casino location. Just click on any red icon to see the name of the casino at that location. If you want more information on that casino, simply click again on the casino's name and it will direct you to another page with detailed information on that particular casino, including address, phone number, toll-free phone number, room rates, casino size, dining information, games offered, availability of discounts for seniors, any special features, and a direct link to that casino's website.
History of Gambling in Connecticut
Connecticut has had a slow, steady embrace of gambling since the mid-point of the 1900's.
Connecticut has allowed some forms of gambling since 1939. That's when charitable bingo was legalized. Then, in 1955, legislation was passed also allowing raffles and bazars.
Lotteries and pari-mutuel wagering were legalized in 1971.
Special Las Vegas nights, where guests could play limited table games, were first legalized in 1972. These had a run until a 2003 repeal.
As online casino gambling was becoming legal in the U.S., then-governor Malloy pushed for its legalization in 2012. Unfortunately that was rejected.
Timeline of Gambling in Connecticut
1972 Lottery introduced by Commission on Special Revenue (taken over by Connecticut Lottery Corporation (CLC) in 1996)
1939 Bingo legalized
1955 Bazaars and raffles authorized
1987 Sealed tickets (also called pull-tabs) authorized
1972 Non-profits allowed to operate casino games during Las Vegas Night fundraisers (repealed 2003; reinstituted 2017)
1976 Off-track betting allowed under Division of Special Revenue
-Greyhound and horse racing and Jai alai are authorized
1992 Foxwoods Resort Casino was opened by the Mashantucket Pequot Tribe.
1996 Mohegan Sun was opened by the Mohegan Tribe.
Gambling Laws and Regulatory Organizations in Connecticut
The minimum gambling age at both of the Connecticut casinos is 18 for bingo and 21 for the casino. Both Connecticut casinos are open 24 hours.
Regulatory Organizations
The Department of Consumer Protection (DCP) Gaming Division handles all matters concerning legal gambling in Connecticut, including casinos, lottery, off-track betting, and pari-mutuel betting.
Gambling News in Connecticut
The latest news is that Connecticut has approved the building of a third casino. It will be built in East Windsor, close enough to Springfield, Massachusetts' new MGM property to give it some competition.
"Concern For Casino Jobs Fuels Malloy's Pursuit Of Online Gambling"
"Online gambling during COVID-19? Gov. Lamont turns down Foxwods, Mohegan request"
Additional Resources
For information on visiting the casinos in Connecticut or general tourism information, call the state's Vacation Center at (800) 282-6863 or visit their website.
The Department of Consumer Protection (DCP) Gaming Division handles all matters concerning legal gambling in Connecticut, including casinos, lottery, off-track betting, and pari-mutuel betting.
Connecticut Council on Problem Gambling
Try an online casino for FREE. We have over 15 No Deposit Bonus Codes. No credit card needed, just sign up and start playing!