Rhode Island was founded by Roger Williams as he was seeking some relief from the strictness of the Puritans in Massachusetts. While the Ocean State is the smallest in the U.S., it offers a big casino.
Rhode Island has two land-based casinos and a state lottery, and as of March 2024, online casinos will also be available after Daniel McKee, the Rhode Island Governor, signed SB948 into law in June 2023.
Rhode Island is one of the few states that allows gambling at 18+ years of age.
Online Casinos in Rhode Island
Rhode Island does not offer any legal online casino platforms yet. The new bill will only legalize online casinos in 2024, introducing popular online games that follow strict rules and regulations for fairness and reliability. Casinos in the state would follow similar requirements as with other legal states, including responsible gambling regulations and ensure all players are at least 21 years of age.
Unlike other legal online casino states such as New Jersey and Pennsylvania, the iGaming market for Rhode Island would be rather limited. At the time of writing, Bally – the owner of Twin River Casino in the state – is set to have the monopoly in the online market.
As mentioned in our Bally Casino review for New Jersey and Pennsylvania, the casino provides a large assortment of games and promotions, and the same is expected for players in Rhode Island. According to Dominick Ruggerio, the Senate President, the iGaming platform aims to provide the online convenience of playing the same games online as what's found at land-based casinos in the state.
Land-based Casinos In Rhode Island
Rhode Island is a small state, but it has some decent opportunities for gamblers. It is notable in that it allows gambling at age 18+.
Although it's had 2 race tracks and 2 casinos in the past, at the time there's only one casino.
Types of Gambling in Rhode Island
The only type of casinos in Rhode Island are the state's pari-mutuel facilities.
There you'll find:
slot machines and keno
greyhound betting
There is also a state lottery and bingo available in nursing homes.
List of land-Based Casinos in Rhode Island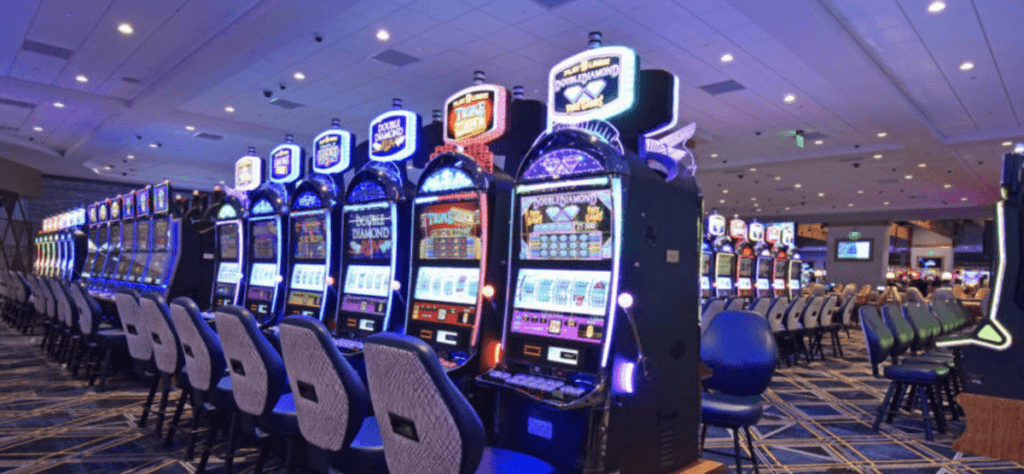 Tiverton Casino Hotel
Tiverton Casino Hotel features 33,600 sq. ft. of gaming space, including over 1,000 of the newest video slots as well as a number of your favorite table games such as Blackjack, Roulette, Baccarat, Three Card Poker, Craps, Spanish 21, Let It Ride, and Pai Gow Poker.
Address: 777 Tiverton Casino Blvd, Tiverton, RI 02878
Phone: (401) 816-6000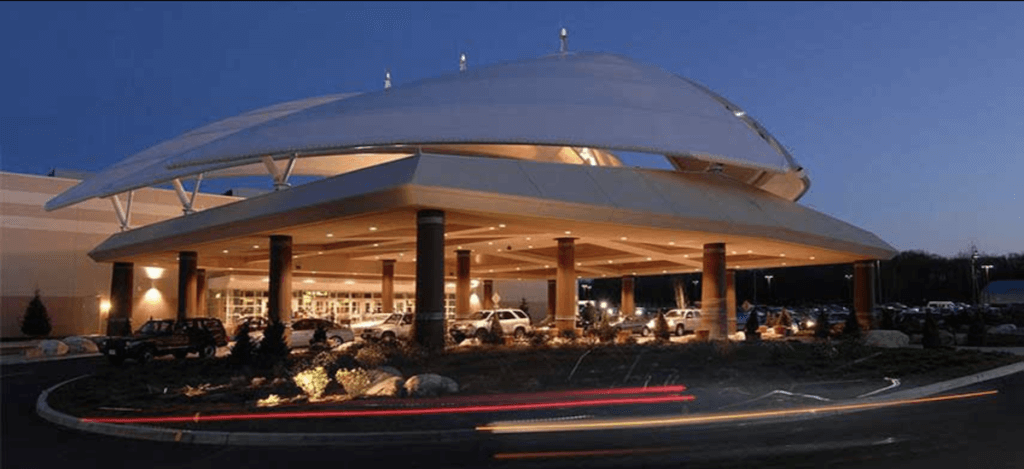 Twin River Casino
Twin River Casino in Lincoln, Rhode Island, is a full casino with live table games, video slot machines, virtual table games, live entertainment and dining.
Address: 100 Twin River Rd, Lincoln, RI 02865
Phone: (401) 723-3200
Casino Games Available
You can play these games at either casino
Slots (over 4,100 machines)
Virtual table games (including blackjack and roulette)
Blackjack
Roulette
Craps
Poker
Rhode Island Land-Based Casinos Map
You can easily see all casino locations by using our Rhode Island casinos map. To zoom in, just click the + (plus) sign in the lower right corner of the map, or to zoom out, just click the – (minus) sign in the same area.
To move the map of casinos in Rhode Island, click and hold down either of your mouse buttons. Then use the hand icon to drag the map in whichever direction you desire.
Each of the red icons on the map is a casino location. Just click on any red icon to see the name of the casino at that location. If you want more information on that casino, simply click again on the casino's name and it will direct you to another page with detailed information on that particular casino, including address, phone number, toll-free phone number, room rates, casino size, dining information, games offered, availability of discounts for seniors, any special features, and a direct link to that casino's website.
History of Gambling in Rhode Island
Rhode Island was formed by Roger Williams as a reprieve from the rigor of the Puritans in Massachusetts. It is said that when Williams first set foot in Rhode Island, he said, "What cheer."
Rhode Island is a rarity in its very early embrace of the state lottery. From 1744, citizens were encouraged to play in the state lottery. While off to a good start, this attitude hasn't created immense success for Rhode Island. The lottery was banned in 1843.
In 1896, all forms of gambling and betting were made illegal. Gambling wouldn't be made legal again until 1934, when the vote was made to legalize pari-mutuel betting on horses and greyhounds
Rhode Island's state lottery began in 1973. It had a history with race tracks, Narragansett Park and Lincoln Downs, but both folded in the 1970's.
Off-track betting was legalized in 1991. Then video lottery terminals (VLTs) and Keno in 1992.
Currently, the only casino in Rhode Island is the Twin River (occupying the former Lincoln Downs area). The Newport Grand Casino closed in 2018, and was owned by Twin River at the time. It wasn't until 2012 that table games were allowed.
In 2018, sports betting was voted to become legal in the Ocean State.
Rhode Island Gambling Laws and Regulatory Organizations
You must be at least 18 years of age to gamble in Rhode Island.
Department of Business Regulation: Sports and Gaming Division: responsible for supervising the enforcement of laws related to licensing and regulation of gaming, and responsible for the collection of racing taxes and fees.
Rhode Island Council on Problem Gambling
Gambling In Rhode Island Today
Rhode Island's biggest news was legalizing sports betting in 2018. Rhode Islanders' have proven to be open to gambling, and there are two additional reasons to legalize online casinos in the state:
Concern that casinos will continue to lose business to casinos in neighboring states
The fact that casinos lost a lot of money on sports betting in 2019
Given these factors, we expect that Rhode Island may be among the next states to legalize online casinos.
Useful Resources
"Why Rhode Island casinos are getting crushed on sports betting"
IGT looking to establish Rhode Island joint venture
Try an online casino for FREE. We have over 15 No Deposit Bonus Codes. No credit card needed, just sign up and start playing!
For information on visiting Rhode Island call the state's tourism division at (800) 556-2484 or go to www.visitrhodeisland.com.