As of now, Florida does not allow online casinos or sportsbooks. They were slated to have serious discussions about legalization in 2020. But that now seems postponed to 2021.
Still, Florida has some exciting opportunities for land-based casino lovers.
Online Casinos in Florida
Although Florida has a long tradition with some great landbased casinos, it has not legalized online casinos. There have been discussions about legalizing online casinos in the state capital, but there seems to be little actual motion toward legalization at this point.
Florida does have a state lottery, which can indicate an openness to other forms of betting.
The nearest state where online casinos are legal West Virginia. The online casinos are now operational there!
But, you can still register with a legal online casino while you're in Florida. That means you can get the casino's bonus offers or deposit, and then play whenever you're in states where it's legal. (Do be aware of the casino bonus's expiry date, though.)
Land-Based Casinos in Florida
Florida has a number of different types of land-based casinos.
There are:
6 Native American tribal casinos
casino boats
8 pari-mutuel casinos
state lottery
Types of Casinos in Florida
There are three types of Florida casinos:
Native American tribal casinos
casino boats
gaming machines at pari-mutuels in two south Florida counties
At the moment there is no serious legislation moving toward widening the land-based betting options in Florida.
Tribal Casinos
There are currently six Florida tribal casinos. The Seminole Tribe has five and the sixth is on the Miccosukee Tribe's reservation.
The Seminoles signed a compact with the state that allows them to offer traditional Class III gaming machines. As part of their compact, five Seminole casinos are also allowed to offer
blackjack
baccarat
mini-baccarat
three card poker
let it ride
pai gow poker
All of the Indian casinos are open 24 hours (except Big Cypress) and all offer bingo except for both Seminole Hard Rock Casinos and the Seminole Casino Coconut Creek.
The minimum gambling age is 18 at all Indian casinos for bingo or poker and 21 for electronic gaming machines.
Pari-mutuel casinos
There are eight pari-mutuel casinos in Florida.
In early 2005 voters in Broward County (home county of Fort Lauderdale) passed a referendum to allow slot machines at four pari-mutuel facilities within that county and all are now in operation.
In January 2008 voters in Miami-Dade County also passed a referendum permitting slot machines at four pari-mutuel facilities.
Click HERE to see a list of Florida casino slot machine payback statistics.
South Florida's pari-mutuel facilities (as well as most pari-mutuels throughout the state), also offer poker.
Admission to all casinos is free and they are allowed to be open a maximum of 18 hours per day during the week and 24 hours on the weekends and some holidays.
If you want to order a drink while playing, be aware that Florida gaming regulations do not allow pari-mutuel casinos to provide free alcoholic beverages.
List of Pari-mutuel casinos
Big Easy Casino
Calder Casino
Casino Miami
Casino @ Dania Beach
Gulfstream Park
Hialeah Park Racing & Casino
Isle Casino Racing Pompano Park
Magic City Casino
Casino Boats
The casino boats in Florida offer gamblers the opportunity to board ships that cruise offshore where casino gambling is legal. From the west coast, the boats travel nine miles out into the Gulf of Mexico. From the East coast, they travel three miles out into the Atlantic Ocean.
The minimum drinking age on all boats is 21. Due to security restrictions, you must present a photo ID at all casino boats or you will not be allowed to board.
List Of Land-based Casinos In Florida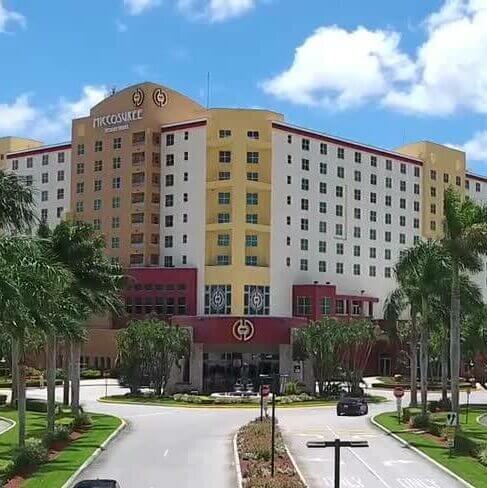 Miccosukee Resort and Gaming Center
Miccosukee Resort and Gaming Center has nearly 70,000 square feet of casino game space. This includes nearly 2,000 slots. In addition to casino games, they also have high-stakes bingo.
Address: 500 SW 177th Ave, Miami, FL 33194
Phone: 305-222-4600
Website: www.mrg.miccosukee.com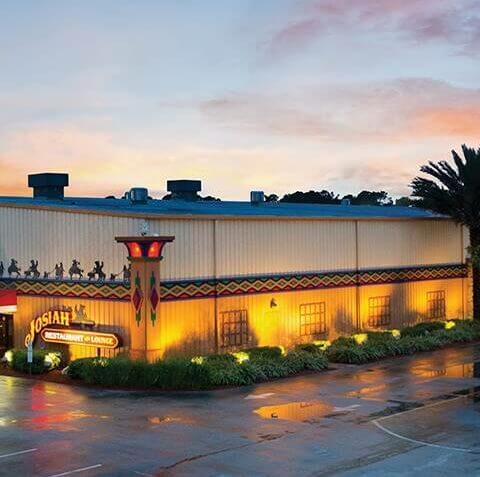 Seminole Casino Brighton
Seminole Casino Brighton is a 27,000 sq. ft. casino. They have a moderate 400+ slot and gaming machines. They have a number of table games and high-stake bingo.
Address: 17735 Reservation Rd, Okeechobee, FL 34974, United States
Phone: +1 800-360-9875
Website: www.seminolebrightoncasino.com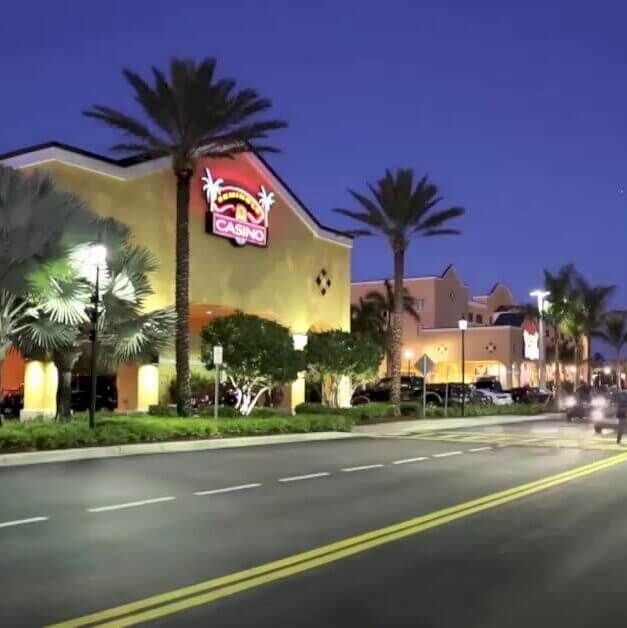 Seminole Casino Immokalee
Seminole Casino Immokalee has 75,000 sq. ft. of casino action. They have over 30 table games, including blackjack, baccarat, poker, and pai gow, and 3-card poker. This is in addition to a large selection of slots and video poker machines.
Address: 506 S 1st St, Immokalee, FL 34142
Phone: 239-658-1313
Website: www.seminoleimmokaleecasino.com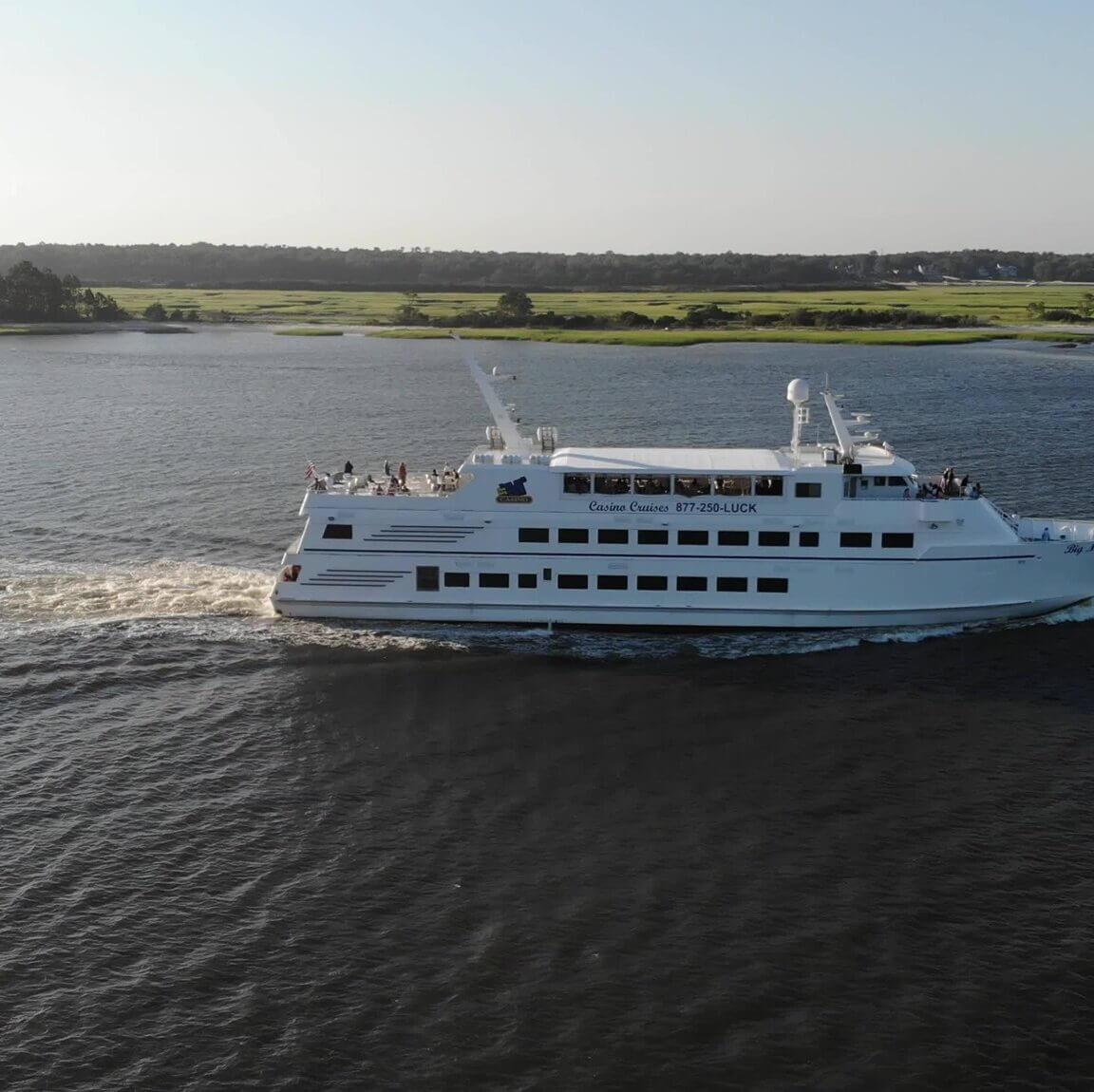 Big M Casino
Day and evening cruises aboard a 186-foot casino boat with a buffet and numerous games and slots.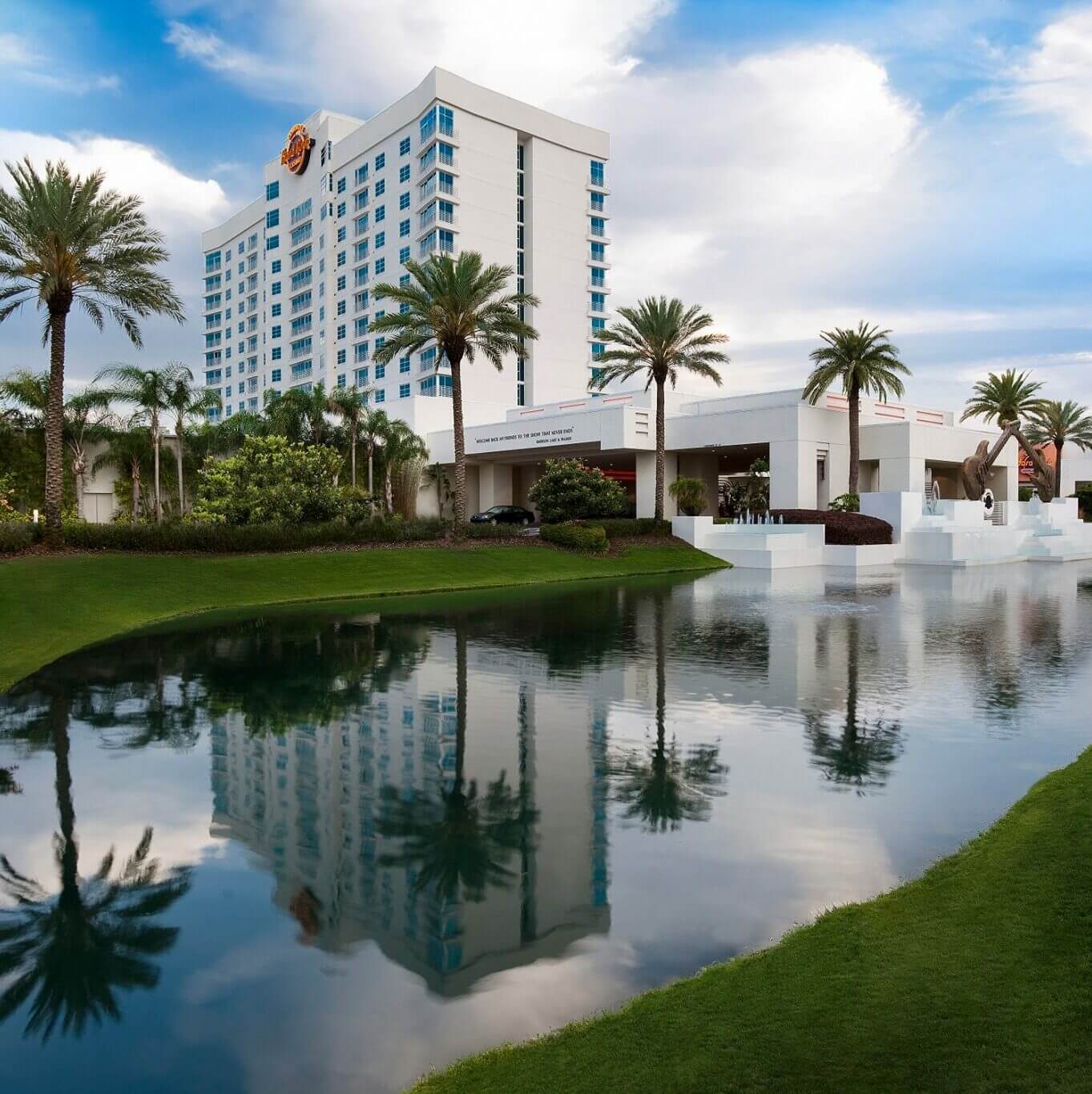 Seminole Hard Rock Hotel & Casino – Tampa
A variety of slot machines, table games such as blackjack, baccarat, and others, as well as live-action poker, are available at the newly extended gaming paradise.
Address: 5223 Orient Rd, Tampa, FL 33610, United States
Phone: 1 866-388-4263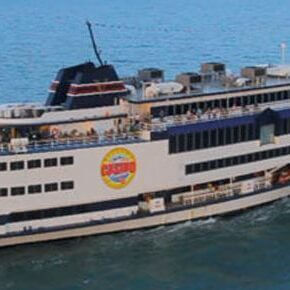 Victory Casino Cruises – Jacksonville
Office and departure point for cruise ship gambling vacations including slots, roulette, and table games.
History of Gambling in Florida
Gambling – legal and otherwise – has a rather long history in Florida. Below is a timeline of the major events in Florida's history of gambling
1932 Legalized parimutuel betting
1935 Legalized Jai-Alai and slots
1973 Slots made illegal
1979 Native American bingo halls legalized
2004 Casino gambling legalized
2010 State of Florida and the Seminole tribe sign a contract granted Seminole's near-exclusive rights to casino gambling in the state. The agreed payment was $350 million per year.
Gambling Laws in Florida
The minimum gambling age is 18 at all Indian casinos for bingo or poker and 21 for electronic gaming machines.
The minimum gambling age is 18 for pari-mutuel betting or poker and 21 for gaming machines.
The minimum drinking age on all boats is 21. Due to security restrictions, you must present a photo ID at all casino boats or you will not be allowed to board.
Among friends, small-stakes poker is also allowed. There's a maximum bet of $10.
Florida Gambling Laws and Regulatory Organizations
Gambling In Florida Today
There has been much discussion of legalizing both online casinos and online sportsbooks in Florida. Indeed, it was on the list for discussion in legislation in 2020. But that was before the pandemic.
It is believed that online betting will be prioritized in 2021. The additional tax revenue to the Sunshine State will be a big motivator to seriously consider online casinos and sportsbooks.
Try an online casino for FREE. We have over 15 No Deposit Bonus Codes. No credit card needed, just sign up and start playing!
For Florida visitor information call (888) 735-2872 or visit their website at: www.visitflorida.com