Out of all the states in America, Georgia is up there for being one of the least friendly gambling states.
Not only is online gambling considered illegal in GA, but there are no land-based casinos anywhere to be found. The closest brick and mortar is located out of state.
Georgia does offer a state lottery as well as charitable bingo games. There is also a casino cruise ship that offers multiple decks of popular casino games, and a bar and restaurant.
Online Casinos in Georgia
Georgia has not legalized online gambling in the state. There have been discussions of legalizing online casinos, but there are no concrete plans in place at this time.
Georgia does have a state lottery, which can indicate an openness to other forms of betting.
The nearest online casinos will be in West Virginia, which has already approved legislation and seen operators go live. Tennessee has approved online sports betting.
But, you can still register with a legal online casino while you're in Georgia. That means you can get the casino's bonus offers or deposit, and then play whenever you're in states where it's legal (even in a layover at the airport).
Land-based Casinos In Georgia
Many gamblers look for Atlanta, Georgia casino locations, but there are none and the closest casinos near Georgia are in North Carolina. The Cherokees have two Indian casinos there and they are about 125 and 155 miles away from Atlanta. Click here to see information on those two North Carolina casinos.
The only Georgia casinos you will find is one casino boat, based in Brunswick, which sails three miles out into international waters where casino gambling is permitted.
The boat offers blackjack, craps, roulette, poker, slots, and video poker. No public information is available concerning the payback percentages on gaming machines on the Georgia casino boat.
Due to security restrictions, you must present a photo ID, or you will not be allowed to board. The minimum age to get on board the boat and to gamble is 18. However, you must be 21 to drink alcoholic beverages.
There is a $10 fee to get on board, and a cash bar and a la carte food service are also available.
Types of Casino in Georgia
There is no legalized casino gambling in Georgia and, therefore, there are no land-based casinos in Georgia.
If you want to gamble at a casino in Georgia, you will need to take a cruise. The Emerald Princess Casino is a four-deck cruise ship, offering the same amenities as a brick and mortar, including a cash bar. The casino cruise sails out on Thursdays, Fridays, Saturdays, and Sundays.
You can learn more about the sailing schedule and the Emerald Princess Casino here.
List Of Land-based Casinos In Georgia
There is one casino in Georgia that operates as a cruise ship. There used to be another one, but it had its license taken away back in 2015.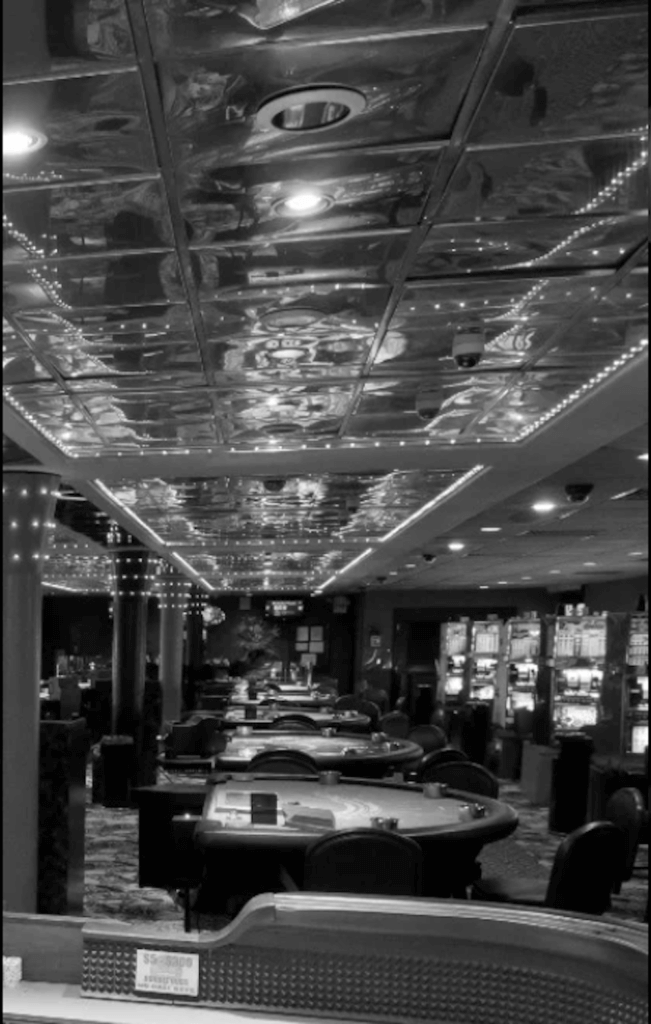 Emerald Princess Casino
4-deck casino cruise ship for adults 21 & over featuring table games & slots plus dining.
Address: 1 Emerald Princess Drive, Brunswick, GA 31523
Phone: 912-265-3558
Georgia Land-Based Casinos Map
You can easily see all casino locations by using our Georgia casinos map. To zoom in, just click the + (plus) sign in the lower right corner of the map, or to zoom out, just click the – (minus) sign in the same area.
To move the map of casinos in Georgia, click and hold down either of your mouse buttons. Then use the hand icon to drag the map in whichever direction you desire.
Each of the red icons on the map is a casino location. Just click on any red icon to see the name of the casino at that location. If you want more information on that casino, simply click again on the casino's name and it will direct you to another page with detailed information on that particular casino, including address, phone number, toll-free phone number, room rates, casino size, dining information, games offered, availability of discounts for seniors, any special features, and a direct link to that casino's website.
History Of Gambling In Georgia
Georgia was founded in 1788, and in the early 1800s gambling was accepted and thrived in the state. It wasn't until the 1870s when gambling laws started to get introduced. By the 1900s, most forms of gambling had been prohibited in the state.
From the 70s to the 90s, the state started to warm up to gambling again. Bingo and raffles were legalized on the condition that the organizers could not receive any money or benefits from the draws. The lottery was also welcomed back to GA.
Slot machines and video poker was deemed illegal in the early 2000s. A number of casino operations were proposed, including using the money made at a brick and mortar towards an educational program for the state. All of the proposals were turned down.
The most recent news is the proposed bill to legalize daily fantasy sports in GA. The bill was first introduced in 2018, but so far, has had nothing come out of it yet.
Georgia Gambling Laws and Regulatory Organizations
Georgia has some extreme laws when it comes to gambling in the state, and does not permit the following:
Any forms of online gambling (i.e online casinos and online sports betting)
Land-based casinos
Racetracks (i.e horse racing, dog racing)
Sports betting
Those who are caught participating could be facing fines as high as $20,000 and even the possibility of jail time.
Residents are able to legally participate in a state lottery, as well as charitable raffles. There is also one casino cruise ship that features over 200 slots and multiple casino amenities.
It's widely known that the Governor of Georgia, Nathan Deal, has always been very against anything to do with gambling. While the majority of residents in GA would vote in favor of casino gambling, the government has avoided the situation by not permitting a vote to take place.
As strict as the state is on gambling, there have been discussions on the possibility of legalizing casinos and retail sportsbooks. Governor Nathan Deal seems to be warming up to the idea, and MGM has even come forward with plans to build a casino in Atlanta, costing $1 billion.
This means GA residents could potentially see a day when gambling is legalized in the state.
Commercial Gambling Unit
The Commercial Gambling Unit (CGU) was started by the Georgia Bureau of Investigation and is responsible for making sure businesses are abiding by the state gambling laws.
In GA, businesses are able to offer coin-operated games but must be licensed by the Georgia Lottery Corporation to do so.
These types of games are not allowed to offer cash payouts, but instead, offer rewards for credits. Patrons can redeem their winnings for in-store credit, lottery tickets, or fuel.
You can be prosecuted for failing to follow the above rules.
Gambling in Georgia Today
Most forms of gambling are still considered illegal in the state today, however, casino proposals are starting to be taken more seriously than they would have been five years ago.
The "Preservation of the HOPE Scholarship Program" hearing saw a number of positive reasons the state would benefit from casino gambling and sports betting. Six casinos alone in GA is predicted to generate $5 billion for the economy, including thousands of job opportunities and tax revenue generated by the casinos.
Residents have also been pushing for the Georgia Lottery to introduce mobile sports betting, but this is still in the works.
Useful Resources
Try an online casino for FREE. We have over 15 No Deposit Bonus Codes. No credit card needed, just sign up and start playing!
For information on visiting Georgia casinos, or for general tourism information, call the state's tourism department at (800) 847-4842 or visit their web site at www.georgia.org.