South Carolina is one of the strictest states in the US when it comes to gambling. Unlike many other states, South Carolina does not have any casinos in its major cities. You can not legally play at online casinos or participate in any daily fantasy sports. You can't go to the horse tracks or any pari-mutuel facilities because they do not exist in the state.
Currently, the lottery, bingo, and one casino cruise are your only options for legal gambling in South Carolina.
Online Casinos in South Carolina
South Carolina is very against the idea of people playing at online casinos. The state isn't gambler friendly and has prohibited all forms of online gambling. Even on land, you will only find one venue to legally gamble at.
Since the laws are extremely strict around online betting, it doesn't appear online casinos will ever exist legally in South Carolina. If you're found guilty of participating in any type of online game activity, you could be subject to a large fine and prison time.
You can still play slots and casino games at a social online casino, but won't be able to play for real money. Sometimes you can even find poker at the social casinos, but your choices will be very limited in South Carolina.
Land-Based Casinos in South Carolina
Unlike its neighbor North Carolina, there are no land-based casinos or Indian casinos in South Carolina. If you want to gamble in the Palmetto State, you'll have to jump on a boat and sail down the river.
Types Of Casinos In South Carolina
There is only one casino boat in operation, The Big M Casino in Little River, SC. Actually the company has two boats in operation that alternate sailing days and times. In either case, the boat sails three miles out into international waters where casino gambling is permitted. This is the only type of gambling you will find for South Carolina casinos.
List Of Land-based Casinos In South Carolina
Below is a list of all casinos in South Carolina. Click on a name to see a page of detailed information about that particular South Carolina casino.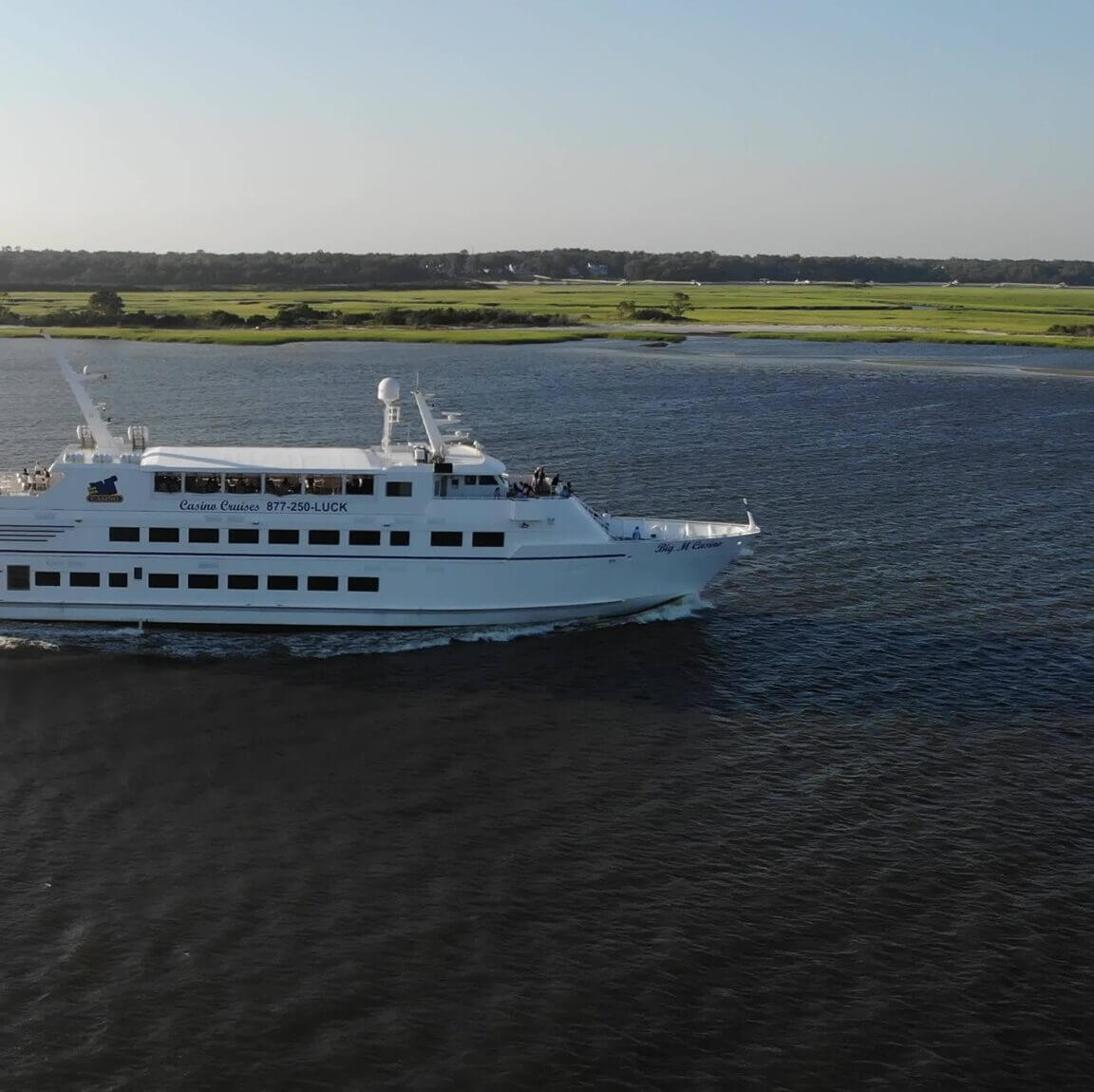 The Big M Casino
Day and evening cruises aboard a 186-foot casino boat featuring a variety of games and slots, as well as buffet food.
Address: 4491 Mineola Ave, Little River, SC 29566, United States
Phone: +1 843-249-9811
Website: https://www.bigmcasino.com/
The Big M Casino is the only casino located in South Carolina. It operates as a luxurious casino ship and caters to everyone who is at least 21 years of age. The Big M Casino offers blackjack, craps, roulette, three card poker, let it ride, slots, and video poker. A cash bar and a la carte food service are also offered.
No public information is available concerning the payback percentages on gaming machines at South Carolina casinos. Please note that Unlike the South Carolina casinos, in many states the slot machine payback statistics for that particular state's casinos are released as a matter of public record. Just click here to see a list of slot machine payback statistics for casinos in all U.S. states.
South Carolina Land-Based Casinos Map
You can easily see all casino locations by using our South Carolina casinos map. To zoom in, just click the + (plus) sign in the lower right corner of the map, or to zoom out, just click the – (minus) sign in the same area.
To move the map of casinos in South Carolina, click and hold down either of your mouse buttons. Then use the hand icon to drag the map in whichever direction you desire.
Each of the red icons on the map is a casino location. Just click on any red icon to see the name of the casino at that location. If you want more information on that casino, simply click again on the casino's name and it will direct you to another page with detailed information on that particular casino, including address, phone number, toll-free phone number, room rates, casino size, dining information, games offered, availability of discounts for seniors, any special features, and a direct link to that casino's website.
History Of Gambling In South Carolina
Since the 1780s, gambling has been illegal in South Carolina. Before World War II, residents in SC were able to wager on horse and dog races for a brief period in time, but that was banned later on. It was only in 2002 that the lottery started, and 2008 when casino gambling on cruises was legalized.
Before casino cruises and the lottery, bingo was first to be legalized in the state in 1976. The Bingo Act stopped games that had multiple prizes and ruled that the winner must receive one reward. Only licensed charities under the South Carolina Department of Revenue are permitted to operate bingo halls in the state.
The Era of Video Poker
In the late 1980s, there was a time when SC residents had over 30,000 video poker machines at their disposal across the state. After one of the gambling laws was edited, thousands of shops and establishments started offering gambling machines to customers. Years later, the government tried to regulate the video poker industry by putting caps on how much a player could win at a machine.
When operators found a way around this rule, the government tried to limit the industry again by restricting how many machines could be in one location. They also prohibited video poker machines to operate seven days a week.
Finally, after seeing no revenue and getting no taxes from the machines, the South Carolina Legislature tried banning video poker machines altogether. While residents of the state were under the impression they would get a vote on whether video poker should be legal, the SC Supreme Court ruled this would not be the case. Video poker was deemed illegal in the state in 2000.
South Carolina Gambling Laws and Regulatory Organizations
South Carolina has some of the strictest laws in the country when it comes to gambling. Off-track betting, racing, table games, video poker, and slot machines have all been deemed illegal in the state. Online gambling is also strictly prohibited in SC. There are no indications of any of the above forms of gambling being legalized in the future.
For now, residents have bingo halls and the lottery as legal forms of gambling in the state. Bingo halls must be operated by a charitable organization and licensed by the South Carolina Department of Revenue. There is also the casino cruise ship, the Big M, which offers a variety of casino games to those who come on board.
Due to security restrictions, you must present a photo ID, or you will not be allowed on the ship. The minimum age to get on board the boat, and to gamble, is 21.
South Carolina Department of Revenue
The South Carolina Department of Revenue has a long list of responsibilities. Retail shops, liquor stores, manufacturers, and distributors must all be licensed and taxed by the SCDR. The Department is also in charge of overseeing all bingo halls and making sure the Bingo Act of 1996 is followed by operators.
Find out more about what the SCDR does by clicking here.
Gambling In South Carolina Today
Recently, bill H 3102 was brought to the state by Rep. Todd Rutherford. This bill discusses finding land in South Carolina where Las Vegas style casinos can be built, and even mentions the possibility of sports betting. Unfortunately, there have been no signs of progress on the bill since January (2020).
If the bill passed, then SC residents would have the chance to vote on whether or not casinos should start to be built in the state. With the damage the COVID-19 pandemic has done on the economy, many believe that legalizing casino gambling will get South Carolina back on its feet. Casinos would generate an enormous amount of revenue and aid with tourism immensely.
As of today, most forms of gambling are still very illegal in South Carolina and can even lead to jail time if you're caught.
Resources
Try an online casino for FREE. We have over 15 No Deposit Bonus Codes. No credit card needed, just sign up and start playing!
For more information on visiting South Carolina go to www.discoversouthcarolina.com or call their tourism department at (800) 872-3505.