Unlike the majority of states in America, it's hard to say where exactly Massachusetts stands when it comes to gambling.
Technically, online casinos are not allowed to operate in the state, yet there is no set law against them.
However, residents of the Bay State are permitted to gamble at land-based casinos as well as place wagers on horse races. There's also a state lottery, and charitable gaming allowed.
Could online casinos see the day where they can operate legally in MA? What are residents meant to do for their gaming needs in the meantime?
Let's take a look.
Online Casinos in Massachusetts
Online casinos are not legal in Massachusetts yet, however, the laws behind it are a little more complex than other states.
While casinos could face punishment for trying to operate online, the state is more lenient towards players.
If you are gambling online and win $5+, you could be fined twice of what you won. The same applies for if you lose $5 or more.
Massachusetts is more interested in legalizing online sports betting than online casino, leaving online casino players dissatisfied.
But, if you can get yourself to nearby Pennsylvania or New Jersey, you can take advantage of the better offers and lower house edge of their legal online casinos.
Here's a list of the kind of online offers you can take advantage of while you're physically located in either state.
| Casino | Bonus |
| --- | --- |
| BetMGM | $25 Bonus Dollars and $1,000 Deposit Match (NJ and PA) |
| Borgata | $20 Bonus Dollars and $1,000 Deposit Match (NJ and PA) |
| PartyCasino | 25 no wagering Free Spins and $1,000 Deposit Match (NJ) |
| DraftKings | $10 Bonus Dollars and $1,500 Deposit Match (NJ and PA) |
| Golden Nugget | $1,000 Deposit Match, 30 Megaways Free Spins with $30 deposit (NJ) |
| Hollywood | $250 Deposit Match (PA) |
| Hard Rock | $1,000 Deposit Match and 50 Free Spins (NJ) |
| SugarHouse | $250 deposit match (1x wagering requirement!) (NJ and PA) |
| Tropicana | $100 Cash Back on Losses (NJ) |
| Caesars | $10 Bonus Dollars and $1,000 Deposit Match (NJ) |
| 888 | 30 Free Spins, $20 Bonus Dollars, and $500 Deposit Match (NJ) |
| Harrah's | $10 Bonus Dollars and $1,000 Deposit Match (NJ) |
| Unibet | $500 Deposit Match (NJ and PA) |
| Bet365 | $500 Deposit Match (NJ) |
Get the best offers online
Land-Based Casinos in Massachusetts
Governor Deval Patrick signed a bill in late 2011 that legalized casinos in Massachusetts.
The law allowed three casinos in three different geographic regions, plus one slot parlor.
That slot parlor, Plainridge Park Casino, is a harness racing track located about 40 miles southwest of Boston and opened on June 24, 2015.
Gaming regulations for Massachusetts casinos require a minimum payback of 80% on all gaming machines. The payback percentages for slot machines at all casinos in Massachusetts are released as a matter of public record. Just click here to see a list of slot machine payback statistics for all Massachusetts casinos.
NOTE: If you happen to win a jackpot of $600 or more in Massachusetts, the casino will withhold 5% and send it to the Massachusetts Department of Revenue.
You may, however, be able to get some of that money refunded by filing a state income tax return.
The $600 threshold also applies to any cash prizes won in casino drawings or tournaments, as well as the fair market value of non-cash prizes such as cars, houses, and trips.
Types of Casinos in Massachusetts
The first resort-casino license in Region B (Western Massachusetts) was awarded to MGM Resorts and their $1.3 billion casino – MGM Springfield – opened in late 2018.
The second license for Region A (Eastern Massachusetts) was awarded to Wynn Resorts and the $2 billion Encore Boston Harbor opened in 2019.
The Encore Casino is the closest casino to Boston.
The final license for Region C (Southeastern Massachusetts) had not yet been awarded as of 2020.
Indian Casinos
There are two tribes in Massachusetts currently battling the government for the right to build a casino on their land.
The Mashpee Wampanoag Tribe is planning to build a destination resort casino near Taunton. That facility, First Light Casino, was expected to open by early 2019.
However, the project has been hampered by lawsuits that have stopped it from being completed.
The Wampanoag Tribe of Gay Head (Aquinnah) also had plans to open a casino in an old community center back in 2013 which was stopped due to the state claiming the tribe had given up their land in 1993.
The Aquinnah fought back by saying the 1988 Indian Gaming Regulatory Act had overseen this and ended up winning the battle in 2018.
Both tribes are still in the planning process for the gaming venues.
Pari-Mutuel Betting
Horse racing is one of the oldest forms of legal gambling in Massachusetts.
Dog racing was legal from the 1930s up until 2010 when the Massachusetts Greyhound Protection Act deemed it illegal.
Today, there is only one horse race track that accepts pari-mutuel wagering in MA; Plainridge Racecourse. Residents can go watch live horse races from April to November.
The other tracks, Raynham Park and Suffolk Downs, offer simulcast wagering on races.
List Of Land-Based Casinos In Massachusetts

Encore Boston Harbor
Encore Boston Harbor brings glamour to the Mystic riverfront. This casino features classic and state-of-the-art slot machines for every player, table games, private gambling salons, and high-limit gaming rooms.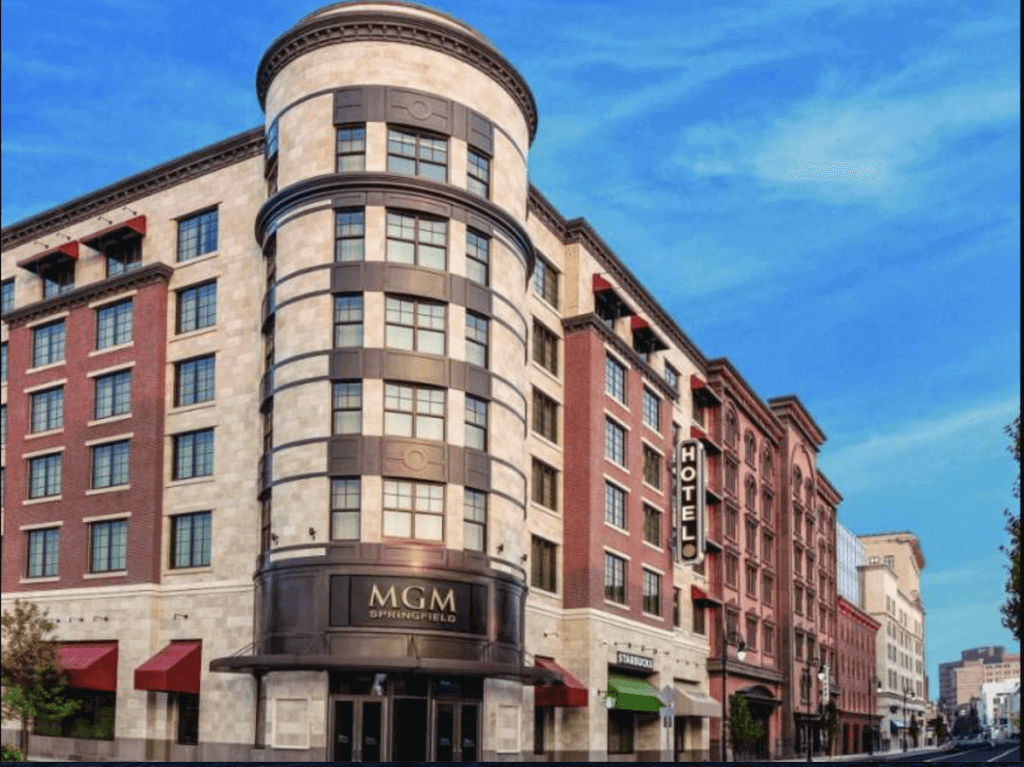 MGM Springfield
MGM Springfield has the largest gaming floor in Massachusetts. The tables are ready for you, so take a seat and join the fun.
Address: One MGM Way, Springfield, MA 01103
Phone: (413) 273-5000

Plainridge Park Casino
Enjoy great food and play over 1200 slots, video poker, & electronic table games at Planridge Park Casino, located just 40 minutes from Boston.
Address: 301 Washington St, Plainville, MA 02762
Phone: (508) 576-4500
Website: https://www.plainridgeparkcasino.com/
Massachusetts Land-Based Casinos Map
You can easily see all casino locations by using our Massachusetts casinos map. To zoom in, just click the + (plus) sign in the lower right corner of the map, or to zoom out, just click the – (minus) sign in the same area.
To move the map of casinos in Massachusetts, click and hold down either of your mouse buttons. Then use the hand icon to drag the map in whichever direction you desire.
Each of the red icons on the map is a casino location. Just click on any red icon to see the name of the casino at that location. If you want more information on that casino, simply click again on the casino's name and it will direct you to another page with detailed information on that particular casino, including address, phone number, toll-free phone number, room rates, casino size, dining information, games offered, availability of discounts for seniors, any special features, and a direct link to that casino's website.
History of Gambling in Massachusetts
Gambling has been around in Massachusetts longer than it's even been a state.
However, it was deemed illegal fairly early on, with games of chance and gaming tables first to go in 1788.
In the early 1830s, all remaining forms of gambling were prohibited, including the lottery.
It wasn't until over a century later in the 1970s that the lottery was legal again.
Horse and dog racing became legal in the 1930s and became a very popular form of gambling in MA. Across the country, MA was the hotspot for greyhound racing for a long time.
By 2009, The Massachusetts Greyhound Protection Act had banned dog races and wagering on them in the state.
Massachusetts has always been very slow when it came to regulating gambling in the state, and only really began to build the industry in 2011.
This is the year casinos were legalized, allowing three resorts and one slot parlor to operate.
There used to be river casino boats before land-based gambling was legal, but that stopped shortly after the new laws were put in place.
Massachusetts Gambling Laws and Regulatory Organizations
Recently, the gambling laws in Massachusetts have changed to allow potential expansion of the industry in the state.
Thanks to the Expanded Gambling Act that was passed in 2011, casinos were allowed to open and offer slots and video poker machines, as well as table games. Since live dealer games weren't allowed at the time, all of the games where played on game machines.
Two Indian tribes are also still in the process of planning and constructing their own facilities.
You must be at least 18 years old to wager on horse races, play bingo, and participate in the lottery. Casinos require patrons to be at least 21 years of age.
The Massachusetts Gaming Commission
The Massachusetts Gaming Commission (MGC) oversees all forms of gambling in the state.
This includes:
Casino gambling
Pari-mutuel betting
Lottery
Raffles/Charitable games
The MGC is responsible for a number of services, like licensing for operators and employees and enforcing the regulations they have put in place.
To read more about the MGC and what they do, click here.
Gambling in Massachusetts Today
In Massachusetts today, there is a great possibility of the gambling industry growing even more. Advocates are trying to push the legalization of sports betting, and are very close to winning.
If sports betting was legalized in MA, this would open the door to online gambling and potentially include online casinos.
For now, MA does offer a few land-based casinos and racetracks. In time, this number should grow as well, especially once sports betting is deemed legal in the state.
Fun Facts
Did you know?
The Encore Boston is currently the largest casino in Massachusetts, with 2800 game machines! However, Project First Light Resort & Casino could take this title once it opens, with over 3000 gaming options expected to be available.
Useful Resources
​Try an online casino for FREE. We have over 15 No Deposit Bonus Codes. No credit card needed, just sign up and start playing!
For information on visiting the casinos in Massachusetts, or for more tourism information, call (800) 447-6277 or visit their web site at www.massvacation.com.